It's over. It's taken some time for us to process, deal with, and ultimately refuse to accept it. The Great British Bake Off as we've known and loved it, is no more. And yeah, sure, we could be mature and say we'll give the Channel 4 version a shot, but right now, we'd rather roll around crying hysterically, before plotting the downfall of our enemies. Something like this: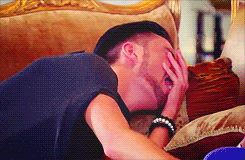 Here are your 6 best bites Bake Off…
6. Andrew's Clockwork Tudor Pies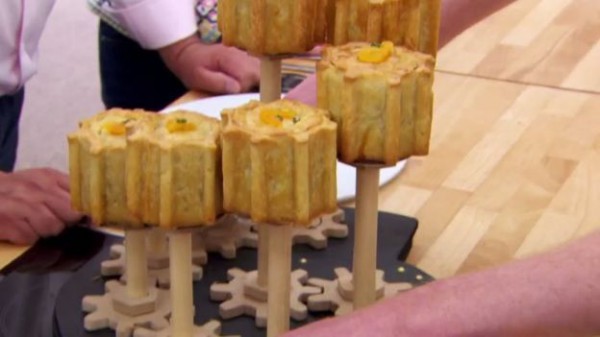 Behold, the magnificence of Andrew's cogs! He trusted no one but himself to get those pies running like clockwork, and he did it. How he found the time to do it we'll never know.
5. Paul's Lion Loaf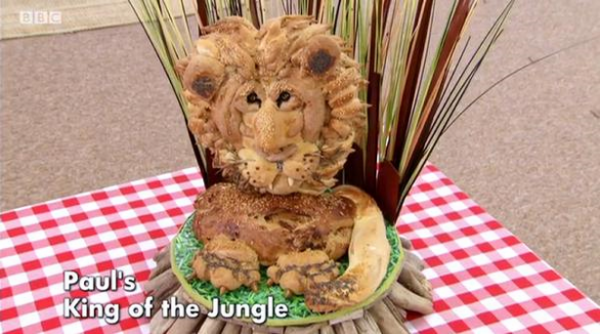 Proving he was the real king of the jungle, Paul Jagger's Lion Loaf was deemed by his namesake Paul Hollywood,
One of the best things I've seen in bread ever".
While we can only dream of the bread things Hollywood's laid eyes on, we will never forget that lion loaf. Majesty, inventiveness, it had it all. Down to its edible claws.
You can re-live the magic of Paul's knead with this mesmerising gif…
4. Val.
Even the grinchiest Grinch's heart couldn't help but grow a size when Val made her closing speech:
Listening to her bakes, or baking-while-doing-aerobics were things we'd come to love and expect from Val, but the retired head teacher we all wish we could have had, shocked viewers one last time with the announcement of her plans for a trip to Ayia Napa! She's also become a bit of a hit on instagram, follow her
here
for your Val fix.
3. Nadiya's Speech
Teaching us all to believe in ourselves a little more is just one of the things Nadiya Hussain has done for the world since her Bake Off appearance. BBC One's 
The Chronicles of Nadiya 
offered a sumptuous insight into the food that has inspired her success. You can watch clips from the show or view recipes
here
.
2. Norman. The man, the adventurer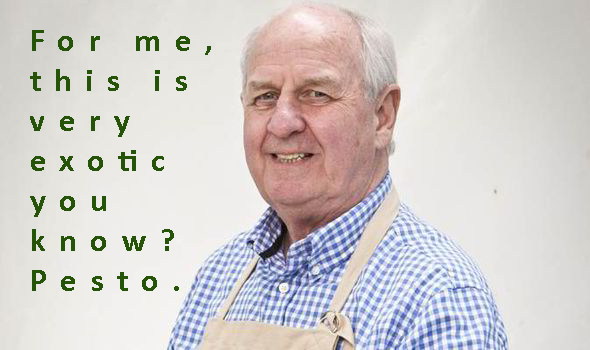 He was the ultimate granddad man, who got that Hollywood handshake so early on. But his 'plain and simple' style was called into question and it was time for Norman to show he could be unconventional with the best of them. What did he pick? Pesto of course. And as those dulcet Scottish tones said firmly, that was exotic for Norman. He was gone too soon, but shall never be forgotten!
1. Sabotage
Whether it was theft, or freezer removal, 'custardgate' and 'bingate' stole the world's imagination. And no one did hilarious hyperbole like the British press whenever there was a Machiavelian moment on GBBO. Headlines such as Howard: My Custard Trauma, were the news of the day, and things like #PoorHoward were trending worldwide!
No please don't show the custard stealing again. CAN'T BEAR IT. #PoorHoward#ExtraSlice#GBBO

— Danny Lane (@dannylane94) August 29, 2014
But the ultimate in Bake Off sabotage has to have been 'BinGate', when contestant Iain's Baked Alaska filling was removed from the freezer under suspicious circumstances, resulting in him throwing the entire thing in the bin. We're not here to cast aspersions, but in hindsight, there was always something slightly off about Diana. Something in the eyes maybe.

P.S. #Bincident update: Iain got married and had a Baked Alaska wedding cake. And Diana was there to keep everyone on their toes!
OK, time to move your keyboards to the end of the bench…
What a countdown! Bake Off certainly showed us the whole spectrum of cake-related human emotion in its 7 years. Here's hoping that Val's trip to Ayia Napa gets picked up as a BBC series, or Mel and Sue get put in charge of the 6 o'clock news.
But wait…is that…are those, jingle bells we hear??!
Deck the tent with bakes of holly!
Paul, Mary, Mel and Sue will return to BBC One for two special new episodes of #GBBO this Christmas. pic.twitter.com/nt81QnsVZ1

— British Bake Off (@BritishBakeOff) October 26, 2016
Bake Off will we back this Christmas(!!!) for 2 festive-themed specials. Get ready for some Mary 'Winter' Berry and Paul Holly-and-the-ivy-Wood magic for the final time. Again. Oh they know how to toy with us!
Think we've UnCOVered all the best bits? Let us know in the comments below!
Comments
comments