Cheese and bread combined – it can only mean one thing: pizza! And our opinion, there can never be too much doughy-goodness in the world! But how can you make eating pizza part of your healthy eating plan?
You're in luck as we have the answer for you in the shape of our food comparison blog so you can indulge slice after slice, maybe even a whole pizza (we don't judge!)
Super-Healthy Dough
Everyone is fond of a deep-pan doughy pizza from time to time – we're looking at you, Dominoes! But sometimes it can just be that little bit too stodgy so we like to make our own whole-wheat dough for added nutritional benefit. Think less cheat, and more treat for your tum!
To make the dough, it's pretty easy! Mix 100g of strong white flour, 100g strong whole-wheat flour and 1 tsp of dried yeast with a pinch of salt. You'll then need to gradually pour in 125ml warm water to make sure mixture, before working it for around 1 minute – channel your inner Paul Hollywood!
Roll out the dough on a lightly floured surface to be about 30cm across. Pop onto an oiled baking sheet and then you're ready to add your toppings. The whole-wheat will give a slightly nutty taste to your dough so you can pick some really nice flavour combinations.
Topping suggestions:
Cherry tomatoes, courgette, mozzarella and capers with a bit of parsley.
Chicken tikka, red onion, green peppers and all the mozzarella cheese!
Cauliflower Pizza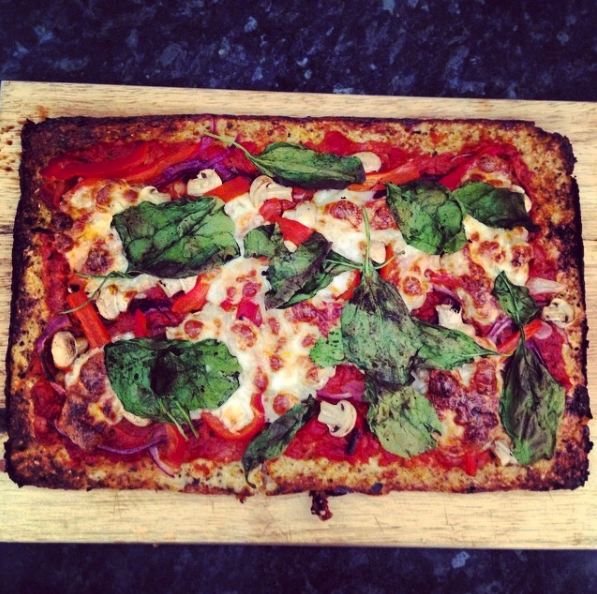 All hail one of the most versatile vegetables known to man. It can be boiled or roasted, turned in to rice or a healthy mash and also….a pizza base. As a big cauliflower fan, I love using this recipe from Nic's Nutrition. Some opt for wringing out the cauliflower beforehand which can seem like a faff, but for this one you simply mix loads of ingredients together and shape in to a pizza base. If you cook this right, it can be picked up in slices, but even if you can't, it's still very delicious!
Topping suggestions:
Mozzarella, spinach, red onion and red pepper
Pepperoni, mozzarella and mushrooms
Tortilla Pizza
You may have seen The Body Coach talk you through his #leanin15 pizza, if you haven't, it's a really good healthy recipe! Take a tortilla wrap, top it with a tin of tomato's that you've mixed with some Italian herbs and kidney beans, then top with pretty much whatever you like. It'll take about 15 minutes to crispen up in the oven, and although this isn't our usual doughy heavenliness, it's definitely curbed my cravings when I'm trying to stay healthy.
Topping suggestions:
Egg, spinach, red pepper,  feta and olives
Ham, green pepper, red onion, goats cheese
So what's tickling your fancy? Keep a look out for our next comparison blog and if you want to try any alternatives to your favourite dishes let us know via social media and the comments below.
Comments
comments