Back at it again with the music just for you! Spring is around the corner, the days are starting to get brighter and there's a host of new songs just itching to be heard. Hit play or click on the images like always and enjoy these tunes from all different genres and corners of the globe!
Monday
Lana Del Rey – Love
Vintage and grandiose: Lana Del Rey returns with her unique and identifiable effortless style. An almost suppressed emotion seeps out of every word she croons. Evoking nostalgia in her 'Hollywood sadcore', her cadence is special as she shines a light on love to a generation who [are perceived to at least] find it difficult to do so. She's honest and ultimately drawing people in, making us all pine for her fifth studio album.
Tuesday
Loyle Carner – The Isle Of Arran
This guy's impact has been brewing since late 2015, but with the release of his much anticipated debut LP Yesterday's Gone last month, it looks like 2017 is the time we take notice of Loyle Carner. The South London born rap-artist has an honesty and rawness to his lyrics, often sharing his personal and family troubles to his audience. He's also already giving back to a community close to his heart, through his very own cookery scheme to help fellow young people suffering with ADHD. A true class act, let's hope he's around for the long haul.
Wednesday
The Menzingers – After the Party
It's a hard task to carry on after you've created your masterpiece, but that's just what The Menzingers have done. Their second album, On the Impossible Past, blew music lovers and critics away back in 2011, and was followed by Rented World, a combination of familiar brilliance and lukewarm mundanity. However, their most recent effort pushes them right back onto their beer-stained throne. After the Party captures the beauty and setbacks of being part of the wild rabble of youth. I honestly wish I could just post the whole album but the title track will have to do. The infectious chorus alone will prove that this one will be played on beaten up stereos in broken hearted bedrooms for years to come, just the way it should be.
Thursday
Migos – T-Shirt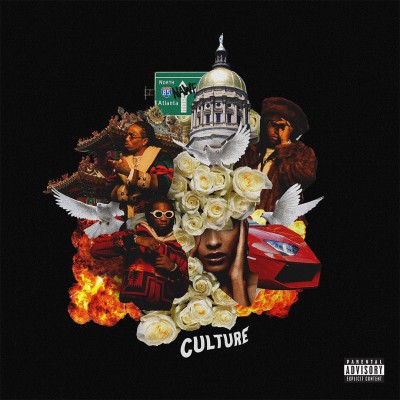 Migos have been bubbling under the surface for some years now. 2016, however, would see Bad and Boujee launch them; landing an anthem and memes across Instagram would do the legwork, followed by a Childish Gambino Golden Globe winning speech-shoutout. They've influenced culture and their aptly named album Culture, almost reminiscent of What a Time to be Alive in mood, energy, hubris, runtime, boasts of excess and also having a song about a bag, is a must-listen. T-Shirt sees trio Takeoff, Quavo and Offset embody the Revenant in the video, with a choppy style that'll have you rapping along about a T-Shirt.
Friday
Just Us – Cloudbusting
You gotta have a banger for a Friday! The trend for sampling old songs and turning them into dance anthems has been around for years now, in fact we've even got to the stage of sampling a song on more than one dance track! You may have heard this Kate Bush sample from that Utah Saints track in 2008 – well it's back again! This time, dance producer Just Us has remixed the song in its entirety, and in turn creates what will be one of the most played dance hits of the year – you heard it here first folks!
Saturday
At the Drive-In – Incurably Innocent
This is a long time coming for At the Drive In fans, who've patiently absorbed mystery tweets, sporadic comebacks, show cancellations and a random single, until finally, an announcement of a new record.  in•ter a•li•a marks their first full release in seventeen years, that's older than some people reading this! And what a single to come back with. Incurably Innocent not only dissects an incredibly sensitive and topical issue but is the aural fix fans have been clamouring for. A rollercoaster pace, piercing guitars and Cedric Bixler-Zavala's trademark howling vocals, all held together by a rhythm section that could support a derelict building. This isn't what fans wanted, this is what they needed.
Sunday
Rag'n'Bone Man – Skin (live version)
What a year this man is having already! Brits Critics Choice winner, 2nd Place in BBC Sound Of 2017, a debut single that refuses to leave the top end of the charts – and to top it off, his debut album 'Human' has become the fastest selling debut album by a solo male artist this DECADE. Rory Graham (real name!) has done his time grafting and performing in the underground London scene for years, and is now set for super stardom. A beautiful contradiction between his look and his voice, his stunning vocals are ever present in this stripped back live version of a standout album track.
Brought to you by Ryan, Joe and Ben
Comments
comments