The Duke and Duchess of Cambridge graced us with their presence at Cov Uni a week ago today… and we're still buzzing about it!
16th January 2018, a date that will be remembered by Coventry folks for many years to come. A day where Prince William and Kate visited Coventry Cathedral and officially opened the new Cov Uni Science and Health Building.

The Queen and Princess Margaret actually visited Coventry Cathedral in 1963, after the original building had been destroyed by Luftwaffe bombs in 1940, this was the date it had been transformed into a beautiful cathedral once again.
The Duke and Duchess then took part in the the Coventry Litany of Reconciliation. A prayer takes place each weekday at the cathedral inspired by its story – it is a prayer that hopes to encourage a culture of peace and reconciliation. 
The royal couple went on to accompany volunteers and staff of a social enterprise at the Rising Café, where they discussed work and opportunities for people overcoming alcohol and drug addictions.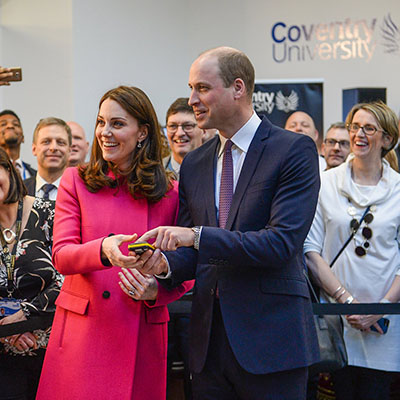 Their royal highnesses then officially opened our new Science and Health Building. A £59 million world-class facility allowing students to study practically by working in situations that mirror real life scenarios such as; in a midwifery suite, operating theatre, strength and conditioning suite and lots more. Lots of students and staff including six of Coventry University's Sabbatical Officers were able to attend the reception to represent the Student Union.
Lastly, the royal couple saw the work of the Positive Youth Foundation in the city. This is a foundation that specialises in helping thousands of young people across Coventry each year, providing youngsters with services to help them make positive lifestyle choices.
This could be the last appearance until after Kate's baby is born in April. If you want to check out more of what the couple got up to on the day, or want to see pictures from the day take a look at our Twitter page.
Comments
comments