This week in our ongoing faculty profiles, it's time to get creative, as we explore our Faculty of Arts and Humanities!
Our arts offering is actually the oldest part of Cov Uni, dating all the way back to 1843, but you'd be mistaken in thinking we're behind the times. Our students are the next artists, designers and innovators of the world, so we make sure to mix up the cutting-edge with traditional techniques, so you can tackle the creative industries.
Art and Design
The School of Art and Design pretty much does what it says on the tin! Here you'll find not only our traditional Fine Art courses, but you can also prepare for the runway with one of our Fashion courses, learn the latest Animation techniques and much more.
Our graduates have gone on to do some pretty big things including Penguin book cover prizes and winning animation Oscars – no biggie.
We have our very own specialist workshops where you can get hands on with ceramics, painting, sculpture, jewellery and even metalwork. Our art studios have masterpieces around every corner, fashion studios are like falling into a dressing up box and anything-and-everything can and has been created in our clay studios, even an Alice in Wonderland teapot!
Humanities
The School of Humanities brings together English, Languages, History, International Relations, Politics and Sociology.
The international element is strong in this School with study abroad options available after second year. You could be involved with links in Costa Rica and Mexico, or helping to develop projects in Italy and Russia.
We're home to the Confucious Institute and have a dedicated Languages Centre. Do you fancy learning French, Polish or Japanese?
Media and Performing Arts
You may have noticed that the media environment is constantly changing; you're reading this blog, and you're probably on social media. But have no fear, the School of Media and Performing Arts see this as an opportunity and this goes for performance as well!
Based in a 1930s converted art-deco cinema, the learning is practical and contemporary. We always want our courses to link up where possible, so you'll often see Dance and Digital Media working on projects and Theatre and Journalism brainstorming.
Strike a pose in our photographic suite, limber up in the dance studios, or film your very own video short in the Tank – our facilities are dedicated to our students!
Employability
Creative Futures are on hand to help you develop your career ideas and possibilities, and this includes advice on freelancing!
Our graduates have gone on to work with the BBC, Heat Magazine, Coventry City FC, the NHS, The National Trust, Herbert Art Gallery and the House of Commons – to name but a few! Not too bad, eh?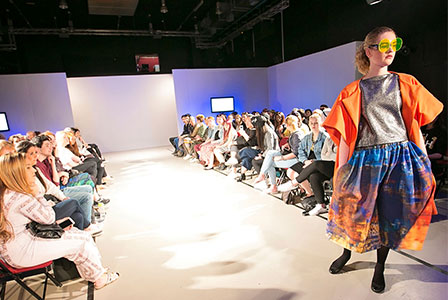 Degree Show
Want an opportunity to showcase your work while you're still a student? Then you're in luck as the Faculty host an annual Degree Show where all years present their work to peers, staff, family, friends, and even industry influencers!
In the past we've had mime artists, futuristic car models, fashion runways to rival Milan and much more.
You can read more about 2017's degree shows in our previous blogs
With Results Day merely days away now, if you'd like to see more about the arts and humanities courses we have available this Clearing 2018, take a look at our course list. You might find what you've been searching for all along!
Comments
comments