Pancakes(!!) are so versatile: savoury or sweet, American classic or crepe, chocolate or fruit.
 Pancake
 Day (or Shrove Tuesday) is a day where many attempt to be a master chef. Some successful… others, not so much. But we're here to help you be the former with five recipes that will ensure you have one of the best Pancake Days yet. 
Note: Instagram photoshoots with pancake stacks are optional, but not essential.
---
Banana Pancakes
 with Greek Yogurt & Berries
Cue Jack Johnson! Banana Pancakes are one of the best pancakes (change my mind) and are ideal if you don't know what to do with those too ripe bananas. Making this recipe both sustainable and tasty!  
Serves:

 1 (or two if you do wish to share!)

 
Ingredients:
1 ripe banana, dark spots are ideal.

 

50

-70

g of oats

 (preference to how thick you want the batter)

 

1 tsp of bakin

g soda

 

1 Egg

 

Pinch of salt

 

Dash of almond milk (optional) 

 
For the topping: 
Greek Yogurt

 

Maple Syrup or Honey

 

Berries of your choice! 

 

Vanilla extract (optional if you wish to mix into the yogurt)

 

 
Method
Place all ingredients into a blender and pulse until desired consistency.

 

To create desired consistency add almond milk or more oats. Note: The pancakes are better on the thicker side!

 

Get your non-stick pan at the ready! Heat to a medium temperature.

 

Drop the batter to desired size and cook, awaiting for the bubbles to arise through the pancake so you know it is time to flip!

 

Repeat and voila you have a stack!

 
Load up the stack with a dollop of Greek yogurt, a drizzle of maple syrup and a handful of berries- done! 
---
Classic American Pancakes
The classic stack of fluffy American pancakes. plain, blueberry or chocolate chip, these pancakes never let down. 
Ingredients:
200g of self-raising flour

 

2 tsp of baking powder

 

1 tbsp of caster sugar

 

3 eggs

 

25g of melted butter

 

200ml of milk

 
 Method
Combine all dry ingredients in a mixing bowl, making a small well at the bottom of the bowl to combine the liquid elements.

 Whisk together.

 

Optional: mix in any extras you wish (chocolate chips or blueberries)

 

Prepare your pan! Place butter in a frying pan and once frothing pour in small rounds of the batter. 

 

Await for bubbles to appear on top of the batter and flip. Continue until the batter is used up.

 

Serve up! 

 
Load up the pancakes which any topping you wish! Recommendation: vanilla cream, strawberries and maple syrup. 
---
Crepes
How could we not include Les Crepes! As Crepes are quite thin we are limited as to what is in the batter BUT this does not limit what we can wrap, fold and spread on the crepe once ready! Go beyond the lemon juice and sugar! 
Ingredients:
30 grams of melted butter

 

150 grams of plain flour

 

325 ml of milk

 

1 large egg

 
 Method
Whisk the flour, milk and egg together.

 

Once smooth, pour in the melted butter. Let the butter be cool, not still warm!

 

Heat a non-stick frying pan and ladle the mixture in. Making sure the mixture spreads to create a thin crepe.

 

This should cook in 30 seconds to a minute, so keep an eye on them to flip.

 

*Attempt impressive flip of pancake*

 

Cook for another 30 seconds. And repeat until batter is used up.

 
Now let your imagination run wild! We recommend the following  toppings: 
Chocolate Spread and Banana

 

Peanut Butter and Jam

 

Jam

 

Butter and Sugar

 

Fresh fruit

 
---
Vegan Pancakes
The following is courtesy of The Buddhist Chef! They are bound to be the fluffiest vegan pancakes! 
Ingredients:
3 cups of 

all-purpose

 flour

 

2 tbsp of sugar

 

1 tsp of baking powder

 

1 tsp of salt

 

¼ cup of vegetable oil

 

½ tsp vanilla extract

 

3 cups of non-dairy milk

 
Method 
Combine all dry ingredients

 

Add the remaining and whisk together.

 

A table spoon of oil into the heated pan and pour in batter!

 

Cook each side for two minutes.

 

Voila! Vegan pancakes.
---
Korean-style prawn and spring onion pancake
The following recipe is courtesy of BBC Good Food, where there are countless other amazing pancake recipes from all over the world! A savoury pancake, the prawn and spring onion is usually eaten as a snack or starter. It is to be eaten with a soy sauce based dip. Something different and is bound to be a Pancake Day winner. 
Serves: 1

 

Time: 20 minutes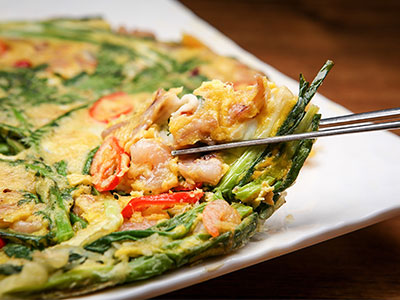 Ingredients: 
75g plain flour

 

1 tsp of chilli powder

 

1 egg

 

1 garlic clove (crushed)

 

1 tbsp of oil

 

4 spring onions, trimmed and sliced

 

100g cooked prawns

 
To make the dipping sauce:  
2 tbsp of rice vinegar

 

1 tbsp of soy sauce

 

1 red chilli, finely chopped

 

Pinch of sugar

 
 Method
Combine all ingredients for the sauce and set to the side.

 

Combine all the dry ingredients, creating a well at the bottom of the bowl.

 

In a separate bowl, mix 100ml of water, egg and garlic. Pour this into the dry ingredient well. 

 

Mix and you have your batter!

 

Heat the oil in your pan, adding your spring onions to soften, followed by the prawns.

 

Cover the prawns and spring onions with the batter and cook for 3-4 minutes, then flip to cook for another 3-4 minutes.

 

For serving, slice the pancake into quarters and dip!

 
---
There you have it, we hope to have inspired some Pancake Day feasts and we look forward to seeing some amazing Pancake Day creations and pancake flips!
Comments
comments