Alex Hayes spent 4 years at Coventry University studying BEng Aerospace Technology, including a placement year with an automotive manufacturing supplier. Here he shares his experiences from open day visit to graduate role.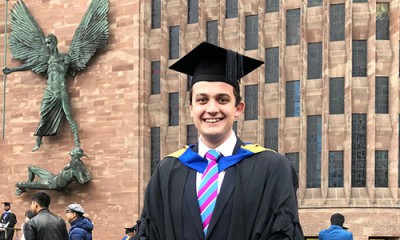 I first came to Coventry for an open day because it was the only one on that weekend, and my parents wanted me to get my act together and sort my university applications.
From the moment I arrived in the Faculty of Engineering, Environment and Computing, I knew I wanted to study there. Modern facilities, a Harrier aircraft in the basement and most importantly of all; a commitment to getting me a career. Coventry was the only university I visited that didn't just say 'you can do a placement if you want', they said 'you should do a placement and we are going to do everything we can to get you one'. Everything that the faculty did revolved around getting students a career at the end of their course – and as it turns out – they succeeded with me.
I now work at Airbus as a Landing Gear Graduate, a two-year graduate scheme with quarterly placements within various teams, with a full time job offer at the end. The scheme that I am on is incredible, not only is the company investing tens of thousands of pounds in training courses, I also get to choose where I do my quarterly placements. Most graduate schemes do not offer such flexibility so it allows me to develop myself towards a career that I feel is right for me.
I absolutely love it here. I have my own projects and responsibilities and I feel like a full time employee. My employer gives me freedom to lead big projects and, within reason, work how I feel is right for me. Everyone is very friendly and supportive here, most people that I work with came in on the graduate scheme years ago so they know what it's like to be a graduate!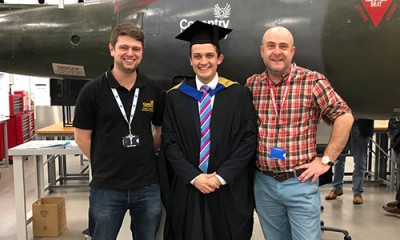 I look back on my time at Coventry University with fond memories. I really miss it. I would recommend the university to anyone. At the end of the day I would not be sat at my desk at work typing this now if it wasn't for Coventry University, and for that I am eternally grateful.
My recommendations for current/future students? Get involved in as much as you can. My high school head teacher once used an analogy of a piggy bank saying 'If you don't put anything in, you won't get anything out.' and it is so true. I got heavily involved with the university hockey club and it was the best experience of my life. I had never played before and by the end, I had a sport for life, a group of close friends and great memories of my experiences. I went as far as being on the committee of the club and in my presidential year was able to lead the club into improvements in all areas. The most rewarding thing that I have ever done.
Always put effort into your studies when you need to, I mean you're there to get a degree and a career at the end of the day. However, don't let that be the only thing you do at Coventry, the degree is only half of what you can get out of your time at university.
I wish you all the very best of luck for whatever the future may hold.
For more information about our BEng (Hons) Aerospace Technology course please visit: https://www.coventry.ac.uk/ug/H402
Comments
comments