Are you new to Coventry? Do you like veggie food but not sure what places to try? Don't fret! We've listed 5 of the best vegetarian restaurants in Coventry, to make sure you get to try delicious food the true Cov way!
Falafel Corner – 100% Vegan!

Falafel Corner recently opened in central Coventry and serve falafel wraps and salads as well as a variety of smoothies and fresh juices. People love Falafel Corner because all food and drinks are made fresh, right in front of you!
Address: 32 Broadgate, Coventry, CV1 1NF
---
Las Iguanas
This bustling restaurant serves a range of vegetarian and vegan starters and mains along with their meat dishes, not to mention 2 for 1 on selected cocktails so you can't go wrong!
Address: SU4, Broadgate, Coventry, CV1 1LL
---
Veggie Corner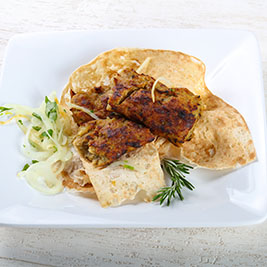 True to its name, Veggie Corner has a wide selection of vegetarian food available! Whether you want veggie; kebabs, sausages, burgers or even fish and chips – they do it all!
Address: 47-49 Sandy Lane, Coventry, CV1 4EX
---
Panjabi Hut
Fancy an Indian or an Italian? Panjabi Hut is a little further away from campus (a 7-minute drive) but it's definitely worth a try.
With a selection of samosas, curries, pizzas and more to choose from, you're sure to find something to suit your palate!
Address: 178 Clay Lane, Coventry, CV2 4LX
---
Rising Café
Want to take in historical views while enjoying a delicious home-cooked meal? Then Rising Café is the place for you! Located in Coventry Cathedral, they have a relaxing atmosphere with mouth-watering starters, a tasty vegetarian burger, a delicious vegan Shepard's pie and some lovely desserts!
Address: Coventry Cathedral, Priory Street, Coventry, CV1 5FB
Do you want to find out more about living in the city? Then check this page out – a whole section dedicated to making your experience at Cov Uni the best it can be!
Comments
comments