Sameer Mody, an Assistant Lecturer in the Faculty of Business and Law, is taking on his biggest challenge this weekend… The London Marathon!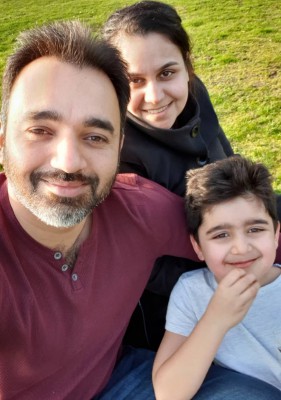 On Sunday 28th April, Sameer will be running his first ever Marathon in aid of Lupus UK, a charity which is extremely close to his heart. Sameer's wife, Naseeba was diagnosed with Lupus 2 years ago. Lupus is an incurable auto-immune disease where the body's immune system attacks its own organs and tissues causing symptoms such as: extreme fatigue, joint pain and inflammation.
Naseeba's mother is also a sufferer and has lived with Lupus for over 30 years. The disease often leaves both Naseeba and her mother exhausted, run down and in pain. The family have had to adjust to a new way of life and Sameer wants to support and raise-awareness for Lupus UK who are working to find new treatments and, hopefully, a cure. At the time of writing, Sameer has smashed his initial fundraising target. However, you can still support Sameer, if you would like to, by visiting his JustGiving page.
While this is more than motivation enough, Sameer also wanted to get fitter and healthier so he could keep up with 6-year-old son Azeem, who is full of energy! By improving his fitness, Sameer is now able to enjoy quality time with Azeem, which also means he is able to take the load off his wife Naseeba.
Sameer has previously completed two Birmingham Half Marathons, in 2016 and 2018, and as part of his training routine, ran the Coventry Half Marathon in March this year. His training has been tough which not only involved going for long runs but also meant he kept his lifestyle in check. According to him, healthy eating, being in a positive frame of mind and disciplined throughout the training were as important as the physical demands of running for long distances.
Thinking about a long-distance running? Sameer gives us his top 3 tips:
Listen to your body.
Lifestyle and diet are extremely important.
Push yourself out of your comfort zone.
If you would like to support Sameer then you can donate by visiting his JustGiving page.
Update: Due to health issues two days before the Marathon, Sameer was unable to take part. We are pleased to confirm that Sameer's place has been deferred to next year! 
Sameer told us, "After months of gruelling training, withdrawing from the marathon was one of the most difficult decisions I've ever had to make but I chose to listen to my body. However, I have unfinished business in London and I'm ready to be patient, train harder and will come back stronger!"
Comments
comments