At last it's nearly that time of year where you get to go home! Whilst Christmas can be an exciting time, it can also get quite busy and stressful. Whether it's moving back home for the holidays or having to put up with certain family members – we've put together a Christmas family survival guide to help you get through the holidays!
Be sensitive about missing uni around your family and friends back home
We get it, a lot has changed! New friends, new social life, new lifestyle… just about everything has changed in the last three months since you started or have been back at uni, but don't forget your family and friends may not be used to the new you.
Whilst being back home, there will be times when you start to miss your usual day-to-day uni lifestyle. Remember not everyone at home wants to hear about your partying and student carefree lifestyle. Enjoy home for what it is because before you know it, you'll be back at university with your friends, we promise!
Wear your Christmas cracker hat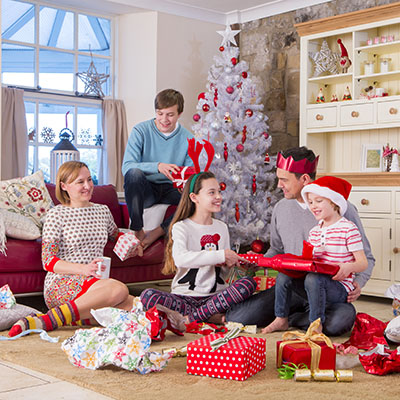 Join in with the festivities! You've probably heard that saying, if you can't beat them join them. Whether it's your dad with his Christmas cracker jokes or your siblings forcing you to wear your cracker hat – be sure to join in, who knows you might just enjoy it!
Practice your "it's just what I wanted" face
 Now remember, it's all about the "thought that counts". If you get given a gift you really don't like or want, remember it's not always about the item!
Try not to tell young relatives that Santa doesn't exist
You may not be in the Christmas spirit- but that doesn't mean you're allowed to ruin it for those who are. Be nice and think about when you were a kid, what Christmas time meant to you.
Be the bigger person
Christmas can be an overwhelming holiday, try to prepare yourself and ensure that your expectations don't exceed reality. Be accepting that your family may not be perfect and with so many people involved someone may say something you don't like. Ensure you don't let this spoil your day and remember, Christmas does only come around once a year.
Lastly, eat, drink and be merry
Christmas only comes around once a year and before you know it, it will be over. Enjoy the joyful holiday with those old classics you can only watch once a year, great food, great drinks and most importantly great company!
Here's to family, we couldn't do without them especially at Christmas!
If you have any top tips on surviving Christmas at home, we'd love to hear your thoughts on either here or via Social Media.
Comments
comments