In case you missed it, Coventry University has been nominated for the Entrepreneurial University of the Year at this year's Times Higher Education Awards. But what does that actually mean?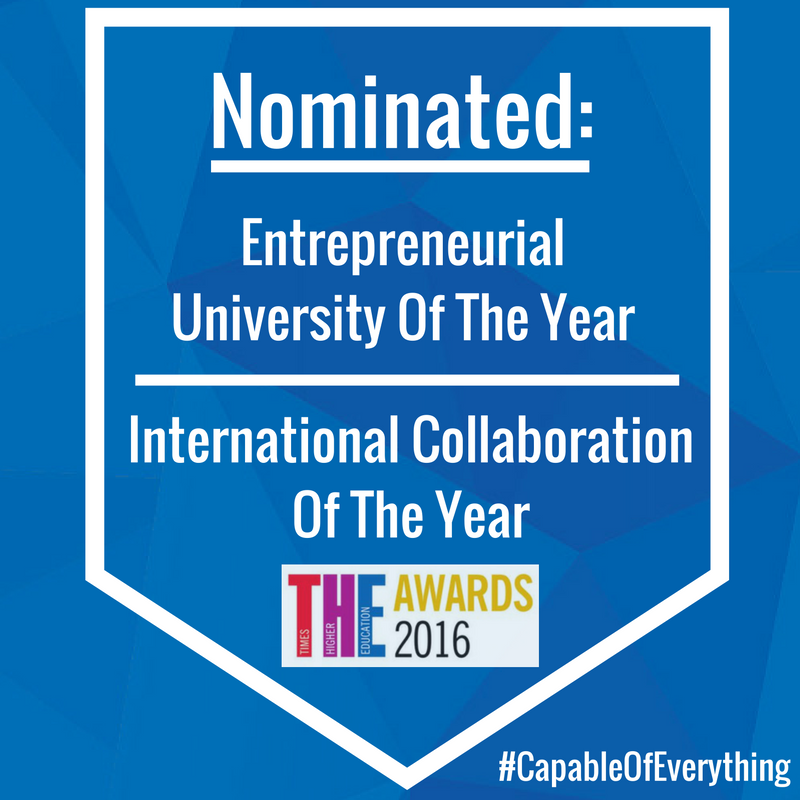 Coventry University has a successful track record in these awards. The University has been named the Modern University of the Year in 2014, 2015 and 2016 and picked up the coveted University of the Year award in 2015. This year, we have two nominations, Entrepreneurial University of the Year and International Collaboration of the Year.
According to the Times Higher Education Awards official website, the Entrepreneurial University of the Year award, sponsored by The National Centre for Entrepreneurship in Education (NCEE), recognises universities that have developed an environment and culture that fosters enterprising attitudes among all members of its community and delivers significant entrepreneurial impact at regional, national and international levels.
In particular judges will be looking for:
vision and strategy: how has the university transformed its vision and strategy to place enterprise, entrepreneurship and innovation at the heart of the organisation?
culture and mindset: how has the university stimulated an environment that supports entrepreneurial mindsets and behaviours in both staff and students?
entrepreneurial impact: how have the university's efforts affected the nature of entrepreneurial activity among staff, students and alumni and stimulated a strong entrepreneurial impact locally, nationally or internationally?
policy and practice: have the university's experiences and activities influenced policy at all levels and clearly demonstrated good practice and effectiveness?
So, in the eyes on the nominating parties, the University has ticked enough of these criteria for consideration. Coventry are in competition for this award with Aston University, University of Central Lancashire, University of Lincoln, London South Bank University and Manchester Metropolitan University.
Vice-chancellor Professor John Latham said:  "We're proud to have been shortlisted for these awards, and I do hope everyone in the local community and in our worldwide community of learning shares that pride. The recognition for our international activity is particularly meaningful and a significant boost in our efforts to put Coventry – both as a university and as a city – on the global map, and give our students great international opportunities. Additionally, to be in the running for 'Entrepreneurial University of the Year' for the second time in five years is a fantastic testament to the enterprising culture that runs through our veins and consistently underpins everything that we do."
The awards ceremony is on Thursday 24th November at the Grosvenor House Hotel, Park Lane, London.