From the deceitful bankers to the diabolical Druglords.
With Christmas long gone, January is the perfect time to dive in to a brand new Netflix binge, or even a boxset (DVD's are still a thing?). We've decided to share 7 of the vilest TV villains who you probably wouldn't want to share your university accommodation with, but you're still happy to watch them in your downtime. We've tried to be relatively spoiler free but for those who have already seen them in action – doesn't it make you want to watch them again?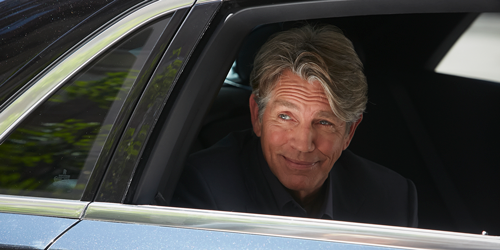 Charles Forstman, Suits
In poker, the person with all the chips has the power. In the TV series Suits, everyone has an ulterior motive. Add the two together and you get the billionaire bully Charles Forstman; the only character who can 'out-arrogant' leading protagonist Harvey Specter. Eric Roberts perfectly plays a consistently cocky, cigar-in-hand, ruthless and manipulative banker who screws over almost everybody in the show. It seems that, no matter what, he profits from playing underhanded cards against anyone who approaches him, whether they come with hostile or allied intentions.
The first three series of Suits is available on Netflix and the rest are online. Season 5 commences later this month.

Gabriel Grey/Sylar, Heroes
#Throwback to an older show and #throwback some more to when it was the best. Season one of Heroes was a comprehensively and excellently written show, which saw the evolution of one of the nastiest villains around. Back in 2006, a simple watchmaker born with intuitive aptitude (the ability to instinctively understand how things work) switched his profession from timepieces to brutally and obsessively stealing other gifted peoples' unique powers. Using one of the earliest powers he stole, he begins his rampage, telekinetically severing skulls to extract the abilities. Sylar is definitely one you'd refer to as a 'supervillain'.
All seasons of Heroes are available to buy, however the only one that really matters is season 1. Heroes Reborn was [re]launched back in September, but we haven't seen that yet.

Phillip Blake aka The Governor, Walking Dead
When the world is ending and zombies outnumber the living, it's understandable that those that remain may not make the most considered decision when electing a leader. Enter Phillip Blake, aka the Governor! During his first appearance he commits a 'mercy kidnapping' and murders someone after getting the information he wants, but the people following him at Woodbury think he is just the nicest guy! From zombie sparring matches to floating heads in fish tanks, it's safe to say he's quite mentally unbalanced. At major points throughout the series, the Governor faces up against many of our favourite characters with plenty of white-knuckle, tear-jerking moments. Oh and he ends up wearing an eye-patch in Season 4, the ultimate bad guy alert!
Season 6 returns from a mid-season break on Monday 15th February on Fox TV.

Joffrey Baratheon, Game of Thrones
In a series notorious for it's bloody violence, it's quite an achievement to be crowned top villain! Joffrey Baratheon may look sweet with his golden locks and noble background, but this Lion is vicious and cruel with a short temper, which cannot be excused by puberty! When Joffrey isn't hiding behind his mother's skirts, he's ordering his Kingsguard to be abusive towards all around him, with no man, woman or wolf safe from his fury – which the Stark family get to experience to the fullest! Just remember if Joffrey promises you mercy, you might want to watch your back (*cough neck cough*)…
Season 6 returns to Sky Atlantic in early April.

Arthur Mitchell, Dexter
John Lithgow has an impressive and decorated acting career, both in films and television. However, his portrayal as the sinister Arthur Mitchell in Dexter is one that many will know him for. He initially fascinates Michael C. Hall's lead character – how is this man able to 'do what they both do' but simultaneously live a seemingly normal 'family life'? Well, we soon learn it's not so normal as Arthur shows himself to be a deadly cocktail of tragedy and insanity and subsequently, the two go head to head towards the end of season four with dire consequences. (That was difficult to write with no major spoilers!)
All eight seasons of Dexter are available on Netflix.

Kilgrave, Jessica Jones
From the relatively new Marvel/Netflix original comes the troubled eponymous Jessica Jones – a private investigator with super strength. Troubled she is, mainly due to the actions of one Kevin Kilgrave. Portrayed by the beloved David Tennant, his character is anything but that. The sadistic mind controller is almost impossible to stop and uses anybody within close proximity as puppets to do some of the most horrible things, mainly inflicting harm to themselves or others. However, he insists his actions are all of out of love for Jessica, in some sort of sick way! The comic-based series is regarded as almost a 'psychological horror' for it's gritty action, much of which is due to Kilgrave.
The series is available on Netflix now.

Gustavo Fring, Breaking Bad
The mild-mannered and chillingly calm Gus Fring is not someone to be crossed. Initially, we meet a character who appears an extremely polite, chicken restaurant owner, despite the fact we know he runs a drug empire through it. He's a community man and is friendly with a lot of the local police force. However, we soon learn of his ruthlessness at that moment; cough* box cutter *cough. Giancarlo Esposito expertly acts as a very complex character that will likely go down in history as one of the most iconic villains in TV history, just as Breaking Bad itself holds a similarly iconic status.
All five seasons of Breaking Bad are on Netflix.
Villainous fans; stop sleeping on the these shows and get watching. Did we miss anybody? Let us know who you'd pick in the comments section!
[Ryan Walker & Emma Dolby]
Comments
comments