Call of Duty vs Battlefield, FIFA vs Pro Evo, James Bond vs Jason Bourne, Miley Cyrus vs Nicki Minaj… there are many rivalries taking place across popular culture at the moment but a brand new battle is about to erupt in your local cinema… Marvel vs DC.
March sees the much-anticipated release of Batman v Superman: The Dawn of Justice. Interest in this film has been unprecedented as it sees two of the biggest names in both film and comic books come together for the first time on the big screen. This film is set also set to launch a new series of films which DC hopes will rival the all-conquering Marvel movies. Let's take a look at the two sides involved in this battle of the box-office.
The MCU (Marvel Cinematic Universe) – Total Box Office gross since 2008: £6.4 billion
Unless you've been frozen in ice or held captive in a cave for the last eight years, you will be aware of this cinematic goliath. Since 2008's Iron Man, the MCU has been churning out box-office smash after box-office smash. There have been 12 films since, all have an interconnected sub-plot that makes up part of a larger story-arc. It's the first time anything like this has been attempted and so far it's working very well. This 'Universe' boasts an impressive cast including (inhale) Robert Downey Jr, Chris Evans, Scarlett Johansson, Chris Hemsworth, Samuel L Jackson, Don Cheadle, Natalie Portman, Chris Pratt, Mark Ruffalo, Idris Elba, Anthony Hopkins, Anthony Mackie, Gwyneth Paltrow, Jeremy Renner, Tom Hiddleston, Robert Redford, Michael Douglas, Zoe Saldana, Josh Brolin, Bradley Cooper, Vin Diesel, Sir Ben Kingsley and Paul Rudd (exhale). Future films will add even more big names like Benedict Cumberbatch, Chadwick Boseman, Tilda Swinton, Kurt Russell, Chiwetel Ejiofor and (according to rumours) Sylvester Stallone to that list. This thing is a movie monster! Marvel Studios sits within the Disney corporation and they have films scheduled as far out as 2020. Some will notice I haven't mentioned the X-Men, Fantastic Four, Spiderman or Deadpool here. All are original Marvel comic-book characters however the film rights are owned by other studios and they aren't a part of the MCU (although Spiderman is about make his first appearance). The Avengers have assembled. How can DC possibly compete?
Next MCU film: Captain America: Civil War – 29 April.
The DCEU (DC Extended Universe) – Total Box Office gross of all DC movies since 1978: £6.3 billion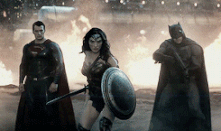 DC's Universe technically started with 2013's Man of Steel, a reboot of the Superman franchise. The sequel, Batman v Superman: Dawn of Justice is out this month with the ambitious Suicide Squad movie coming out later this year. DC has a lot more recognisable names than Marvel did when they first started in 2008. DC have Batman, Superman, The Joker, The Penguin, Two-Face, Lex Luthor and Louis Lane to name just a few and these are much more well-known names than their Marvel counterparts had pre-2008. The stars involved in this universe so far include Ben Affleck, Henry Cavill, Will Smith, Margot Robbie, Jared Leto, Amy Adams, Gal Gadot, Jeremy Irons, Laurence Fishbourne, Jason Momoa, Amber Heard, Chris Pine, Cara Delevingne and Jesse Eisenberg. DC are also working on films for Wonder Woman and Aquaman as well as two Justice League movies – teaming a number of their heroes together like The Avengers. Funnily enough, they have been trying to do this for decades and only the success of Marvel's The Avengers movies has convinced the studio that it could work. Also in the works is a new series of Batman films starring Ben Affleck and more Superman movies. They've also scheduled a new Green Lantern film and movies for lesser-known characters such as Cyborg, The Flash and Shazam – these have yet to be cast. Like Marvel, DC has scheduled films for as far out as 2020, but it seems much rests on the success of Batman v Superman and Suicide Squad.
Next DCMU film: Batman v Superman: Dawn of Justice: 25 March
DC has a lot of catching up to do. Marvel has made more money at the box office in 8 years than DC has in almost 40! Batman v Superman is expected to do well but will it do well enough to kick off the franchise? Will the Justice League be able to stand up to The Avengers? Will Batman be able save the day or will Iron Man remain smug and out of his reach? We shall see soon enough.
Let battle commence…

Comments
comments