We're fast approaching that time of year when it's no longer 'too early' for a mince pie to accompany every cup of tea! That's right, Christmas is almost upon us, so it's probably a good time to get our Christmas movie schedule on point!
Obviously, we'll all be heading to the cinema to see this year's hottest festive film, 'Nativity Rocks', which was filmed on campus earlier this year, but in between our multiple trips to see this, what else will be occupying us as the winter nights draw in? Here's our Top 7 Christmas Movie recommendations…
1.  Muppet's Christmas Carol
Michael Caine, Kermit, Miss Piggy, Gonzo and Rizzo are the stars of the show as the Muppets give us their unique and timeless take on Charles Dickens' classic A Christmas Carol. Ebenezer Scrooge (Caine) is visited by the ghosts of Christmases past, present and future to teach him the meaning of family, friendship and generally not being a ******. There's some great musical numbers and all our favourite fabric friends, but for me Gonzo, narrating as Charles Dickens himself, steals the show. A must-watch this festive season. Stick it on after the Queen's Speech but before your Dad discovers the Top Gear omnibus on Dave!
2. Miracle on 34th Street
I actually only discovered this classic in recent years but it has become a favourite. A young girl befriends the department store Santa Claus believing him to be the real deal. Shenanigans ensue to the point where he becomes such a success in drawing in the customers for his employers, a rival store sets out to destroy our bearded hero by framing him for assault and even taking him to court to discredit him. It's a heart-warming tale and a good Christmas Day watch.
3. Scrooged
Another golden-oldie. Set in the 80's, an over-bearing, bullying, arrogant TV executive (Bill Murray) experiences the full Christmas Carol treatment of the three-ghosts to help teach him the meaning of Christmas, family and love. This is a great pre-Christmas watch but be warned, the final of the three ghosts still gives me nightmares. This is one for your Christmas Eve evening schedule.
4. Die Hard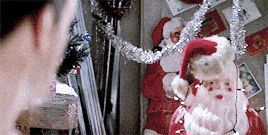 A heart-warming tale of a man flying hundreds of miles to spend Christmas with his wife and two young children after spending a long time away due to work commitments. The man turns up to surprise his wife at her work Christmas party and they end up mending their strained relationship and driving off into the snowy LA night to the sound of Let it Snow by Dean Martin. Ok, in-between the party on the saved relationship is an elaborate robbery perpetrated by German thieves masquerading as terrorists which includes many explosions, a few gruesome deaths, a couple of Agent Johnsons and the inspiration for my Christmas jumper, but at the heart of it is a traditional Christmas romance. Put this on… well now… put it on now!
5. How The Grinch stole Christmas
I, for one, love Jim Carrey and this is peak Jim Carrey (edit: that's not true, Ace Ventura is peak Jim Carrey, but this is up there). The reclusive green Grinch (Carrey) decides to ruin Christmas for the cheery citizens of his local town, Whoville. Reluctantly joined by his hapless dog, Max, the Grinch comes down from his mountaintop home and sneaks into town to swipe everything holiday-related. However, the bitter grump finds a hitch in his plans when he encounters the endearing Cindy Lou Who. I always like to throw this on in the afternoon on Christmas Eve.
6. Home Alone
I'm obligated to mention Home Alone… so… here goes: The story of a demented, homicidal child who, rather than calling the police, decides to torture, maim, dismember and attempt to murder two petty criminals, after being left at home by his neglectful parents. Truly heart-warming stuff. One for that period between Christmas and New Year.
7. Elf
Will Ferrell stars as Buddy in what is possibly the funniest Christmas film! Buddy was accidentally transported to the North Pole as a toddler and raised to adulthood among Santa's Elves. Unable to shake the feeling that he doesn't fit in, Buddy travels to New York, in full elf garb, in search of his real father. Comedy ensues. This is great film to throw on while you're enjoying the Turkey and chips on Boxing Day!
Honorary mentions:
Here are a few more to help foster the festive spirit in the lead-up to Christmas:
The Santa Clause
Home Alone 2
Jingle All the Way
It's a Wonderful Life
I hope you enjoy our top picks. If you have any other recommendations you'd like to share, please do so either in the comments below or via our social media platforms.
Comments
comments