Aaand you're off! See ya later old life, hello university! If you're starting your uni adventure with Coventry this month, here's the essential guide all January Starters will want to follow…
1. Pack. Properly. Now!
We love leaving stuff 'til the last minute too, but seriously. You don't want to get here and realise you've left half your stuff at home, especially if you live a long way away. (I speak from experience!)
You'll need these important documents, so make sure you've put them somewhere safe:
1. ID – Your passport or driver's licence
2. Your University acceptance letter
3. Your course acceptance letter
4. Bank details
5. Accommodation info
6. Student insurance documents
It's easy to forget about your health at university… Until you get sick! OK, if you get sick. Make signing up to Coventry's medical centre one of your top priorities when you get here and you won't have to panic if you find yourself needing some help from a doctor. You'll find it in TheHub and here are their contact details:
TheHub
Jordan Well
Coventry CV1 5QP
Tel: +44 (0) 24 76592012
3. Refreshers Week
This is the fun part! Get ready to fully initiate yourself into university life and become a part of the Coventry city buzz. Watch the video below made by the Coventry University Students' Union of Freshers 2016 day one, for a taste of the action!
Each day there'll be a different fair on where you can sign up to loads of teams/societies/events. If you love pizza, make sure you get in line at the Domino's van! If you're mad for a night out, check out the CUSU website nearer the time for all the Refreshers details. You can also read our ICYMI Freshers' 2016 blog for more on what happened at our last Freshers' Week.
4. Watch this ferret video
No reason. It's just really, really adorable, hilarious and will help you relax if you're starting to feel pre-uni nerves. Plus, if you get to uni and meet someone who loves ferrets as much as you do, you'll have something to talk about.
5. Think about going global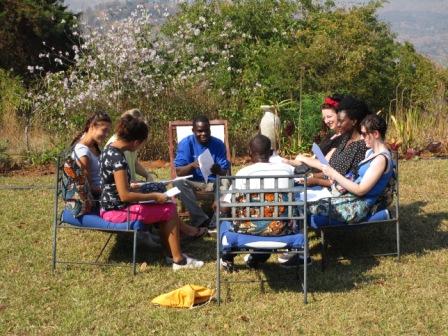 A university degree is a real achievement. But… It's important to think about getting more than your course material out of your experience while you're at Coventry. If you're passionate about travel, we're famed for our global opportunities!
The Centre for Global Engagement or 'CGE' as you'll know it here, is your one-stop-shop for international opportunities, which will all enhance your university experience and employability.
The Global Leaders Programme was designed exclusively for Coventry students to help turn them into world industry leaders.
6. Learn where to eat on your student budget
Sounds difficult if you don't live here yet, right? Wrong! We've put together a comprehensive list of all the best places to spend your student budget wisely if you decide on a night out.
7. Work on your icebreakers!
It's generally a lot easier than you might think to make friends at uni, but in case you need a few hints, here are 5 icebreakers which will help make your first few weeks at Coventry University easier.
We can't wait to meet our January starters, if there's anything else you're confused about or need to know, let us know in the comments or on our social media channels.
Comments
comments