This week is Enterprise Week in the UK. It's a week where all things business and entrepreneurial are celebrated. And we here at Coventry University have much to celebrate in this area.
Between now and 1st December, the university is hosting and delivering a number of events in the Coventry & Warwickshire Business Festival and last week saw the successful completion of the Global Entrepreneurship Week facilitated by the folks at the Coventry University Social Enterprise.
Also last week, the university landed the coveted The Duke of York Entrepreneurial University award at the annual Lloyds Bank National Business Awards. The award recognises the work the university does to encourage, prepare and enable entrepreneurial opportunities. This award highlights the excellent offering of enterprising services to staff and students as well as our engagement with external businesses of all sizes.
So, if you're a budding entrepreneur and want to follow in the footsteps of people like Bill Gates, Arianna Huffington, Coco Chanel, Steve Jobs, JK Rowling and Elon Musk… here's a quick look at some of the services that could be your springboard:
The Enterprise Hub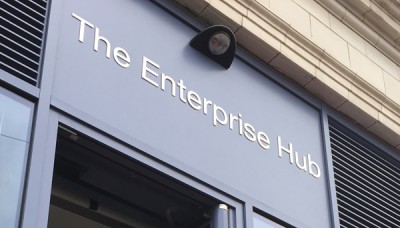 The Enterprise Hub is a resource for staff, students and graduates of Coventry University who are interested in setting up a business or developing a social enterprise. It's a space to meet with our experts and network with like-minded entrepreneurs. You can visit the Enterprise Hub, located on Whitefriars Street opposite The Hub, or for more information, visit their website here: The Enterprise Hub.
Coventry University Social Enterprise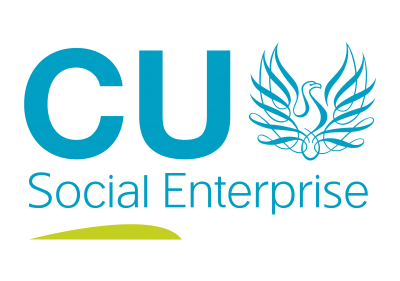 Based within The Enterprise Hub is the Coventry University Social Enterprise (CUSE) team. Social enterprises are businesses that tackle social problems: by improving communities, people's life chances, or the environment. The money raised from selling goods and services in the open market through these businesses, are re-invested back into the businesses or the local community. They offer the opportunity to work with existing businesses for economic and social benefit whilst developing students', staffs' and alumni's enterprise skills.
CUSE's sole purpose is to champion the social enterprise capacity of all students, staff and alumni at Coventry University. CUSE currently supports 18 social enterprises set up by staff, students and alumni. These span a range of disciplines from fashion to child protection and each is making a successful contribution to society.
If you want to make a difference through creation of a social enterprise email myidea@coventry.ac.uk or just walk straight in and speak to one of our friendly team members.
Enterprise & Innovation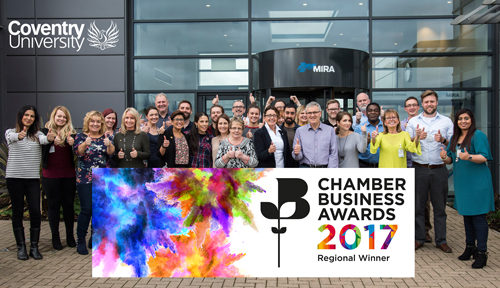 The University has an ever-growing portfolio of business engagement projects. These range from working with SMEs (small to medium sized enterprises) to partnering with large well-known companies such as Fiat and Unipart Manufacturing. The University has a large and long-term partnership with Unipart Manufacturing in the form of the Institute of Advanced Manufacturing and Engineering (AME). Based a short drive from the main campus, the AME gives students the opportunity to work in a real-world manufacturing environment whilst also giving Unipart access to our innovative research and facilities. The Enterprise and Innovation team are based on the Technology Park and you can read more about their work by visiting www.coventry.ac.uk/business.
Coventry University boasts a fantastic reputation as a modern and innovative, business-facing university. We have many household names in our portfolio of organisations we work with across a range of different sectors. If you're interested in keeping up to date with the range of business news, events and articles from the university, why not sign up to our monthly newsletter or follow us on Twitter.
Comments
comments