As soon as December arrives, we're bombarded with hoards of "best of 2017" lists all over the Internet. So guess what, we're going to do the same!
There have been so many highlights and amazing achievements this year for the University and our city as a whole, it's only right that we shouted about it a little. We've whittled it down to 7 key 'moments', starting with probably the biggest of them all…
WE WON THE CITY OF CULTURE 2021 BID!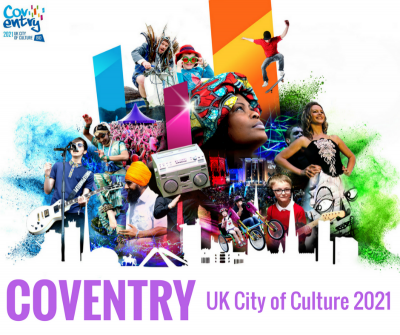 Our most recent news is arguably our biggest news of the year! Remember the day – Thursday 7th December, 2017. Following months and months of campaigning and events, Coventry was announced as the UK's City of Culture for 2021. After reaching the final shortlist along with Stoke, Sunderland, Swansea and Paisley, the race was on to prove to DCMS we were worthy of the crown. The city's wonderful, creative community pulled out all the stops to showcase what Coventry is all about – and this win marks the beginning of an incredible few years of culture, investment, progress and celebration. GET IN THERE!!
A GOLDEN MOMENT.
Another year, another acronym for Universities to use! The TEF, meaning Teaching Excellence Framework, officially came into play for the first time in June this year. This is essentially the new ranking system set by the government, which looks at teaching quality, learning and outcomes – this is then used to award UK Universities with a Bronze, Silver or Gold rating. As you can see, we're very proud to have been awarded GOLD, which further enhances our reputation for teaching excellence and student satisfaction. You can see more about our teaching excellence here.
HELLO MARGARET!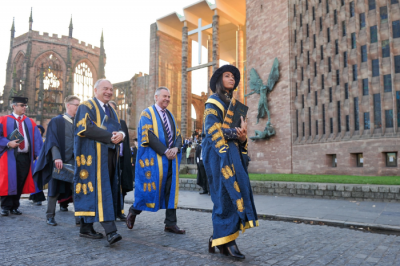 In July we saw another landmark moment for the University as Margaret Casely-Hayford was named our new Chancellor, becoming the first female to have the position. Margaret has worked on so many excellent projects throughout her career, and is highly respected as an ambassador for young people, women and ethnic minority groups. It was a special moment in November when Margaret was officially invested as Chancellor during graduation week. Speaking of graduation…
PRIDE, ACHIEVEMENT & THE SEA OF SUCCESS.

Although we do have a selection of ceremonies across the year, the main #CovGraduation week takes place towards the end of November, and it's always such a special time. This year was no different and what a week we had! The atmosphere in university square is just incredible. A proud moment for students, their families, friends, staff, and the university as a whole. We wish all of the Class Of 2017 the best of luck for the future, can it would be great for you to stay in touch with us via our Alumni team.
THE LATEST ADDITION TO CAMPUS.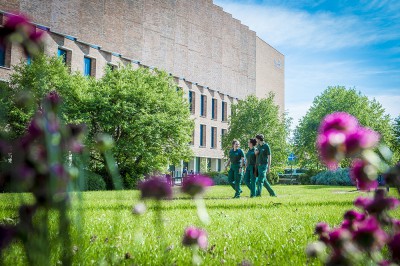 A project which has been years in the making, this September our brand new Science and Health Building opened it's doors to our students, who can now enjoy the incredible facilities and learning environments that this building provides. The main focus of the building is on immersive and collaborative learning, achieved by flexible study spaces and truly special teaching environments such as our SUPER LAB! Check out some of the other amazing features of the building here.
GODIVA GREATNESS.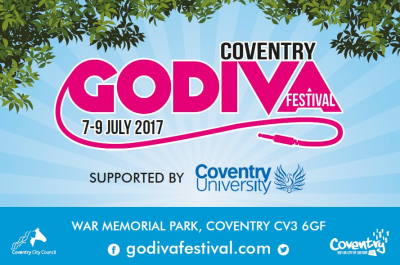 Godiva Festival turned 19 this year, and Coventry University was proud to be the main sponsor of the 3-day event. The popularity and status of Godiva festival has grown each year, and is now established as the UK's biggest FREE music festival. Over 179,000 people visited the festival over the course of the event, yet again breaking their attendance record. An epic selection of acts took to the stage including Example, The Stranglers, Mallory Knox, Not3s, The Amazons, Kate Nash and The Darkness – what a list that is! Godiva Festival also takes great pride in showcasing local talent and creativity, and had a strong connection to our (SUCCESSFUL) City Of Culture bid.
MORE WINS!
I think it's fair to say that over the past couple of years the University has been in a very good place! With multiple achievements, accolades and success stories (including what you've seen here), we love to share all the good news whenever we can. As well as our TEF Gold rating, this year has also seen us climb up to 12th place in the UK University Rankings (The Guardian University Guide 2018), we achieved 5 Stars for teaching excellence (QS Rating), and were named the UK's Top New University 2018 by the Complete University Guide. BOOM!
Here's to even more fantastic news in 2018! Merry Christmas and Happy New Year to all from coventry university!
Comments
comments