A Coventry University gospel choir has made it to the final of a national competition! Gospel Rhythms has been selected as one of eight finalists in the 5th annual University Gospel Choir of the Year (UGCY) competition 2015!
Update: A huge congratulations goes out to Gospel Rhythms who were the 2nd runners up in the competition!
Gospel Rhythms' success follows hot on the heels of their strong showing in last year's BBC Songs of Praise Gospel Choir of the Year competition, where they were one of six choirs from across the country that made it through to the final for the coveted prize.
Having just missed out on that award, Gospel Rhythms will be hoping to go one better this time round by bringing the title of University Gospel Choir of the Year back to Coventry.
As always the competition will be full of dancing, laughter and roaring cheers (and a few tears!) with our seasoned Gospel Music gurus – Andrea Encinas, John Fisher, Mark De-Lisser, Stephanie Oyerinde judging the competition ultimately deciding which choir will be crowned the 2015 University Gospel Choir of the Year!! (UGCY)
Gospel Rhythms will be up against seven other finalists competing for the prize at the Hippodrome in London from 7pm to 10pm this Saturday (14th March). We have Gospel Rhythms' entry video here so you will soon hear why they made the final!
Ticket Information:

Tickets are available now!
Advance tickets are priced at £10.00 for adults; It is best to book as they may cost more at the door.
About UGCY:
University Gospel Choir of the Year is a voluntary organisation providing an unprecedented platform for University Gospel Choirs across the UK to develop and showcase their musical abilities. Launched in 2011, UGCY is an annual competition that aims to bring together talented and diverse individuals through music, encouraging them to strive for excellence and exceed their own limitations, whilst inspiring the young and old in all walks of life.
UGCY is proud to be able to provide such a unique platform for University Students to display their talents! We invite you to experience the CREATIVITY of theses students with their UPLIFTING songs and performances (UGCY)
Good Luck Gospel Rhythms!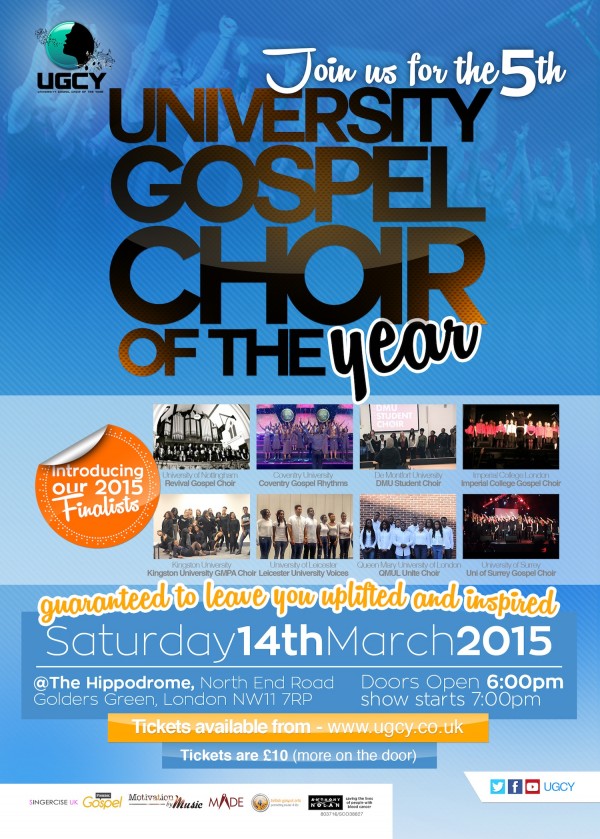 Comments
comments