Coventry University student Maria Petrou is competing in 'Miss Coventry 2015', despite suffering relentless bullying at school – based on her looks!
We caught up with the stunning student to ask more about her amazing story, life after bullying and what really goes on at a beauty pageant…!
Congratulations on your success so far Maria! Before we discuss the pageant, tell us a little about your Fine Art degree:
I specialise in mono printing and photography, however I also utilise various other mediums in order to express my emotions to the viewer. I have been exposed to the current state of society, the issues of modern life, the experiences people have and the hidden issues that the media rarely speak of. The artists that inspire me are: Francesca Woodman, Jānis Avotiņš and Man Ray.
What would you like to do with your degree in the future?
Education is something that I strongly believe in. If you have a basic level of education, you can use it as a base to improve your life skills and experiences. This is why I chose Coventry University. I feel that there is a fantastic opportunity to develop my passion and skill for art here. This isn't to say that education is a must, being driven and recognising your own potential is all you need to be successful. I believe that my passion of visually interpreting current events will be the catalyst for me to reach my potential.
Modelling is something I do as a hobby, I am determined to achieve the highest academic grades to better my future and encourage others to do the same. My initial aim is to teach art at a secondary school. Eventually, I hope to run a private school where children, teenagers and adults can learn to express themselvesthrough art.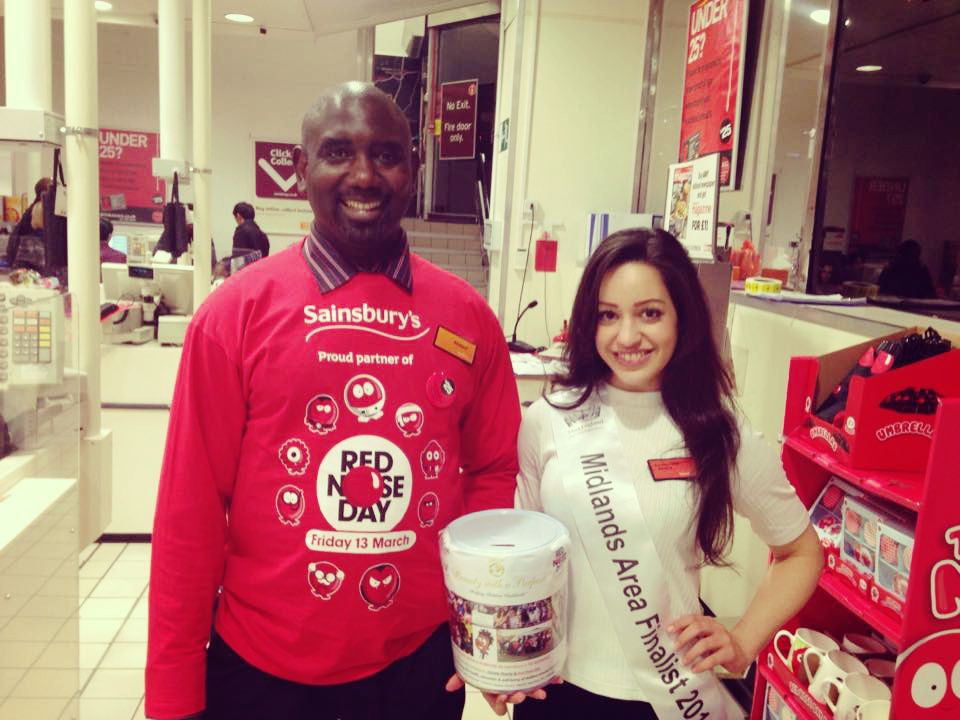 Maria was placed runner up for the Miss Coventry competition in 2014. However, because she raised £1500 for the charity 'Beauty with a Purpose', she was crowned 'Charity Queen'.
Charity work is a real passion of mine. I don't take for granted the fact that I have been blessed with a healthy family, a roof over my head and access to education. These days, we often forget what we are blessed with. We don't think about the battles that others face, both in this country and worldwide. My aim in life is to give as much as I can and to help as many charities as possible.
Maria's first charitable event was in 2009 in which she raised £150 for Freedom Park in South Africa. In 2014, she wasable to raise a total of £8160.00 for 'Beauty with a Purpose'. It doesn't stop there; Maria took part in the Birmingham to Bastion Challenge, cycling 51 miles tocontribute to the 7,160 mile target. The challenge raised the grand total of £4,865, which was used to purchase physiotherapy equipment for Queen Elizabeth Hospital, and provide a unit for family members to stay in overnight.
Despite not being crowned in the 'Miss Coventry' heat, being awarded the title of Charity Queen meant Maria was invited to compete further. She attended the Semi-Finals in May 2014, her second chance at the grand 'Miss England' title. She was placed 13th, just outside of the shortlist for the final!
But, Maria was given a third chance:
After the contest, I returned home and continued to promote my area and help local businesses. I then received a surprise phone call asking me to enter in theWest Midland heat! I accepted the offer and competed at the Sanctuary workshops in Leicester. I was up against many other beautiful girls that all deserved to win, I didn't expect them to call out my name! I felt truly blessed, humbled and grateful that my determination had paid off. I got to enter the final round of Miss England 2014, competing as Miss West Midlands, where I was placed 23rd overall.
It doesn't stop there. Maria now plans to compete again, this time for Miss Coventry 2015.
I would love to be crowned Miss Coventry 2015, after coming so close in 2014. I truly believe that I can help the community through bonding with local businesses. I will achieve this by involving them in the charitable work and helping them grow through brand promotion and new ideas. I am currently bagpacking in Sainsbury's before and after university classes, to bond with the locals and help them with their everyday routines. The important thing is to understand that the 'Miss' title provides a platform to improve the lives of others in order to create a closer community. Whilst I hope to graduate this year, I also hope that I can become Miss Coventry to act as an ambassador for the region.
About the Beauty Pageant:
Now, my only experience of a beauty pageant is from the wonderful movie, 'Miss Congeniality', set at the fictional Miss United States pageant:
I'm pretty sure this isn't a realistic portrayal, so I asked Maria, what is really involved in a beauty pageant?
Beauty pageants do not live up to their old clichés.Contestants work hard to use their title as a platform to make small changes within their region. You have to be an approachable person, a representation of grace and intelligence, not just a pretty face. People have a narrow view of pageants due to reality TV shows, however this isn't the true nature of a beauty pageant. It is about girls coming together, uniting and standing up for the rights of society, promoting charitable work and proudly representing their region. Being someone who is relatable and grounded are vital traits of a Beauty Queen.
There are many rounds within the finals of Miss England, Maria shared some of them with me:
Charity
Charity is the main focus within the competition. Miss England's aim is to help disadvantaged children around the world. The slogan 'Beauty with a purpose' was created by the Miss England founder Julia Morley in 1972. Each region focuses on raising as much money as possible to support the Variety Charity.
Eco Wear
Using materials that would have otherwise been used as landfill to create garments and fashion statements. It is about searching through your wardrobe, looking in Charity shops and seeing potential in something. Realising that it can be re-created and altered to create a new unique item. This round raises awareness of the importance of child labour and unethical fashion, whilst promoting fair-trade and eco-friendly clothing.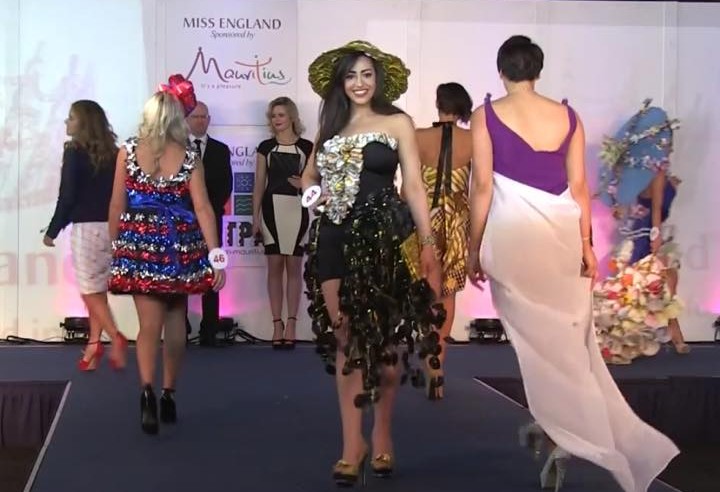 Talent 
Contestants within the competition are asked to submit a small clip on a DVD of themselves performing their talent. In the past this has included: fire breathing, belly dancing,playing an instrument, languages and many more. It is about what sets you apart from the rest. Based on the video clips, the judges choose a few contestants to perform their talent to an audience.
Text Vote:
In this round the public act as a judge. Pictures of the finalists are displayed on the Miss Englandwebsite with voting options. This provides the opportunity for the public to choose whom they believe is deserving of the title. It engages the public and provides insight into what the contestants are doing for their region.
Beach Beauty
This round is optional.Women parading around in swimwear is a thing of the past, instead contestants can choose to submit a photo of them posing in their swimwear.
This Beach Beauty round is often the first thing people think of when they hear 'beauty pageant', impossibly tall girls strutting around in bikinis and sashes. However, Maria explains the truth:
One of the misunderstood elements of the beauty pageants is the expectation of glamour rounds, such as the swimsuit parade. Whilst Miss England is a beauty pageant, and part of this is walking on the catwalk in a beautiful gown andfeeling glamorous, people should realise that this is just to bring the show to a grand finale. The rest of the contest is about celebrating beauty, not just on the outside but also on the inside. The finale is a huge celebration of the hard work each contestant has carried out months before the competition climax.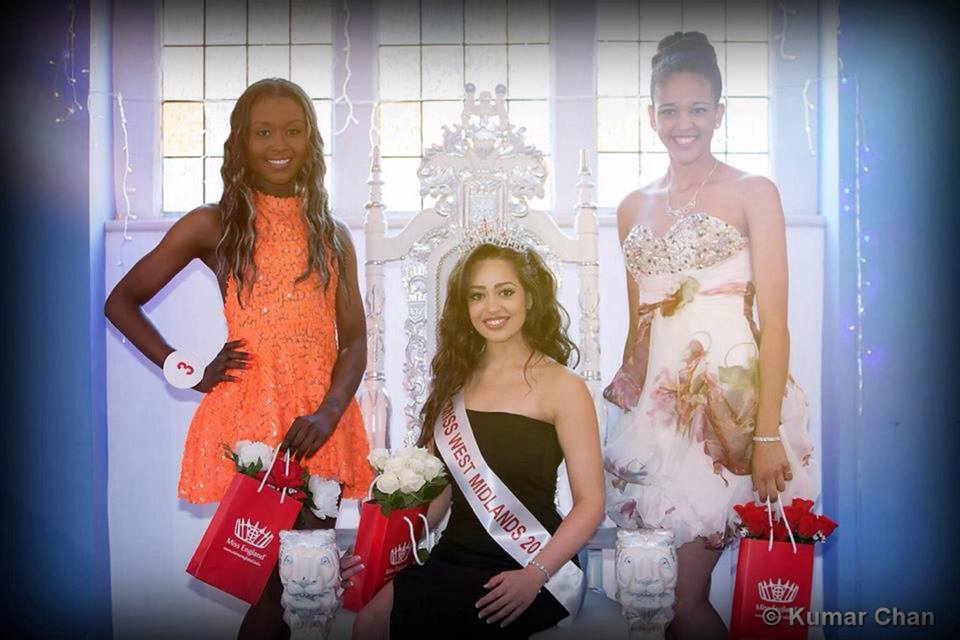 I believe that people have a misconception of what beauty pageants are about. It consists of a lot of time and hard work. It is not something that is done overnight. There is so much that the girls do before the day of the competition that just isn't recognised within the media. You learn so much from Miss England: how to compose yourself, how to talk to and connect with people and how to make connections within the pageant industry. The most important thing that I have gained is confidence.
In addition to this interview we are creating an article focusing on bullying behaviour. Maria's story is an incredibly inspiring one to anyone who has been bullied in the past. Maria suffered years of bullying throughout both primary and secondary school. The bullies targeted Maria about her looks and her passion for studying, comparing her to the main character of American sitcom 'Ugly Betty'.
Were you worried about bullying at Miss England, or competing against other girls?
The bullying was something it took me years to overcome. I did not enter Miss England to prove anyone wrong, I entered because I knew that I could do something that could help inspire others. I entered to grow as a person, to have new experiences and gain confidence in myself. Pageants do not create tension. The girls go through the same journey. They have also experienced the time and hard work that you have gone through. You bond because you share the moment; you share the learning. You experience things together. You understand to respect each other and be happy regardless of the outcome. Everyone is a winner.
What would you say to anyone who feels that they are being bullied?
When it comes to bullying, everyone is dealing with a different situation. The most important thing is being listened to. Knowing that someone cares enough to sit by your side, to ask how you are feeling and how it is affecting you. Bullying should never be tolerated. Find someone you trust, you don't have to tell them that you are being bullied, but talk to them and ask questions such as, how would you deal with negativity? This allows you to speak to them on a relatable level. You can learn so much by how others would deal with difficult situations, and this may help you overcome the bullying.
Never believe that you are in the wrong. Never feel ashamed by the hatred and negativity that others may cast on you.
Be proud of who you are. Stand up for your individuality. Be a true reflection of good to others no matter how much hurt people bring to you.
Speak out and try to notice how others might be affected. The best way to overcome bullying is to speak to someone who has gone through the same situation.
Look into doing things that make you happy, things that you are passionate about. Singing, drawing, trekking and meditation are all great ways to block out negativity.
When you were bullied at school, what support was given? Did you feel able to speak out or ask for help?
I didn't speak up about it, so I wasn't given any support. How can you open up and tell people to help you, when you feel that everyone is against you? This is something that society needs to understand, especially within a school environment. I feel that various projects may help the cause. For example, drama performances that engage children and teach them that we are not clones of one another, that we are each unique but can still work together as one unit. It is only by teaching this to the younger generation that a better future will come.
How has competing in the beauty pageant process affected your self-esteem?
It has been a massive confidence boost! Before entering beauty pageants, I wasn't able to stand in front of a crowd of people and talk confidently. However, I can now compose myself, and speak clearly and confidently to my peers at university. I have been able to develop as an artist, speak passionately about my work and hold private and public exhibitions. The Miss England competition has taught me not to be afraid to communicate with people, helping me form stronger connections, which will later benefit my charity work.
Maria's experiences are represented in her haunting submission for the  talent round of Miss West Midlands 2014:
What has the reaction been since your story appeared in the press, have you been recognised in the street?
My family, friends, teachers and public have been very supportive. It was upsetting that not much was mentioned about the importance of what is involved in the preparation for such an elite competition. However, I can prove who I am as a contestant through my hard work and dedication to the local community and charity work. I am aware that people will criticise and comment but I have been able to rise above that. It is about having that inner confidence to determine how it will affect you and how you will then deal with the situation. The belief that things will get better through time will help you to achieve your goal.
Finally, What advice would you give to next year's contestants and anyone considering applying in the future?
The advice I would give is to simply do it, and have fun! The biggest regret a person can have is saying they didn't do something when the chance was given to them. Enjoy the learning aspect, the confidence that you will gain and the life long friends that you will make. Think outside the box and show who you are as a person, never hide it. Your individuality will be your success no matter where you come in the contest.
unCOVered wishes Maria the best of luck in the Miss Coventry finals, held this Saturday 14th March.
Update: Maria won! Congratulations to Miss Coventry 2015
Comments
comments