Coventry University has excelled in a social enterprise awards ceremony designed to showcase the higher education sector's talent and achievement in entrepreneurship, innovation and leadership.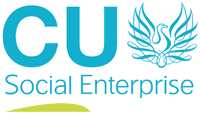 The institution's community interest subsidiary, Coventry University Social Enterprise (CUSE), claimed two 'highly commended' accolades in the annual UnLtd SEE Change Recognition Awards, which are supported by the Higher Education Funding Council for England (HEFCE).
CUSE was successful in the 'Innovation in delivery of support to Social Entrepreneurs' category, and the company's director, Keith Jeffrey, was honoured as a 'Social Entrepreneurship Champion' – with both awards being judged by a panel including representatives from HEFCE, Universities UK and Santander.
There was further success for Coventry University's community, as alumna Stacey-Jade Mason – whose start-up company aims to positively influence the life choices of young people who are at risk of victimisation and abuse – won an 'Outstanding Achievement' award.
Stacey's Coventry-based company, Creative Optimistic Visions, takes advantage of her expertise in protective behaviours to help individuals to identify what feeling safe feels like, increasing their self confidence and helping them to achieve a qualification via a creative outlet.
The awards took place at Wolfson College, Oxford University.