With lions and humans living within such close proximity to each other, the battle between the two is a hugely problematic issue for both man and beast. Through habitat loss and fragmentation in particular, lions are now forced to share environments with communities. The outcome – lions threaten lives and livestock and are killed as a result of this.
A buffet for lions
Lions are now forced to share a backyard with communities. lions are going to use the all-you-can-eat-buffet that is communities' livestock. People across Africa let their cows and goat graze out in the day and keep their cattle in corrals (or bomas) with boundaries built from branches at night. Lions know how to capitalise on this.
In Zambia and Zimbabwe (as it is across much of Africa), herding and generally looking after cattle is a child's job. When the cattle are herded away from the crops and community areas, so that the cows don't eat all of the maize, lions are striking. At this point, no child is going to be able deter the lions. Realistically, most adults in the same position are going to be powerless to stop a pack of lions picking off their livestock. However, most livestock attacks happen at night. While everybody is asleep, lions scare the cattle so that they charge at their own fences, allowing lions to infiltrate their boundaries and pick off whatever they like or they just force their way into the corrals.
Two weeks before I visited Zambia and Zimbabwe, a woman was attacked as she tried to defend her livestock. The lioness was not scared, mainly as she was so hungry [ribs showing] and killed the woman.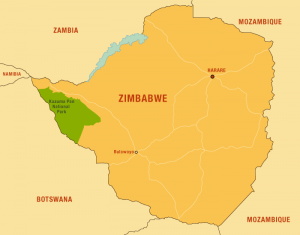 Though lions do kill livestock, and sometimes even villagers, ultimately they are losing, with villagers killing lions in revenge, as was done in the morning after the woman's death. However, more lions are now killed pre-emptively – just because it's been seen close to a community area, whether it was intending to do anything or not.
Visiting the victim-villagers
One strand of the ALERT, Lion Encounter and CU's agenda is to, whilst researching this growing problem, help stop lions preying on livestock. I spent a day with Bob Mandinyenya and his team travelling around the Zambezi and Matetsi National Parks (map right), visiting villagers who've encountered lions previously and who are now receiving help from ALERT and Lion Encounter.

Visit One; the villager we spoke with told us that she and her family, at one point, had 15 cattle. They now had two. Over recent years, it seems that the predators had all but cleared out the serving of food that was on offer here. She also told us that the two nights prior, she and her family had been woken in the night by roars over the grasslands. She displays anger and sadness at losing her cattle.

Visit Two; the residents here told us that hours before our arrival, they watched a pack of painted dogs take down an impala not more than 40 yards away from their home, proving the problem extends to canine carnivores also. Some suggest more attacks are from painted dogs and hyenas. Fortunately for them, it wasn't any of their goats or cows. In the first of these three images, Rhumbi (left) accesses a camera trap. These cameras are located at all of the homesteads we visited; however this is the first to have photographed lions, two weeks prior. Motion triggered and only set to take pictures at night, this camera captured a group of lionesses approaching and lurking around the corrals (images below).
Motion triggered night camera (left) and large corral for cows and goats (right)
Visit Three; the guy tells us he once had over 60 cattle, but has lost many over time. A larger corral like this, it's easy for the lions, not only because there are so many options to choose from, but also because all the lions need to do is spook a few of the cattle for them to all subsequently panic and breech their boundaries.

Visit Four; 5 days before our arrival, this villager had lost a cattle to a lion, finding only a few bones as remains. He spoke casually and jokingly about losing it.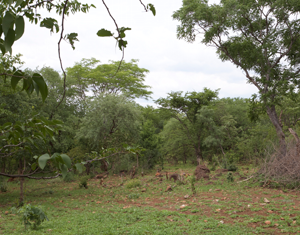 Visit Five; Nothing detected. Higher trees surround her homestead (image right) meaning lions can get closer undetected.
Visits Six and Seven; concluded a round trip of visits in which no lions were captured in the camera traps. But this was not necessarily a disappointment to the research.
Around all of the carrols, the ALERT and CU teams have installed LED lights intended to deter lions from approaching them. Like the motion triggered camera traps, the lights are programmed to only go off at night – the prime time for lion assaults. The fact that no lions had been snapped over the past week may indicate the deterrents are working. And for the locals, they're just glad their livestock survives another week.
Corrals are surrounded by blinking lights to deter the predators at night
Why are ALERT and CU doing this, aside from for research purposes? Well they want help the local communities. They want locals to see an association between the work the projects do and benefits to them. They want locals to see a value to having to live cheek-to-cheek with lions, which for a long time there hasn't been, and for locals to know there is an alternative to the conflict and just looking to kill lions to stop the threat they've encountered for so long. To get the people of Africa to support lion conservation, they have to be incentivised. And that won't happen whilst lions continue to have a detrimental effect on the lives of so many rural African people.
Read more on the ALERT project.
Comments
comments