By Dr Jennifer Ferreira and Dr David Bek
In November, retailers, suppliers and growers in the horticulture industry gathered for an industry event 'Cultivating Retail' organised by the Horticultural Trades Association and the Garden Industry Manufacturer's Association. The event focused on the question of how the industry can contribute to a more sustainable future, in terms of meeting humanity's challenges whilst securing the industry's own commercial future. Dr David Bek from the Centre for Business in Society at Coventry University, was one of the main speakers at the event. David's presentation provided insights into definitions of 'sustainability' and highlighted the challenges and opportunities that the industry faces with respect to sustainability. Other speakers addressed different aspects of sustainability from the issue of plastics and recycling to policy and biosecurity.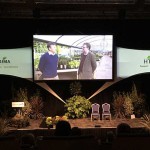 Dr David Bek's presentation was delivered via pre-recorded video as he was unable to attend in person.
The ornamental horticulture and landscaping sector is estimated to be worth around £24.2 billion in the UK and provided 568,700 jobs in 2017 (HTA, 2019). It is important not only in terms of monetary value, but also as a facilitator for helping the UK increase its green spaces and addressing some of the challenges presented by climate change.
While many aspects of sustainability were discussed at the conference, three stood out as major issues:
Horticulture, policy and climate change
The United Kingdom has a target to bring all greenhouse gas emissions to net zero by 2050 (GoV.UK, 2019). A key strategy to achieve this has been to plant more trees, and for the government to achieve its target, millions more trees need to be planted. Therefore, it is important that the horticulture industry is in a position to support such plans. Furthermore, it is recognised that private gardens represent a significant proportion of green space in the UK and should be further harnessed to increase plant growth in the UK in order to work towards net zero targets. Examples were provided of cities which encourage local residents to get involved in planting trees and plants. The horticulture industry can play a major role in encouraging greater plant growth in private gardens and green spaces. As Dr David Bek highlighted in his presentation, garden plants play an important role in capturing and storing atmospheric carbon. If people plant trees and shrubs in their gardens, there is the potential for these spaces to collectively play a significant role in carbon sequestration in the future.
Packaging solutions
A recurrent theme throughout the event was the need for more environmentally sustainable packaging solutions. The horticulture industry uses millions of plastic plants pots each year and businesses are interested in ensuring that these can be recycled, or made from materials that are more sustainable. It was highlighted how part of the problem is that only around 20 local authorities in the UK accept plant pots as part of their refuse collection service, which means that the majority end up in landfill unnecessarily. The event saw repeated questions raised about which type of material was best for the environment as there was some confusion over the environmental credentials of biodegradable and compostable packaging. This has synergies with other research conducted in the Sustainable Production and Consumption Cluster within CBiS, focusing on the coffee shop industry which explores similar discussions taking place related to disposable coffee cups. At the same time, there was a lot of energy in discussions around new innovations that were being developed to tackle the issue of single use plastics – a representative from Just Eat explained about new plastic free sauce sachets made from seaweed (Just Eat, 2018). In order to reduce single use plastics across many sectors from takeaway food to horticulture, there is a need to explore alternative materials, as well as recycling processes and infrastructure.
Consumer demand and consumer confusion
Consumers are powerful drivers of the quest for more sustainable packaging solutions in the horticulture industry and indeed other industries. Speakers at the event repeatedly informed the audience that consumers want to shop with businesses that take sustainability seriously, from reducing plastic packaging, to responsibly sourcing their products. However, discussions also highlighted how there is often confusion among consumers about the various labels for recycling materials. More needs to be done not only to improve recycling infrastructure, but to make consumers aware of how to recycle their waste in the correct way, and to make more sustainable consumption choices. While there are examples in development of responsible sourcing programmes which may lead to clearer labelling of responsibly sourced products found in garden centres, it is important that consumers understand what these mean so they can make informed consumption choices. Unambiguous labelling on compost bags being but one example.
What became clear is that to address some of the sustainability issues facing the horticulture industry, there needs to be a joined-up approach where retailers, growers and manufacturers work together with policy makers and consumers to drive change in the industry for a more sustainable future. We all have a role to play, so as a consumer please have a think about how you can make informed choices and create a more sustainable garden in your own backyard.
References
Gov UK (2019) UK becomes first major economy to pass net zero emission law. Gov.uk
HTA (2019) Market Information. HTA
Just Eat (2018) Just East trials world's first seaweed based sauce sachets to reduce impact of plastics in the takeaway sector. Just Eat
Comments
comments