Blog from the Rosamaria Cisneros, Marie-Louise Crawley and Sarah Whatley
(Featured image credit:  Melt Down by Rosemary Lee. Photo by Richard Oliver. Dance Umbrella Festival 2012)
On Monday 25th February 2019, the Coventry University CultureMoves team (https://culturemoves.eu) met with twenty-four very engaged first year Architecture undergraduates to discuss design, public space, dance and cultural heritage. These undergraduates are currently working on a course project to design dance facilities (both indoor and outdoor) along the Coventry canals and so were interested in meeting the CultureMoves team to talk about the differences between dancing in studios and outdoor spaces.
The morning began with a vis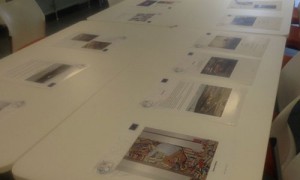 it to three different dance studios in both the University's Ellen Terry and Institute of Creative Enterprise buildings. We discussed what dancers require from a studio space and what a dancer's idea of an ideal studio might look like. The discussion then broadened into a look at site-based dance practice and what happens when dance occurs outside of the studio setting – e.g. in various spaces from museums and heritage buildings to National Trust gardens – and the impact that working and performing in these different settings has on the making and performing of the work for both choreographer and dancer, as well as for the audience. This enabled the students to begin to explore the ramifications for design of indoor and outdoor spaces when these are used for dance making and performance, and the ways in which architecture, dance and site can interact.
The students were then introduced to the wider CultureMoves project and the Europeana platform and spent some time at C-DaRE exploring the CultureMoves  'Dance Memory, Space and Trace' photo exhibit as a prompt to discussing dance and the design of public spaces. The exhibition opened onto a lively discussion of the overlap between choreography and architecture – and how both dance and architecture are interested in form, volume, space and order, and how both are potentially interested in telling the story of a place.
Architecture Lecturer, Dr. Tulika Gadakari, said afterwards how much the students had valued the detailed visit to C-DaRE and 'how they were buzzing with ideas when they left the studio […] and very pleased to have a dancer's insight to help with their design process.'  We are now hoping to build on the connections with have made with our colleagues and their students in Architecture and, together with our colleagues (and friends of the project) at 'Sensing the City' (https://www.coventry.ac.uk/research/research-directories/current-projects/2017/sensing-the-city/), we are currently planning a collaborative student workshop on movement and sensory experience to further investigate dance, public spaces, heritage settings and urban planning, especially in the context of Coventry City of Culture 2021.
The dance photo exhibit for the CultureMoves Educational LabDay at C-DaRE on 25th February 2019
Comments
comments