By Mitchell McTough
The year 2020 markedly tested the resilience of Syrian refugee communities in the Kurdistan Region of Iraq (KRI). From October 2019 to early 2020, an additional 21,346 Syrian refugees fled to the KRI due to conflict in northeast Syria, bringing the total number of refugees in the region to over 248,000 by March 2020. Gawilan Syrian refugee camp reached full capacity during winter of late 2019, as humanitarian actors sought to accommodate new arrivals in mainly tented shelters.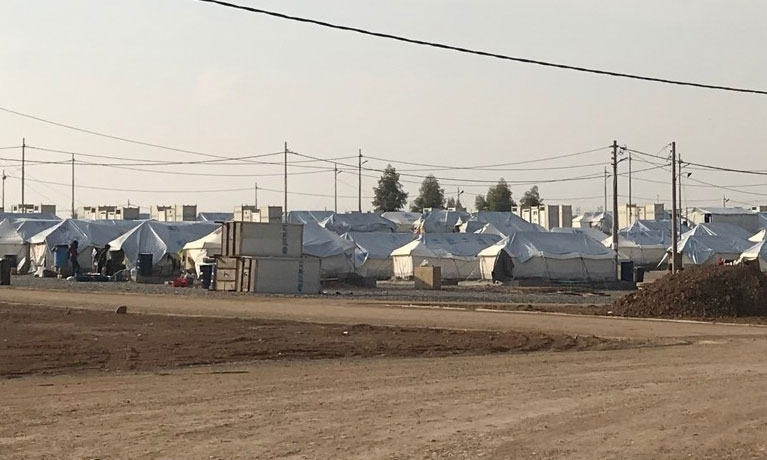 The region was soon afflicted by the global COVID-19 pandemic with Iraq officially entering a dotted lockdown from the 27th February, first in Najaf governorate, after a case of COVID-19 [1] was reported on 24th February, followed suit by other governorates. Curfews put in place in the Kurdistan Region of Iraq (KRI) began on 14th March, and similarly in Federal Iraq by 17th March, and the country eventually went into lockdown until 23rd May, where easing on restrictions allowed somewhat limited movement. The resounding effects were felt most by displaced groups such as Syrian refugees, who make up a large number of the daily waged labourers in the informal sector. These groups, already cut off from markets by the distance of the camps from urban centres, lost access to their livelihoods, be these social networks, financial assets or access to physical assets such as land for agriculture. These shocks, caused some groups to face exposure to new vulnerabilities as they sold assets, reduced meals, and resorted to other negative coping mechanisms, lessening their resilience to future shock. Some of these shocks included exposure of communities to natural hazards such as flooding. Coventry University has been looking at strengthening the resilience of communities in humanitarian settings, and one particular example is at Gawilan, where a pilot project has been installed with the community to address surface water management issues, such as flooding, by installing sustainable drainage systems.
The introduction of SuDS devices such as trickle trenches helped infiltration of stagnant pooling water, observable by the lines in Image 3 following the contours. Whilst, diversion of surface water via green rather than concrete infrastructure to urban agriculture plots was made possible through the introduction of swales, observable by the large green channels. Each device helped to improve the condition on the site and reduce potential natural hazards associated with surface water. Moreover, training on SuDS device installation and maintenance transferred skills for preparing communities to manage surface water encumbrances and enhance their livelihoods through expanding urban agriculture in their living environment. This year should mark the importance of the resilience of refugees, and the steps to supporting them in building back better. 
---
References
[1] WHO (February 11, 2020), Coronavirus disease (COVID-19) is an infectious disease caused by a new virus,
   severe acute respiratory syndrome coronavirus 2 (SARS-CoV-2).
   Naming the coronavirus disease (COVID-19) and the virus that causes it
https://www.coventry.ac.uk/research/research-directories/current-projects/2017/sustainable-flood-resilience-in-refugee-camps-combining-sustainable-drainage-with-wash/
Comments
comments