The year 2021 may sound like a long way off, but it is foremost in the minds of many researchers, as this is when the next national REF (Research Exercise Framework) will take place. The REF is crucial for the allocation of research funding as well as providing accountability for public investment in research. So how is the 2021 exercise going to work?
Coventry staff, including colleagues from the Research Excellence Unit (REU), went to get the lowdown at the "Research impact: Strengthening the Excellence Framework" event at the Manchester Conference Centre on 14th September.
Presentations at the event included:
HEFCE's Dr Catriona Firth on the newly published REF2021 guidance which sets out some (though not all!) of the regulations for the forthcoming exercise. One the key developments, compared to REF2014, is that the weighting of impact has increased from 20% to 25%, so it's vital that universities demonstrate the value of their research beyond academia.
Prof James Wilsdon (University of Sheffield) on plans for metrics to complement the mechanisms used in REF2021, as advocated in his well-known work on the metric tide.
Dr Simon Kerridge (University of Kent) on the likely effects of the REF2021 rules on the output and impact components of the exercise, compared to REF2014. Again the significance of the increased weighting for impact featured prominently.
A panel discussion, featuring Coventry's own Dr Tim Horne, which reflected on the way forward for the REF given that its full scope is as yet unknown.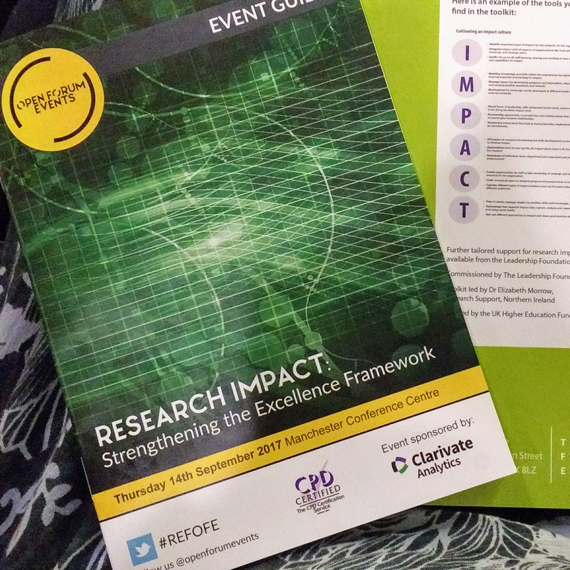 Further information on the next REF is to be published in the autumn. Nonetheless, this event provided the opportunity for Coventry staff to take stock of the current landscape and ensure that we're getting set for 2021.
To get in touch with the REU, email: reu.ro@coventry.ac.uk.
Comments
comments