By Alun DeWinter, Education Without Boundaries, Centre for Global Learning
As part of our international focus on education within our theme in GLEA, we are fortunate to have an extensive network, with research partners and collaboration opportunities in many countries around the world. Now that overseas travel is again a reality following the lockdown years of the COVID-19 pandemic, GLEA staff are slowly starting to return to undertaking in-person conferences, talks and events around the world. Following a pre-COVID visit from Professor Kyria Finardi I recently had the honour of visiting the Federal University of Espirito Santo (UFES) Brazil in late August 2022. With Kyria and colleagues at UFES, GLEA have a Memorandum of Understanding, joint publications, joint bidding activities, and a recent project experience which has led to a newly developed PhD Dual Award /Cotutelle (please see the project website for further details about this collaboration https://global-collaboration.net/)
The opportunity for my visit came about thanks to our new Professor within our Education Without Boundaries theme, Marina Orsini-Jones, who was unfortunately not able to make the trip herself. Marina, who has many years of experience in delivering Collaborative Online International Learning (COIL) and Virtual Exchange (VE) has become internationally recognised in the academic field of COIL/VE, publishing extensively on the topic, and with a number of co-authored papers with Kyria.
My trip to UFES, funded by CONFAP in Brazil as part of the activities for a VE/COIL project jointly managed by Prof Finardi and Prof Orsini-Jones, saw me present a hybrid talk on "The potential of Virtual Exchange (VE) and Collaborative Online International Learning (COIL) for Internationalization at Home (IaH)", which was viewed by almost 200 people and opened up some fantastic dialogue on the role, purpose and potential of using the online space to collaborate internationally.
Like many institutions around the globe, there is a push in both Coventry University and UFES to resume in-person teaching at UFES and return to the pre-COVID norm of having a busy, bustling campus. The pandemic, however, has taught us that there is an important role for online and hybrid learning and over a decade of research into the merits of virtual internationalisation at home means shows us the value of retaining some of the online teaching and learning that was adopted during lockdown.
My presentation inspired some great debate around how COIL can best be used as we return to classroom based teaching and how it might be implemented in a Brazilian context.
In addition to the presentation, I had the pleasure of exploring the UFES campus and meeting the staff in the International Office, who help to develop global links and help to support initiatives such as global mobility and COIL. As an early career researcher myself, this visit and the rich networking it offered me proved to be invaluable, with a number of promising avenues for me to take to collaborate and publish around in relation to COIL.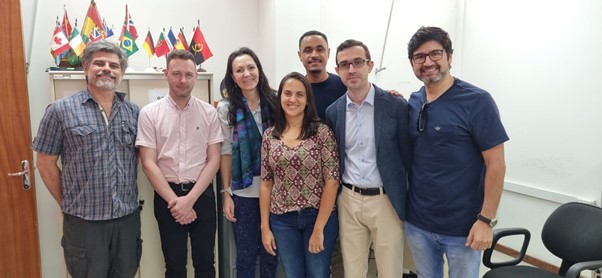 Having never visited any of the central American states before, it was a joy to experience the UFES campus and take in the similarities and differences between the CU campus. Despite it being mid-winter in Brazil, the temperature was in the mid-twenties and allowed some nice walks to see the city of Vitoria. A particular highlight was seeing the abundance of little monkeys everywhere. Whereas the CU campus has many squirrels running around, UFES had a plethora of tiny simians running around, providing some amusing photo opportunities, such as the below.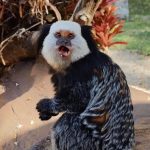 In addition, I finally met Carlos Hildebrand Junior, the co-tutelle PhD candidate on our newly developed collaborative programme supervised by Marina, Kyria and myself, in person, following some months of virtual supervision. Carlos is researching the use of COIL and VE in English language teacher education in a Brazilian context and this visit was an excellent opportunity to meet and discuss face-to-face how COIL is used at CU. Carlos will be joining us in person to continue his research in GLEA for a year, arriving on the 15th October.
Overall, the trip was a resounding success and opened up a fruitful of dialogue around the purpose and use of VE/COIL, which reminds me of the importance of using VE/COIL as a tool to supplement teaching and learning, which can be of great benefit of internationalisation at home. It is all too easy to fall into the pitfall of adopting a new pedagogical digital approach because it is new and exciting, but our conversations around implementing COIL in a Brazilian context highlights that the tools we adopt for teaching and learning must be contextualised, relevant and realistic. Our conversations similarly reminded me of the importance of the iKudu project, which seeks to capacity build around decolonised, Africanised COIL in a South African context, and the lessons we have identified around ensuring that teaching and learning activity using technology must be tailored and adapted to suit the local context, rather than us simply exporting 'our way' of doing things.
I am extremely grateful and feel privileged to have undertaken this trip and my sincerest gratitude goes to Kyria, for acting as my guide around Brazil, and to Marina for enabling me to go on this trip. I very much look forward to co-authoring papers and making good use of my new UFES contacts, as well as awaiting the arrival of Carlos in the UK to assist with his PhD research on COIL/VE.
Comments
comments