Image: Shutterstock
Guest post by Dr. Ian Brittain and Guy Thomas, Centre for Business in Society
The BBC website (2016) recently ran an article regarding the fact that Sport England figures show a slight drop in sports activity since London 2012 despite the participation legacy claims made at the time. The piece is littered with words like 'decline' and 'disappointing' and headlines like 'legacy hasn't delivered', but is it really that surprising given the economic climate in which the London 2012 Games have occurred?
PhD research carried out by the authors of this blog within the Centre for Business in Society at Coventry University (Brittain as supervisor, Thomas as PhD student) looking at the role of grass roots sports clubs in the participation legacy of London 2012 have highlighted a number of issues that appear to have had an impact upon participation in sport in the UK. These range from poor policy and planning, especially with respect to grassroots clubs, combined with the impact of austerity budgets within the UK which appear to have undermined any possible impact of the additional 'legacy' funding that was given to national federations in order to try an implement and support the planned participation legacy.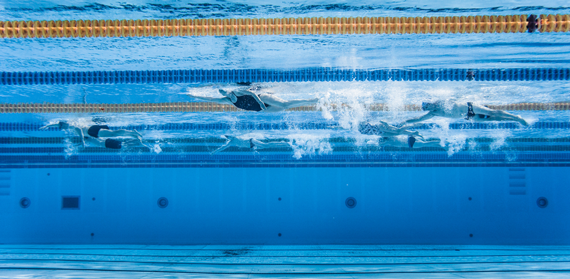 The research focussed upon two Olympic sports (Athletics and Swimming) and two non-Olympic sports (Cricket and Netball) based in London, Coventry and Sheffield. These sports were selected because the Olympic Sport which has seen the largest relative increase in participation since 2012 is athletics while that which has seen the largest relative decrease is swimming. Within non-Olympic Sports, the sport which has seen the largest relative increase is netball, while cricket has seen the largest decrease (Sport England, 2014). (Shutterstock)
Some of the key findings from this research include that clubs felt that legacy plans were poorly communicated to them, with very little communication if any received from their respective national governing body particularly with regard to how they might best benefit from or even promote the planned participation legacy. Non-Olympic sports felt particularly strongly removed from the legacy process feeling that the emphasis was entirely upon those sports that form a part of the Games programme.
In addition, clubs were keen to point out that even if participation were to rise to the levels promoted in the legacy plans for London 2012 the clubs themselves are actually extremely limited in their ability to cope with such an influx of new members due to limitations on their time, especially given that most clubs are organised by volunteers. On top of that they also felt that in many cases the facilities they use and the time they are able to utilise within those facilities was already extremely stretched and that many of the facilities were gradually falling into a state of disrepair due to a lack of upkeep by local authorities on whose facilities they are largely reliant.
The reliance of grassroots sports clubs upon local authority facilities is an important aspect, especially given that local authorities have borne the brunt of government cutbacks through their austerity budgets, which as the BBC piece points out has led to a 27% fall in local authority investment in sports projects between 2009-10 and 2013-14. Local authorities are facing cuts of around 40% in real-terms according to the Local Government Association (2014) in the 6 year period from 2011 as part of austerity savings. It is perhaps unsurprising then that users of local authority sports facilities have seen a decline in the upkeep of those facilities and an increase pressure on space as some facilities actually get closed down in order to save money.
Budget restrictions have not only hit local authorities however. Individuals have seen their wages frozen as prices rise leaving them with far less disposable income. It is perhaps no surprise then that one of the groups who has seen the biggest decline in participation since London 2012 and highlighted by the BBC piece is the economically deprived. If you consider that they have even less disposable income as the austerity period goes on and facilities in their local area may be closing down due to local authority cuts, thus forcing them to travel further in order to continue their participation, it is hardly surprising many may choose, possibly reluctantly, to stop participating.
By way of underlining this point we would like to return to the two Olympic sports selected for the research. Since London won the bid in 2005, swimming has seen a drop in participation (one 30 minute session a week) of around 728,000 people up until March 2015. Athletics meanwhile has seen an increase of around 873,700 people in the same time period (Sport England, 2015). So why has one sport risen and the other fallen so dramatically? It could be claimed from a London 2012 legacy perspective that one possible reason is the British team excelled in athletics at the London Olympics, with 'super Saturday' almost etched into the national psyche, whilst swimming badly under-performed and so people were inspired to take up athletics/ running. However, it is doubtful that three quarters of a million people would give up swimming merely in disgust at the lack of medals won by the British team.
A more likely explanation is the relative cost and ease of access of the two sports. Running is a relatively cheap pursuit, especially road or cross country running and has possibly been helped by the advent of Parkrun, providing free weekly timed runs in a social environment. Although that is not to say that the likes of Mo Farah have not played a part in an individual's decision to take up running. Swimming on the other hand involves regular expense in both travelling to and using facilities whose times of availability may also clash with an individual's requirements. In addition to this in 2010 the newly installed coalition government scrapped an original legacy promise of the previous labour government, made in 2008, to put £140m into swimming pools to allow over 60s and under 16s to swim for free, and encourage the take up of swimming in the long term, as part of their austerity cuts (Woodhouse, 2015).
In conclusion what this research highlights is the importance of communication and consultation with grass roots sports clubs in planning sports participation policy in order to ensure any increases in participation can be accommodated. It also highlights the key importance of local authorities as providers of sports facilities upon which the grass roots sports clubs rely heavily and the potential impact of cuts to local authority budgets by government upon grass roots sports provision. Finally, it underlines the key importance of the availability of sporting opportunities on a local level at an affordable price. We, therefore, find the apparent tone of incredulity in the BBC piece that participation in sport has not risen since 2012 a little surprising. In light of austerity cuts and the apparent failure to involve grass roots sports clubs more in the legacy process we believe the surprise is actually that the participation figures have not actually fallen further than they have.
BBC website (2016) Sport England figures show drop in sports activity since London 2012. Retrieved from http://www.bbc.com/news/uk-england-36540017.
Local Government Association (2014) Under pressure: How Councils are Planning for Future Cuts. London: Local Government Association
Sport England (2015) Active People Survey 9 Q2 April 2014 – March 2015. London: Sport England
Sport England (2014) Active People Survey 8 Q2 April 2013-March 2014. London: Sport England
Woodhouse, J. (2015) '2012 Olympics : A Sporting Legacy?' London: House of Commons Library
Comments
comments