Lyndon Simkin, Executive Director of Coventry University's Centre for Business in Society
As seen in Business Insider.
Lyndon Simkin, Executive Director of Coventry University's Centre for Business in Society, says there needs to be a major shift in the perspectives of all stakeholders to drive the much-needed economic regeneration of town and city centres.
High streets have been in decline for many years, and despite the interesting ideas and developments that have been brought forward to repurpose the rising amount of vacant retail space, the outlook for town and city centres as we know them remains bleak, worsened by the ravages of the pandemic on movement, office working and shopping.
According to the British Retail Consortium, one in seven shop units are currently empty, while PwC research compiled by the Local Data Company (LDC) shows a net decline of 5,251 shops in the first six months of 2021. On some high streets, over half of stores are closed and 'to let'. Most high streets have at least a fifth of retail and hospitality units sitting unused, caused largely by our switch to shopping online.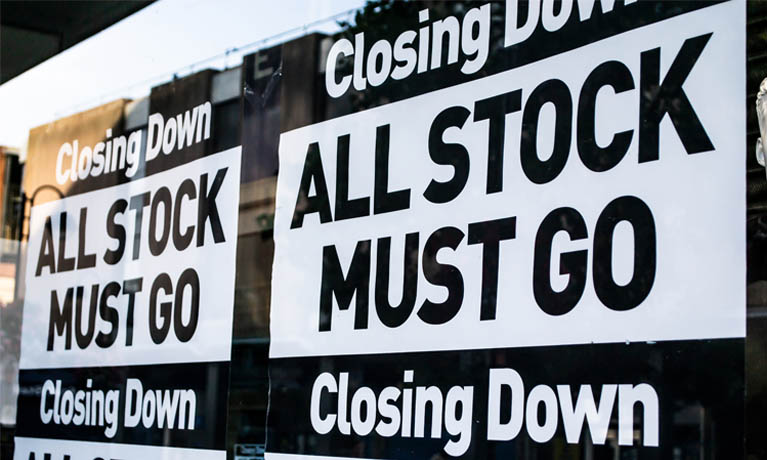 An opportunity for change
The pandemic has presented a greater opportunity for change, and the good news is that there finally seems to be some recognition among those tasked with economic regeneration that the current model is broken and that there needs to be a radical rethink.
Rather than trying to fix things, perhaps we should accept that after 130 years of retail dominating a central business district, it's time to go in a different direction.
The solution is a mixed economy that has something for everybody, where retail is complemented by leisure and residential. If we don't do that, we could be left with towns and cities blighted with their retail units empty and boarded up.
That's not good economically or from a societal point of view in terms of people's wellbeing. An environment where every day you're walking past derelict places is not an experience that makes anyone feel good about the community.
Another solution could be to turn back the clock to the mid-1800s, when town centres were a place of recreation as well as a place to shop, with parks, promenades and fairs, and even urban zoos were not uncommon.
By the 1960s the growth and dominance of multiple retailers created the big retail centres and office blocks that we know today. Retailers were happy to pay whatever it cost to be part of that; the price of land went up and up, any non-retail use was pushed out, and open recreational spaces were built on.
Changing trends
Even before the pandemic, trends were changing. Our online shopping or leisure activities were growing, leaving the retail sector over-stocked with stores and shop units that can no longer be sustained.
In Coventry, a pop-up space on the site of the former civic centre buildings was created and has welcomed tens of thousands of visitors for entertainment events as part of UK City of Culture. While this happened specifically because of City of Culture, why wouldn't you do that anyway, if the land is sitting there unused?
Over the next two years the speed of business failure will almost certainly carry on and there will be more empty space, redundant shops and reduced footfall.
Of course, there will be exceptions and opportunities inevitably will emerge. Social enterprises, entrepreneurs and businesses will identify commercial possibilities. And over a period of time, there will be some people doing things that are smart and successful, but to try to breathe life into town centres exactly as they were before is naïve.
No one-size-fits-all solution
And to suggest a one-size-fits solution is the right approach is wrong, because what works in one location might work somewhere else, but certainly not everywhere.
Culturally, there are big differences from one town or city and another, and their purpose can be different to another. Some commuter towns offer very little in terms of amenities, whereas others are a service provider for a much bigger hinterland. Certain towns and cities are massively influenced by universities and the needs of students, others have big entertainment and cultural quarters, while some depend very much on foreign travellers and tourists.
Any solutions will need money and a level of co-operation across the public and private sector that we don't usually see, as well as new investment models.
Planners, landowners and investors will need to embrace the thought of doing things differently, because the necessary developments will take years to deliver. They are much bigger changes — economic, planning and behavioural — than anything that's been thought of before. A revolution?
Everyone involved needs to get out of their heads the notion that the future is about single (retail) or dual (retail/office) use buildings with a traditional commercial rate of income. We need to think about a broader mix of land use and in some case no land use at all, returning areas instead to green recreational and flexible spaces.
---
Find out more about the work of the Centre for Business in Society.
Biography
Lyndon is Professor of Strategic Marketing and Director of the Centre for Business in Society. Lyndon spent over twenty years at Warwick Business School and led the MBA programme there, before becoming Professor of Strategic Marketing at Oxford Brookes and Research Lead, co-creating the new business plan and research strategy for the Faculty of Business. Until his move to Coventry University, he was Professor of Strategic Marketing at Henley Business School (University of Reading) and Deputy Head of School.
Comments
comments