Lyndon is a Professor of Strategic Marketing and the Executive Director of the Centre for Business in Society at Coventry University.
---
The weekend headlines have focused on the vaccine 'wars', as nations, the EU and borders have taken centre stage, while politicians vie to secure supplies for their own countries. In parallel to these political wranglings, there is a different vaccine war developing; one more on traditional commercial lines, between producers, their brands and the markets they supply, but with the added dimension of consumer choice interfering in a market traditionally unaccustomed to responding to the end-user recipients of drugs and treatments.
Should we be surprised?
Some vaccines seemingly are better than others and the public is cottoning on. Why are we surprised? It's what is meant to happen in a market economy in which the public – consumers – have been trained to expect and to exercise choice. Unless you live in a state-controlled system similar to that in the Eastern Bloc in the 1950s and 60s, people expect to be able to choose.
As an undergrad, I well remember visiting Berlin with friends before the unification of East and West Germany and going through the Berlin Wall checkpoint on a tour bus into East Berlin. The people spoke the same language and we were part of the same city as when hours before we were sight-seeing on the Kurfürstendamm in West Berlin, but it felt so different. It dawned on us that there was no colour on the buildings or in the streets. No advertising hoardings or bright neon signs above shops. Not many shops. No branding. Our tour guide pointed out that with only one state approved and produced model of cooker or TV and only one retail outlet in a neighbourhood permitted to sell it, then advertising, signage and branding were needless. The result was a rather dreary street scene, as well as consumers expecting little or no purchasing choice. However, in the west's consumption-led markets we are accustomed to multiple brands from various producers, widely distributed, all making rival claims and striving to entice and hook us.
Life is on hold: we need the solution
Six months ago, deaths from Covid-19 were rising, the first lockdown had brought home the realities of the disruption to our lives, the economy was crippled, travel had ceased, home working was the norm, schools had closed, and life was on hold. Politicians, health professionals and the public were desperate for a solution. Increasingly, it became clear that a path back to 'normality' lay in the hands of 'big pharma' – the pharmaceutical sector – throwing huge resources into creating viable vaccines to stop people becoming so ill with Covid-19 and its variants.
The pharma sector is generally quick to spot a market opportunity, whether it is the surge in suffering from diabetes or heart problems, obesity control, HIV, cancer, depression, or whatever ailments befall large numbers of sufferers. Such patients become their end-users, while their direct customers – health services, medical professionals and governments – seek treatments and care pathways which will alleviate such medical catastrophes. Covid-19 presents the latest such 'market opportunity', and given its global reach, this is a huge commercial opportunity for 'big pharma'; along with a wave of other companies setting up to produce PPE, the phials and syringes necessary for a vaccination programme, logistics, analytics and tech applications linked to the pandemic.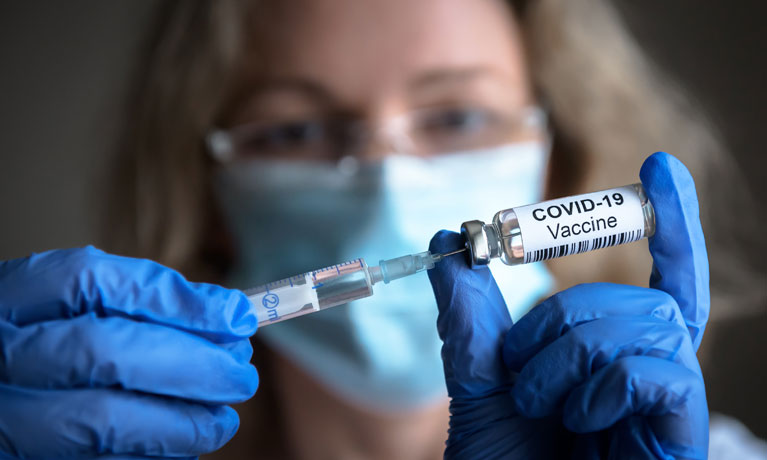 Multiple brands and much choice
If choosing to replace your smartphone, laptop, cooker, car, shoes, back-pack, perfume, toothpaste, coffee cup, or whatever, you are faced with a raft of brands, each positioned slightly differently with specific claims and promises, each offering different features or specifications, and each appealing to a specific and carefully selected sub-set of consumers… the target market segments. The same is true in the supermarket or market hall; consumers are faced with choice, with competing brands at different price points offering us their own benefits. Based on our previous habits, how we have been influenced by others and on the claims the brands make, we make our choice and buy. The point being that we expect choice and we think that we have flexibility and permission to choose.
In over-the-counter medicines, the same is true. The mind-boggling range of painkillers from many different pharma companies is just one example. Cough remedies, skin treatments, dressings for wounds, etc, etc, the same applies. However, when being treated by doctors, this has not really been the case. If a health professional is treating us in A&E or carrying out an operation, generally we do not know or care about which brand or supplier of anaesthetics, pain relief, saline or dressings has been preferred. The procurement teams in the hospital or clinic make such choices. The same has been true for vaccines. If it's an MMR or tetanus booster, Hib jab or one to cover overseas travel needs, we might be the recipient, but someone else has been the pharma producer's customer and made an informed decision on our behalf for which supplier and specification of vaccine to adopt. This is now changing. The rules of engagement are different as the pandemic unfolds.
The vaccine wars are shaping up
Already, the media is bringing to our attention the growing array of rival vaccines and extolling their apparent merits, as illustrated in two features in recent days from news giants Sky News and BBC News:
"Covid vaccines: Those that work – and the others on the way" – BBC News, 30 January 2021:
Company
UK Approved
Type
Doses
Storage
Oxford Uni –
AstraZeneca
Yes
Viral vector
(genetically modified virus)
2
Regular fridge temperature
Phizer – BioBTech
Yes
RNA (part of virus genetic code)
2
-70C
Moderna
Yes
RNA
2
-20C
Novavax
Pending
Protein-based
2
Regular fridge temperature
Jassen
Pending
Viral vector
1
Regular fridge temperature
"COVID-19: How do the Pfizer, Oxford, Moderna, Novavax and Johnson & Johnson coronavirus vaccines compare?" – Sky News, 30 January 2021:
UK COVID-19 vaccines
Company
Doses ordered
Cost per dose
How effective
Storage temperature
Oxford Uni –
AstraZeneca
100m
£3
62-90%
Regular fridge temperature
Phizer – BioBTech
40m
£15
95%
-70C
Moderna
17m
£28
92%
-20C
Novavax
60m
£12
86-89%
Regular fridge temperature
Johnson and Johnson
30m
£7
66%
Regular fridge temperature
There is also a growing amount of coverage from both impartial observers and the pharmas themselves, bringing to our attention the powerful claims of some pharmas or challenging the claimed efficacy rates. Over time, these stories and themes must surely reach the end-user recipient of these 'must-have' vaccination programmes. Two recent illustrations come from the BMJ and BBC News:
"Covid-19: Reports from Israel suggest one dose of Pfizer vaccine could be less effective than expected"

Israel, which, like the UK, is currently in its third national lockdown, has so far vaccinated more than 75% of its older people with at least one dose. Early reports from the vaccine rollout have suggested that the first dose led to a 33% reduction in cases of coronavirus compared with efficacy of at least 52% reported in clinical trials.

BMJ 2021; 372 doi: https://doi.org/10.1136/bmj.n217, 22 January 2021
"Covid vaccine: Novavax trial results in UK 'spectacular'

UK trial results for a new Covid jab are "spectacular", the manufacturer's chief executive has said. Stan Erck told the BBC the Novavax vaccine had been shown to be 89.3% effective, which was "as good as we could have hoped". The trial also found it was effective against the new variant of the virus first found in Britain, he added.

BBC News, 29 January 2021
Headlines in the media have screamed that salvation from Covid and its associated turmoil is around the corner, and for some is now here. Vaccines have arrived. The media headlines, though, have changed. Focusing more on the apparent benefits from competing vaccines, each developed by different pharma giants or consortia of pharmas in various countries, trialled and tested in different regions and now being competed for by national governments and health systems. It is a perfect example of a highly competitive fast-growing and very lucrative market, in which competitors want their share of the action and feel the need to showcase the respective merits of their product.
Trash-talking
Because we are all trapped by the pandemic, fuelled by the media's hunger for news headlines, we are being made aware of the apparent differences between the rival vaccines; in terms of how they are administered, any side effects and, of course, efficacy of cover. Unlike with most other vaccines, whose producers and merits vis-à-vis the others on the market remain unknown to disinterested recipients, in the fight against the pandemic, the media, health professionals and politicians are loudly, regularly and effectively identifying the competing vaccines, labelling (in effect branding) them and promoting their merits. And some are the victim of trash-talking:
"Macron claims Oxford-AstraZeneca Covid vaccine 'quasi-ineffective' on older people"

French president criticises UK's rollout strategy amid row over EU delay.

The Independent, 30 January 2021
"Newspaper headlines: 'EU vaccine war explodes', and Macron 'attacks' Oxford jab"

BBC News, 30 January 2021
Does greater choice loom?
For most of us, we still do not have the choice of which vaccine to have. We, as the recipient, do not have the final decision. We attend the suggested vaccination centre and willingly take whatever is on offer. However, it is unlikely that this will continue. Conversations while on walks with friends and family, on social media or on Zoom calls increasingly comment about "which one do you want?", "I'd prefer …", or "I'm not having 'X'!". Efficacy claims and counter-claims will fuel such debates.
At the moment, suppliers are contracted to governments and private Covid vaccinations are not possible. Consumers, though, are starting to state their preference. Already, as reported in the press, the 'super-rich' are sourcing vaccines from other countries. Where there's an opportunity, businesses, entrepreneurs and sometimes rogue dealers inevitably will step in. No doubt there are traders now striving to secure supplies of vaccines with the highest efficacy claims, to make these available for a fee outside of the NHS distribution of vaccines.
Perhaps some consumers will start to be offered more choice? In what could become a very large and lucrative market, operating little differently to that for so many other services and products that we seek. Particularly if, as seems likely, we will require regular boosters and perhaps vaccine versions engineered to address new variants of the virus. The market will grow rather than decline; its growth offering commercial opportunities for some. Maybe the scenario will mirror the health care sector, with the NHS catering for most people's needs, but private health care providers and others offering fee-based services to those who are able to pay? Consumer preference is a powerful force and market forces inevitably will strive to serve. If, of course, the numbers stack up and regulators permit.
As the efficacy claims continue to be debated and more versions of the vaccines are launched, it will be very interesting to see the impact on the public's expectations and their choice behaviours. After all, the media, politicians, health professionals and pharma companies have been telling us to be interested in the relative merits of these vaccines and daily the media hits us with more headlines and information. So why wouldn't we behave as consumers, faced with many brands and their competing benefits, and seek to exercise consumer choice to secure the 'best option' or 'right one' for our perceived needs?
If Government, the EU, Health Ministers and the NHS think planning, procuring, distributing and delivering a vaccine programme seamlessly, efficiently and comprehensively is difficult enough now, if the public does find there is in fact choice and that alternative channels – perhaps even grey ones – are emerging, those in charge will find it even more challenging to navigate and lead than now in providing the safeguards we all are craving.
---
Sources
Covid vaccines: Those that work – and the others on the way – BBC News, 30 January 2021; accessed at: https://www.bbc.co.uk/news/health-51665497.
COVID-19: How do the Pfizer, Oxford, Moderna, Novavax and Johnson & Johnson coronavirus vaccines compare? Sky News, 30 January 2021; accessed at: https://news.sky.com/story/covid-19-how-do-the-pfizer-oxford-moderna-novavax-and-johnson-johnson-coronavirus-vaccines-compare-12202329.
Covid-19: Reports from Israel suggest one dose of Pfizer vaccine could be less effective than expected – BMJ 2021; 372, doi: 10.1136/bmj.n217, 22 January 2021; accessed at: https://www.bmj.com/content/372/bmj.n217.
Covid vaccine: Novavax trial results in UK 'spectacular', BBC News, 29 January 2021; accessed at: https://www.bbc.co.uk/news/uk-55850352.
Macron claims Oxford-AstraZeneca Covid vaccine 'quasi-ineffective' on older people, The Independent, 30 January 2021; accessed at: https://www.independent.co.uk/news/world/europe/oxford-astrazeneca-macron-eu-vaccine-covid-b1794901.html.
Newspaper headlines: 'EU vaccine war explodes', and Macron 'attacks' Oxford jab, BBC News, 30 January 2021; accessed at: https://www.bbc.co.uk/news/blogs-the-papers-55866263.
Super-rich skip coronavirus vaccine queue by jetting abroad to get jabs – The Telegraph, 9 January 2021; accessed at: https://www.telegraph.co.uk/money/consumer-affairs/super-rich-skip-coronavirus-vaccine-queue-jetting-abroad-get/.
£25,000-a-year private club flying members to UAE and India to get Covid vaccinations – The Independent, 13 January 2021; accessed at: https://www.independent.co.uk/news/uk/home-news/private-club-covid-vaccine-uae-india-b1786829.html.
Comments
comments