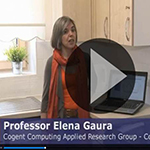 Innovation often comes at times of great need, as evidenced by the plethora of new technologies emerging to tackle the UK's 80% carbon reduction target by 2050. For the housing sector, it is essential that any technologies built into homes are as usable and efficient as possible.
But how do we know which ones actually perform as promised?
Sensing for Sustainability
Orbit Housing Association asked the world-leading Cogent Computing Applied Research Centre to produce a robust measurement system that could assist in evaluating the performance of various carbon reduction technologies they are building into homes. They also wanted to assess how far their tenants could understand and use these technologies to realise their maximum potential.
Cogent developed an innovative approach using Wireless Sensor Networks (WSN) to assess and improve the energy and environmental performance of Orbit's occupied buildings.
Shaping future strategy
Cogent provided Orbit with a robust, long-lived, easy-to-deploy monitoring solution, which is a first at its price point. As well as successfully evaluating the in-use performance of new building technologies and systems, the research project also helped to shape Orbit Housing Association's future strategy for the sustainable development of its residential stock. Additionally, Cogent has put in place tenant empowerment initiatives to support appropriate engagement with the new technologies.
World-first innovations
Cogent Computing designs and develops sensing-based sociotechnical systems. The Centre's work has a dual purpose: to create sensing systems that work for real-life applications at scale; and to empower their users and stakeholders.
Cogent has a portfolio of world-first innovations which have attracted national and international sponsors including the European Union, the Engineering and Physical Sciences Research Council, the Technology Strategy Board,Meggitt PLC, Jaguar Land Rover, and Orbit Heart of England Housing Association and collaborations with Macquarie University, Massachusetts Institute of Technology, and others.
Comments
comments