Guest post by Mitchell McTough, Centre for Agroecology, Water and Resilience
A large part of the success of any activity, be it advocacy for a belief, to children convincing their parents for one more bedtime story, is collective action. When people cooperate, great change happens, and it is upon this premise, the project takes its modus operandi. That being said, the notion of adaptive co-management, is not a familiar term to everyone. Adaptive co-management in effect encompasses what participation is all about, and that is involving all stakeholders, at the macro to the micro. Whether we're listening to UNHCR's perspective and challenges, to those of camp residents, each has a valid point to make. Along the course of our project cycle, we'd like to believe, each challenge is overcome, and if possible, whether or not this is the case, the lessons learned are fed back into the project along the way. Intrinsically, this type of management practice is supported by action research, which is research carried out in the course of activities, providing the necessary flexibility to overcome obstacles more easily, especially in what is considered a challenging environment.
Before going any further, it is important to touch upon 'challenging environment.' In a region (for some a country) that is self-governed, but not it's own sovereign state, Kurdistan has of late become a difficult place to enter and exit. On 25th September the self-governed, semi-autonomous region, underwent a referendum in the attempt to secede from wider Iraq. After a 92% vote in favour of the process of succession, the region was curtailed into subservience by the central Government of Iraq. Besides already operating in a region, marred by oil price turbulences, fighting ISIS, hosting over 200,000 Syrian refugees, and militarised checkpoints which stall movement at every next juncture, the Iraqi government closed the international airspace for flights entering into the Kurdistan Region of Iraq. Meaning permissions of only 30 days on monthly visas, whilst the UNOCHA attempted, through letters from the ministry of interior, allowing humanitarian actors 3 months in which to be able to remain the country from November 2017. Very little clarity remained thereafter, as either you were to travel from a land route across the Turkish border, or find yourself deported if your paperwork was not keeping up with the confused state of affairs in Baghdad. Ultimately, a challenging environment is not only made difficult by ongoing conflicts but internal politics, one that leads to delays and setbacks.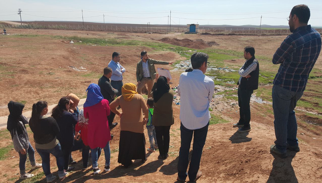 Site walk through with UNHCR WASH Associate, camp management, and women from the SuDs community committee, 17th March 18.
Fortunately, back on equal footing, Saturday 17th March saw the opportunity to engage with three levels of stakeholders, UNHCR and camp managers from Board of Relief and Humanities Affairs (BRHA) (macro), WASH cluster partners (who I term the intermediaries) and the camp residents (micro). During a site presentation to the Gawilan refugee camp manager, Mr Ismail Ali Ismail and UNHCR's WASH Associate, Mr Vaheel Mushin Mohamad (Fig.1), I was able to demonstrate the need for introducing measures to tackle water conveyed beyond residential areas, and walk through systems to be introduced to improve the site. His main concern was the interaction drainage has with sanitation, and hygiene as children were seen playing in the background as we conversed. In explaining that water is infiltrated into the ground, through the use of swales, filtration trenches and other components, he was keen to attend our upcoming workshops.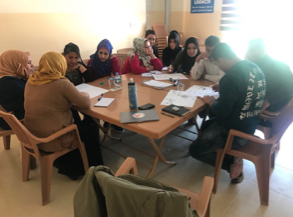 The group tackles a before, on what drainage is to them. They were broken into 3 groups, A, B and C (Marked D).
The group begins to introduce new themes upon learning about SuDs and surface water management.
We soon moved to a participatory design/planning workshop with the SuDs management committee, from Sector C of the camp, which is the sector nearest to our intervention zone. The group was composed of 4 men and 6 women. The aim of the workshop was principally to educe our creative juices and get ideas on paper. Interestingly, a common theme happened to be "making it like home", taking memories from Syria. This was poignant, in that it meant for the residents, as well as the design, their interests in the project reached beyond the steel fence perimeter of the camp, and began to grapple with images of what a "home/SuDs" hybridisation might look like. A moving intersection for landscape design in the humanitarian sector. Participants were asked to draw their version of drainage. After a brief learning session on SuDs and surface water management, they were then able to introduce new themes into approaching drainage.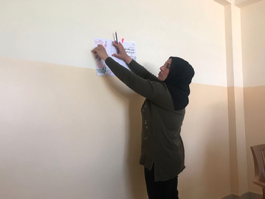 Laila Sulemen Mohammod, the project focal point, present her (B) group's pre-SuDs lesson drainage concept.
The process allowed for change to occur in the worldview of the individuals, whilst capturing this through discussion and imagery, the change was a tangible one.
Participants presented each of there 'before' designs, whilst after the lesson on SuDs, interesting patterns began to emerge:
The workshop participants were then provided a blank site diagram, both below, in the layout of the site on which to layer their ideas over the top. Each idea they created, was numbered and then allocated a point on the blank site diagram.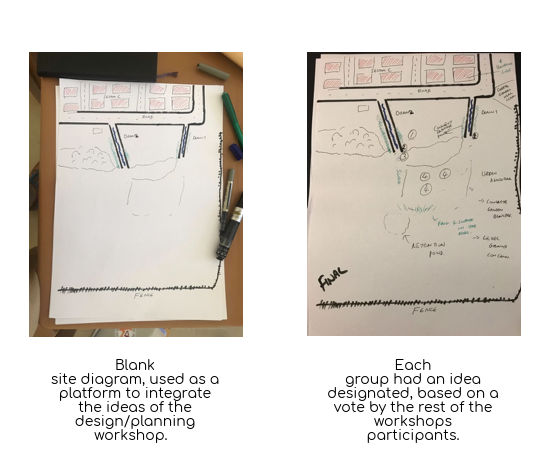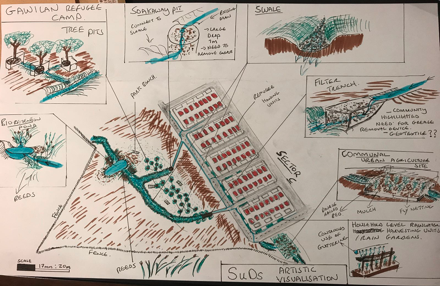 A final artistic visualisation was drawn using the ideas taken from the workshop and the placement of devices, designated by residents. This showed the evolution in design thinking and a unified understanding of SuDs. It created a sense of ownership, rather than simply designing the site based without service user input, which might not be perceived as being a part of the community environment.
Comments
comments