All Images courtesy of KoZin Photography.
Guest post by Rosamaria E. Kostic Cisneros, Centre for Dance Research
For the 6th edition of the Digital Echoes Symposium, the Centre for Dance Research focused on participation as one of the most prominent legacies of the digital, in particular how it invokes processes of collectivity, democratisation and decentring. We consider participation as a process, a framework for access and production, but also increasingly becoming a philosophy and a culture. In response to this theme, we invited researchers and practitioners in dance, the arts and the humanities, to reflect on practices of collecting, archiving and safekeeping, how these traces are being used to configure new ways of imagining futures, and how such practices highlight the legacy of the digital on humanistic and artistic disciplines.
As the title suggests, the day reflected upon and critically examined digital archival practices, with a focus on dance and neighbouring art forms. The event looked at the future through a frame of making, or crafting, which evokes discourses on materiality and immateriality, tangible and intangible, conversion and representation. Through representation in digital formats ephemeral performative acts gain tangible qualities. Yet tangibility does not mean fixation; as digital representations are manipulated, stored, accessed, retrieved and re-used they are simultaneously objectified and re-formed, as they are increasingly used and re-used in different formats and in new contexts.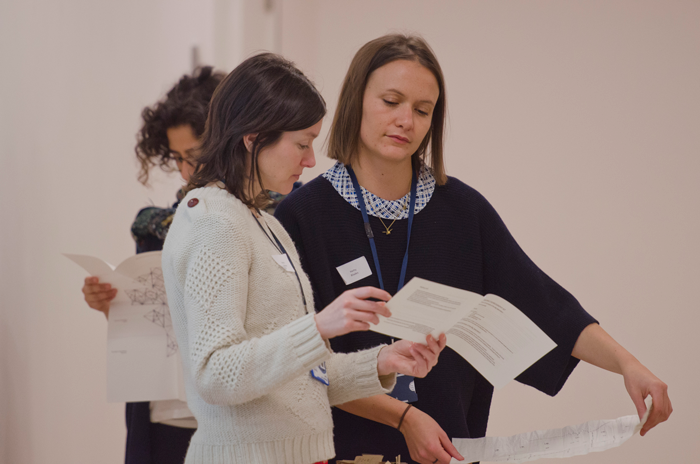 We invited contributions that considered the impacts of public/user participation on archival practice and research, and their legacy for the future. The day opened with a keynote presentation, 'Just Fun Enough to go Completely Mad About: on games, procedures and amusement' from Professor Matthew Fuller (Goldsmiths University). The symposium saw a series of presentations that ranged from a silent lecture by C-DaRE's own PhD student, Emilie Gallier, to case studies and projects by leading artists and researchers who are working in an interdisciplinary fashion of bringing Cultural Heritage and the arts and/or dance together through the use of archival practices. C-DaRE's visiting researcher, Monica Dantas, also presented her work on the process of building a dance archive in Southern Brazil and referenced C-DaRE's Siobhan Davies RePlay archive (http://www.siobhandaviesreplay.com/sdda) as a key pillar of her research.

The day also showcased new projects that the Centre has recently started work on- WhoLo DancE (http://www.wholodance.eu/)  and the Error Network (http://errornetwork.com/). WhoLo DancE is a large-scale collaborative project, that will make use of advanced motion capture technologies as well as of EMG, bio-sensors, video, audio and accelerometers, to transfer dance movements into digital data in such a way that makes it possible to blend any specific motion element with any other motion element within the motion capture database. The Error Network, funded by the AHRC, is a Research Network that is holding two workshop/laboratories and a symposium to identify important research questions concerning how dance research and human-computer interaction (HCI) can inform each other through consideration of error, ambiguity and 'messiness' as methodological tools.
The day ended with a series of brilliant presentations that focused on participation and documentation in digital performance practices. C-DaRE is one of the leading Dance Research Centres in Europe. The annual Digital Echoes Symposium is an integral part of Coventry University's research events and offers the Dance and Cultural heritage community an opportunity to re-connect and re-make the future.
Comments
comments