Guest post by Dr. Martin Bollard
Dr. Martin Bollard, Associate Head of School (Research) for the School of Nursing, Midwifery and Health, represented the School and the Faculty of Health and Life Sciences on a recent trip to Hong Kong.
The aim of the trip was to build on an excellent partnership with HKPU and look at collaborative research opportunities between HKPU and other sector-wide health organisations in the region.
Day 1
We've all arrived safely, tired and jet lagged but raring to go. We meet up with the students in the morning before our welcome/introduction from Professor Alex Molasias Head of School of Nursing. Obligatory photos over, he starts knocking out some impressive metrics and made me realise why we were all here- This school is 42nd in the world for its subject group and its 106th in the world university ranking. After a quick overview of their Adult and Mental Health nursing curricula and we are whist away to the Chinese herbal medicine expert practitioner. Well what an insight! I now know cockroach shells are used for female menstrual issues and the faeces of field mice are used for male issues! Then the same chap gives us a theoretical insight into Chinese Medicine- the yin and the yang, the balance and opposites, the five elements and that's definitely where holistic practice came from! Three course lunch for staff and students which enables me to meet a Mental Health Professor. We chat for some time about mindfulness, his trial study and what we might do together. We plan to catch Thursday at the conference. A quick comfort break then its straight into the a 'live' Simulation lab- great example of how to draw lots of learning using a PBL approach for 3 different sets of students at the same time. Back to the hotel for me- see you same time tomorrow, might treat you to some rhyming couplets if you're lucky.
Day 2
Quickly over being locked out of my room in a semi-naked state this am and avoiding any Pan Asian-Anglo diplomatic incidents, I found my way to Block F to meet my HKPU colleagues. The welcome bag I brought with me went down well, even the apple chutney I suggested using with their crispy vegetable pancakes! Very fruitful discussion with my mental health Associate Professor colleagues hearing about a variety of different potential collaborations, 3 of which I can make a significant contribution to. Then off to give my presentation to Alex HoS (on first name terms now) and 4 Professors who are their Theme-Leads (Gerontology- Older Care, Mental Health, Family and Community Health Prevention, Health and Longevity. The EAFONS conference we are speaking at will have up to 700 delegates. I quickly realised other University staff were in attendance here, as Alex welcomes me whilst saying goodbye to 2 Australian academics. Alex quickly introduces me to the Theme leads and kindly says that HKPU have been very pleased with Richard and Brendan and the online work their students have got from us and whilst looking me straight in the eye says other university collaborators have let them down in the past and they were really pleased I and our party were here. Wanting to capitalise on that praise, I responded by saying CU had a 'can do' attitude and if we commit to partnerships, we will work hard to make them happen. My presentation went down well and Alex immediately said he and his team wanted to come over Spring 2018 for a visit to the SHB to learn from our Technology Enhanced/ Virtual learning expertise (clearly played that card well!). Highlighting that Simon Cheung, one of our Learning Technologists was flying over as we speak and then fielding a number of questions, in part about REF 2020, it was off to a Restaurant on the 23rd floor with panoramic views of the HK skyline.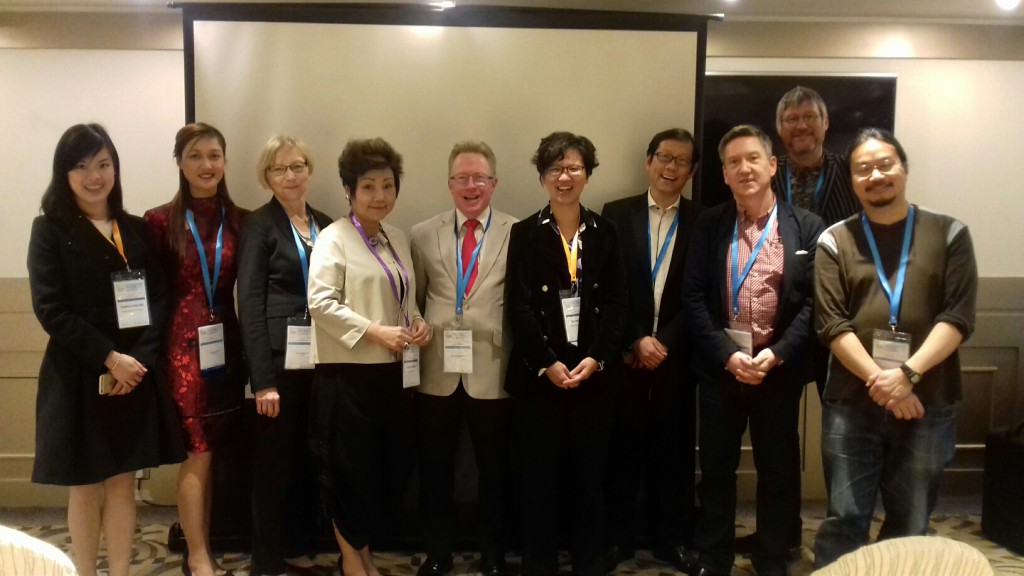 Day 3
I was provided with a full mission feedback from agents Luck and Greaney over breakfast. We had a full itinerary of clinical visits ahead of us and we promptly met the students at the fountain meeting point. In fatherly fashion, I suggested the students kept their minds open to what and who they would see today and pointed them to reflect on the trans- cultural learning and value of visiting such placements in a different continent. At the end of a speedy trip on the MTR, Frederick (our HKPU friend) guided us in to a 900 bedded psychiatric facility-Castle Peak. The sheer scale of this provision supported by the famous Jockey Club, was going to potentially be a great experience for us all! Presentation and green tea given by our hosts, we all walked into a forensic facility for men, then for women, then a Centre for Excellence for Intellectual Disability (ID) patients undergoing day rehabilitation. This latter facility showed the students the benefit of creative therapies for patients with ID within the recovery process. Excited by the thought of lunch at an Non-Government Organisation (which employed ex mental health patients), we all skipped off to catch the local transport- myself quicker than the others, as the 5 or 6 shrimps I ate the night before seemed to be disrupting my gastro–international processes. Being a glutton for punishment, I devoured the Beef Curry option and Frederick ushered us to catch the transport to Kwai Chung Hospital, our next clinical visit. We were warmly welcomed by to 2 lovely and highly efficient Advanced Nurse Practitioners (ANP). After a very professional presentation and more green and lemon tea, we moved through the crammed lift to hear a talk on a version of NHS Direct for mental health patients. This was impressive and Richard and myself offered some wisdom on how, if linked with their Crisis Intervention service, could be improved further. The ANP highlighted a service deficit in CBT which Richard and myself, on the way to next visit, quickly came up with an income generating solution to. Next stop a recovery and rehabilitation service which was impressive for the person centred approach it adopted. We finished the day meeting up with Simon Cheung, our learning technologist who was speaking at the same conference tomorrow. After a brief strategy meeting of how we would consider exploiting the 'Coventry Way', we all retired to our beds looking forward to the day ahead.
Read Part 2 to Martin Bollard's time in Hong Kong here.
Comments
comments