by Zsófia Hacsek and Dr Jennifer Verson
Every year, the RISING Global Peace Forum sets the stage for dialogue around peace, security, and reconciliation. This time, this well-known forum gets extended with a very special online event, too: following the three days of the Forum in a hybrid format (10-12 November 2021), we can also log in for RISING Together – the Unheard Stories of Peace. The day for this event is symbolic: the 15th of November marks the anniversary of the day when Coventry committed to be the City of Peace and Reconciliation on the day after the bombing.
>> You can register for the online event here! <<
RISING Together – the Unheard Stories of Peace have been organised by staff members at the Research Centre for Trust, Peace and Social Relations (CTPSR) for over a year's time. An afternoon packed with discussions, film screenings and showcasing of art (see full programme here) is only the climax of months of run-up events, including a school art project, a photography competition for young people, and a growing cooperation with Migrant Artists Mutual Aid.
School Art Project and Photo Competition
One of the main initiatives of the project was Visualising Peace: An Art Competition for 7-11-Year-Old Pupils. Despite the name, the invitation-based format was meant to be less competitive and more like a means within school education to support peace education and discussion within a classroom setting and to motivate children for a creative-artistic expression on what peace means to them.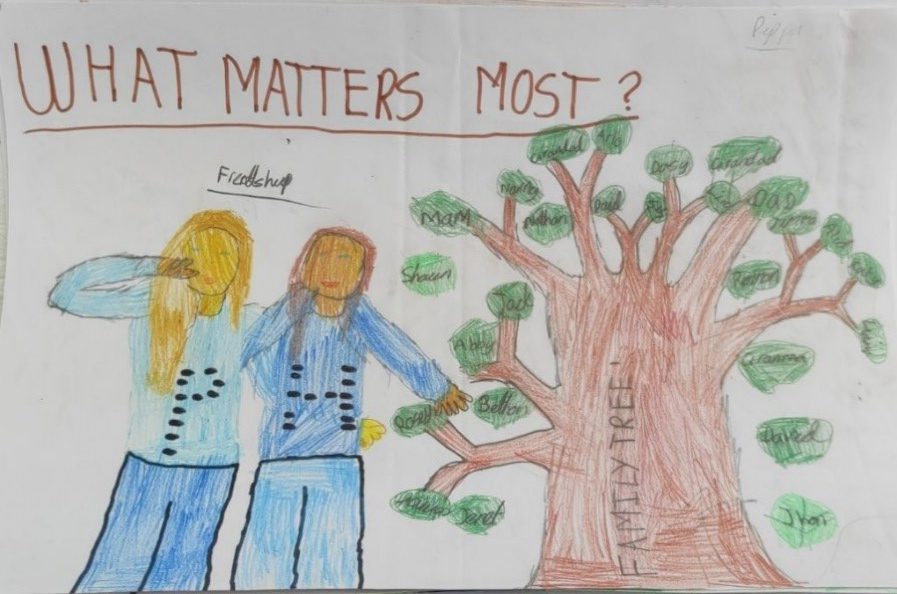 In the beginning of 2021, organisers approached ten primary schools from their professional and personal networks. Every participating school was offered a 500 GBP prize if they go through the whole project; it was a great success to see how nine of the ten participating schools submitted artworks in the end.
A crucial aspect for the invitation was to not only include schools in the UK but also all around the world, especially from areas where so many stories of (the lack of) peace are still unheard. That is how CTPSR partnered with MES Crescent English High School (India), Badr School (Gaza, Palestine), a school of READ Foundation (Pakistan), and Ibba Girls School (South Sudan). UK partners were Mount Nod Primary School (Coventry), Romanby Primary School (North Yorkshire), Skelton Primary School (Cleveland), Broken Cross Primary Academy and Nursery (Macclesfield), and Shaftesbury Park Primary School (London).
A pre-selection of the 500+ artworks have been forwarded to our external jury: Zeba Khan, IBPD Visual Arts teacher; Peter Gould, leader of the Gould Design Studio; and Jennifer Verson, Research Fellow at the University of Warwick. Emphasising that everyone is an actual winner in this competition, our jury still managed to pick some of their favourites, which they are going to showcase at the online event.
Aside the school art project, RISING Together – the Unheard Stories of Peace has also hosted a photography competition for young people. It was open for anyone between 16 and 25, regardless of whether entrants received formal education in photography. Choosing a winner from the five shortlisted pictures was accompanied by intriguing discussions among the organisers, which will be recalled at the plenary session on 15 November. The winner of this competition receives 150 GBP as a prize.
Migrant Artists Mutual Aid
Migrant Artists Mutual Aid (MaMa), was commissioned to create a new music video for RISING Together – the Unheard Stories of Peace. The video showcases a unique creative co-production process that has developed through ten years of cultural production.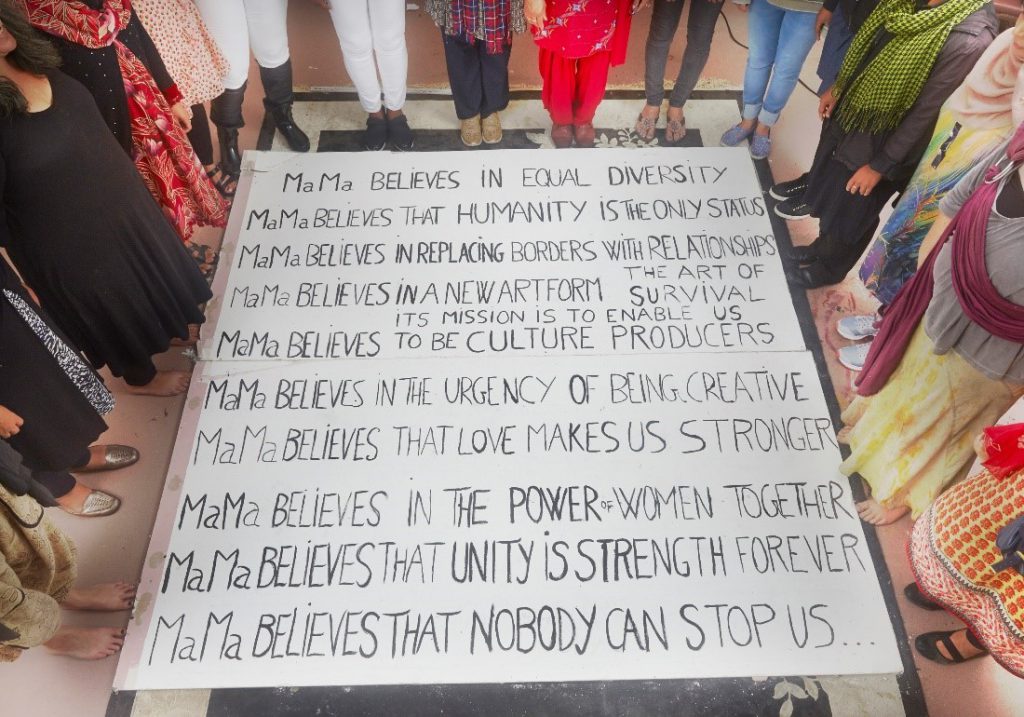 Dr Jennifer Verson, Visiting Research Fellow at CTPSR, is the founder and Artistic Director of MaMa, a cross national network of women, mothers, migrants, artists, academics and activists who work together to support members who are seeking sanctuary, and campaign for justice in the migration system. For ten years, MaMa has produced arts-based events that crafted both new aesthetics of postcolonial identities and raised legal funds for complex asylum cases which challenged the bias in the migration system against women and children seeking sanctuary from gender-based violence.
The video will feature an original song valobahsi. It was co-created by MaMa's choir as part of a Heritage Lottery Fund project which creatively interpreted some displays and archives from the International Slavery Museum (ISM) through the voices of migrants, refugees, and survivors of Modern Slavery. Valobashi was inspired by the displays in the ISM of talking drums and the current violence and displacement related to mineral extraction in the Democratic Republic of Congo.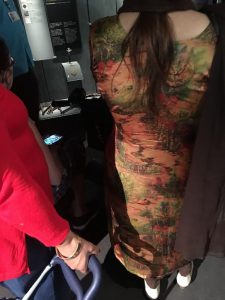 In addition to the music video, RISING Together – the Unheard Stories of Peace will feature interviews with members of the choir talking about their journeys of fighting for gender justice in the migration system and how this fight supports new approaches to peace and peacebuilding in the UK and around the world. Participating in Rising Together is enabling members of MaMa who have resisted political and gender-based violence to amplify their voices and to contribute to UNSDG from what is often an excluded and marginalised position.
…And more to see and hear at RISING Together
The online event will provide visitors with a colourful programme, designed to bring together academics, activists, artists, educators and anyone interested in matters of peace. There will be three times three parallel sessions organised into thematic tracks.
Track 1, Educating About Peace, features three masterclasses. Chas Morrison from Coventry University will speak about sideways approaches and alternatives to violent conflicts instead of trying to address them directly. Aamer Naeem from the Yusuf Islam Foundation will explore the Good Leadership Model and its application to peacebuilding. Laura Payne from Coventry University, one of the main organisers of the event, will tell us about the role religion can play in the peacebuilding process.
Track 2, Peace, Legacy and Conflict, hosts the screening of the film On Our Land, a visual output of research at Coventry University. Parallel to that, there will be a session on the role of volunteering in the peace discourse, featuring the Coordinating Committee for International Voluntary Service (CCIVS). Finally, there will be a panel discussion about a research collaboration between Together In Action Trust and local universities in examining historical interfaith relations to inspire contemporary interfaith activity in Coventry and beyond.
Track 3, Art and Peace, starts with the MaMa. It then continues with a poetry session featuring Jude Simpson, Jane Commane and Muneera Pilgrim. The final session of this track will be on the architecture of peace featuring Andrew Petersen's Imam Dur monument and Sebastian Hicks' Coventry-based Chapel of Many.
The programme will end with a plenary session that brings political activist and retired Roman Catholic priest Bruce Kent in a dialogue with Professor Mike Hardy, former Executive Director of CTPSR.
Comments
comments