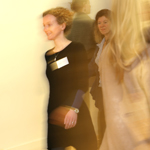 On 20th February 2013, Coventry University based Centre for Dance Research (C-DaRE) hosted the 'Shifting Balances Symposium', a day event which saw a wide range of speakers from all over the world. The symposium was organised and hosted by Dr Margaret Wilson of Wyoming University.
Kimberly Hutt was the first of the days speakers and explored 'the effects of an eye-closed training programme on balance'. Hutt provided an overview of her research 'Eyes, Ears and Something Else' and left us asking "how could eyes closed training be incorporated into dance classes to prevent additional training in free time?" Next to speak wasJames Brouner of Kingston University who talked us through his study of 8 male sport science students and the 'Validation of SEBT as a measure of dynamic balance'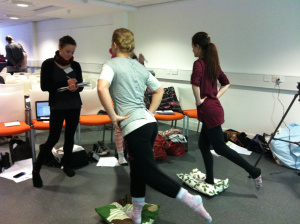 This lead nicely ontoMargaret Wilson and Glenna Batsonwho explained the 'Modified Star Excursion Balance (mSEBT)' test and looked into some of the difficulties that were experienced throughout their process, including explaining to the participants what they were required to do (hands on hips, leg out, navel forward) without gesturing and therefore leading their actions. Delegates were encouraged to take part in the mSEBT.
Following a short break, Kate Lawrence and Margaret Wilson explored Vertical Dance and 'balance in a new orientation to gravity' a practice which borrows equipment from rock climbing – harnesses, ropes and belay's.
Next Frances Clarke and Professor Matthew Wyon of Walsall University looked at 'Static and Dynamic Balance within Dance Populations' and explored the different balance tests for dancers, the relationships between the difference tests and the reliability and validity of the pirouette test.
The group took a trip to the ICE performance Studio where Glenna Batson led the group to explore balance in a crowd. Batson implored the group to change their movements and see how this affected their balance, for example; weaving through people, stopping on the alternative foot, keeping one person in your eyesight, and wanting to be seen/not wanting to be seen.
After lunch the group visited Coventry University's Motion Capture Lab where  James Shippen talked the group through the bio mechanics system and how the rooms setup of camera's and floor pads joined with a standard marker set attached to the subject can allow you to look at the loads within the body, torque on muscles and joint contact forces.
Back in the ICE seminar room Myriam Sillevis Smitt discussed the nature of multi-tasking and the 'influence of dual-task methodology and speed accuracy trade-off on dynamic postural control in dancers.'
Leading on to the last speaker of the day, Ruth Gibson who focused on methods created in the motion capture studio, studying the Skinner Releasing Technique using poetic imagery from the pedagogy and animation techniques inherent in motion capture software. The symposium concluded with an opportunity to discuss potential future research.
Throughout the day delegates took to twitter using #CDaRE, take a look at some of the tweets on Storify.
Comments
comments