If you go to any local bookstore and have a peep in the local interest section, you might just see a little gem of a book called 'The 2-Tone Trail'…
It is written by local music historian, Pete Chambers, and takes the reader on a journey of discovery; marking the rise of 2-Tone music in Coventry.
"It was back in 1979 when punk rock music was on its way out. The bold musicians of Coventry came up with a brand new sound that would take the world by storm. That sound was 2-Tone; a ska and reggae combination with a hint of punk and pop. The group that was linked to this sound was 'The Specials,' formed by Jerry Dammers, a student in Coventry."
Jerry also created 2-Tone records and signed other bands onto the label. It is the 2-Tone story that visitors to the city can follow with the aid of the book, and…
…Coventry University just happens to be #1 on the 2-Tone trail because it was here where it all began!
When Coventry University was formerly known as Lanchester Polytechnic (or The Lanch), Jerry Dammers and Horace Panter studied alongside Pauline Black of 'The Selecter.' It was here where Jerry first met bass player, Horace, a meeting that proved to be crucial to the creation of The Specials. The song "Rat Race" was conceived here and the promotional video was recorded in the main hall in 1980:
Pete Chambers created the 2-Tone trail in 2009 to mark its 30th anniversary. You will spot black and white plaques on buildings all over the city, which are important to the story of 2-Tone.
All the plaques were sponsored by companies or individuals and if you look carefully on campus, above the door of the Priory Building on Priory Street, you will see the one dedicated to Coventry University. It had its grand unveiling in 2009 with Horace Panter as a special guest: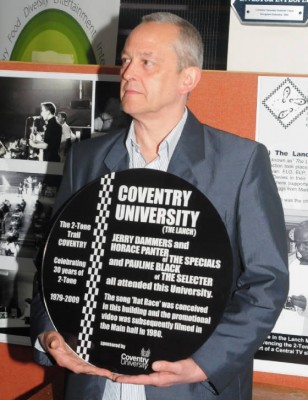 Jerry Dammers went on to become an anti-apartheid campaigner and wrote the song "Free Nelson Mandela" about the jailed African National Congress leader in South Africa. He is still prominent in the music business and regularly performs gigs and does guest DJ spots up and down the country.
Coventry University's association with Jerry Dammers was prominent in 2006 when he was awarded an Honorary Degree in recognition of his work in the music industry. The Specials continue to perform today, however not all of the original members are involved.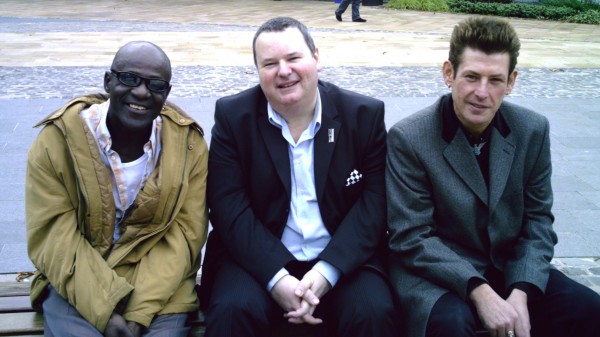 Once you have followed the 2-Tone trail, you can take a short trip to 2-Tone Central in Ball Hill. It is a performance venue, a meeting place and the home of Coventry's music museum which is dedicated to all the musicians, music-writers and DJ's who have played their part in putting Coventry on the musical map!
Comments
comments