We at Marketing at Coventry University appreciate a special and spine-tingling sporting moment. Over the past five years, there have been some incredible feats of athleticism, showcases of skill and momentous finishes to games and seasons throughout sport. The moments that give you couldn't make up. The moments that make you spring up involuntarily from your chair in disbelief. The moments you can't believe. Here are our 15. [By the way, we've tried to not make it football-heavy but we are big football fans after all!].
15 – 'Marshawn Lynch's 67 yard TD' – NFL – During the playoffs, Runningback Marshawn Lynch and his team, run through the New Orleans Saint's to successfully execute a 67 yard run, which would go on to be called the 'Beast Quake' because of its seismic recording. (January 8th, 2011)
14 – 'The death of Brandon Knight' – BASKETBALL – Los Angeles Clippers' DeAndre Jordan takes a leaf out of teammate Blake Griffin's book and converts an alleyoop dunk down over Detroit Pistons' Brandon Knight. (March 10th, 2013)
13 – 'Rooney's overhead' – FOOTBALL – In the Manchester Derby, Wayne Rooney acrobatically converts a Nani cross past a rooted Joe Hart with an overhead kick eventually voted best PL goal ever. (February 12th, 2011)
12 – 'Bradley Wiggins wins the Tour de France' – CYCLING – Bradley Wiggins becomes Britain's first ever Tour de France winner in 2012. He'd crashed out the year before and thought he'd missed his chance. But he fought back and kicked off an amazing summer of sport which saw him become two-time Olympic champion and receive a knighthood from the queen. (July 21st, 2012)
11 – 'Odell Beckham's one-handed catch TD' – NFL – New York Giant's Odell Beckham Jr stretches beyond all human possibility to catch and secure a touchdown against Dallas Cowboys. (January 24th, 2015)
10 – Chris Hoy wins 6th gold medal – CYCLING – Chris Hoy made history by becoming Great Britain's greatest Olympian as he won a SIXTH gold medal surpassing Sir Steve Redgrave's record of 5. And he did it at London 2012. (August 7th, 2012)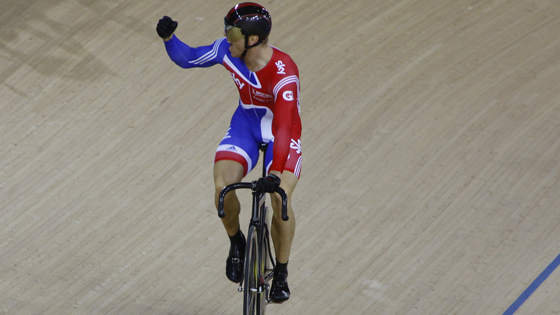 Image: Mitch Gunn/Shutterstock – Click link to view video.
9 – 'Andy Murray wins Wimbledon' – TENNIS – Andy Murray beats Novak Djokovic to become the first Brit to become men's Wimbledon Champion in 77 years. (July 7th, 2013)
8 – 'Messi dances through Real defence' – FOOTBALL – El Clasico and Lionel Messi literally dances through Real Madrid's players as he proves he's somewhat untouchable to slot a second goal home for Barcelona in the Champions League. (April 27th, 2011)
7 – '13 seconds and out for Aldo' – UFC – Trash-talking king Conor McGregor knocks out champion José Aldo to take the featherweight title in 13 seconds. (December 12th, 2015)
6 – 'Germany breaks Brazilian hearts' – FOOTBALL – Brazil on their home soil for the World Cup semi final, lose 7 – 1 to eventual winners Germany and concede four goals in a six minute spell. (July 8th, 2014)
5 – 'Jamie Vardy's 11 in a row' – FOOTBALL – Jamie Vardy beats Ruud van Nistelrooy's record of scoring in 10 consecutive Premier League games with a goal against Manchester United. (November 28th, 2015)
4 – 'Ray Allen's clutch 3 pointer' – BASKETBALL – Miami Heat's Ray Allen ties Game 6 of the Finals with seconds to go to take the game to overtime and subsequently Game 7, in which Heat beat Spurs for the championship. (June 18th, 2013)
3 – 'Lewandowski's five' – FOOTBALL – Robert Lewandowski comes on as a sub at half-time to score a record breaking five goals in under nine minutes for Bayern Munich against Wolfsburg in the Bundesliga. (September 22nd, 2015)
2 – 'Bolt Beats Blake' – ATHLETICS – At London 2012, king of the track Usain Bolt holds off training partner Yohan Blake and American returner to the sport Justin Gatlin to retain his 100m Olympic championship, with a time faster than his Beijing 2008 win – 9.63 seconds. (August 5th, 2012)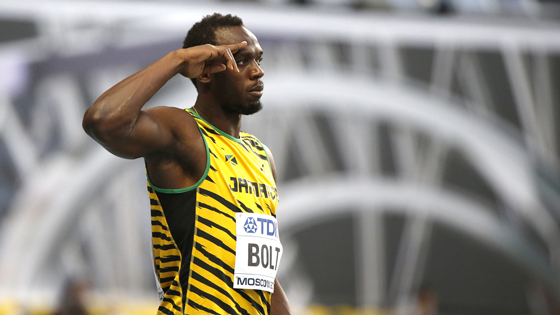 Image: Kaliva/Shutterstock – Click link to view video.
1 – 'Balotelli, Agueroooooooo' – FOOTBALL – With the last kick of the season, Aguero scores past QPR to win the 2011 – 2012 Barclays Premier League for Manchester City and snatch it from United who had already finished their final game in arguably the most competitive Premier League season in years. (May 13th, 2012)
What do you think? We're sure many would reorder our list or add ones you think we should have included. Let us know in the comments below!
Brought to you by Ryan and JimE.
Comments
comments