There are certain things in life that everyone can agree on. Puppies are adorable, Shawshank Redemption is one of the greatest movies of all time and the creation of pasta was one of the most significant moments in modern civilisation. Every day is worthy of a nice bowl, but with it being World Pasta Day, we at UnCOVered all agreed it would only be right to throw a carb party and stuff our happy little faces.
Seven dishes were cooked up for our team members to try, culminating in food-babies of third trimester proportions. We hope you try some of these great recipes yourself, to keep you going throughout the week.
Each was attempted on a student budget and the maximum spend (excluding staples) was £5. See the first instalment of our new food blog for what we mean by 'staples'!
Tash's Pumpkin Seed Pesto Pasta Salad
What she says:
"This all cost £5.95, so a cheeky bit over the £5 budget that we'd set. I've also got a money saving pesto tip though! If you buy pumpkin seeds instead of pine nuts it's half the price but tastes just as good!"
How she did it:
Cook your pasta and when it's nearly done, throw in some frozen peas. Drain, retaining some of the pasta water and leave to cool.
To make your pesto, roughly chop a garlic clove and put it in the blender with 100g of nuts, seeds or both. Give these a whizz, then tear up and add 50g of basil leaves until you've got a paste.
Measure out 150ml of extra virgin olive oil and slowly add this to the mixture.
When that's done, add some lemon juice, salt and pepper, and stir in 100g of parmesan.
Combine your pasta, a little of the cooking water and pesto, and add some chopped up tomatoes.
Hey pesto, you're done!
P.S. Even though I went over the budget, this makes loads of pesto, so it's good for more than one meal, as it should last around a week in the fridge.
Editor's note:
A slight transportation malfunction meant there was a possibility of broken glass in the pasta. A few participants chose not to risk their lives for pasta. They have since been removed from the team.
Our super professional comments:
"Light and full of taste." "A great tasting pasta salad." "Healthy, tasty and only caused minor lacerations."
Niche's Butternut Squash and Spinach Bow Tie Fiesta (Vegetarian)
What she bought: Butternut squash – 90p. Spinach – £1. Farfelle pasta – 59p.
What she says: "I tend to keep veg stock, dried sage and basil, onion, garlic and cheese in my fridge and cupboards at all times. If you don't, get it together people!"
How she did it:
Peel and cube the squash, then toss in sage, basil, oil, salt & pepper. Roast for 45 mins
Chop and fry garlic and onion
Add cooked veg to blender with 500ml veg stock and blend until smooth
Cook pasta, then add to a big sauce pan with sauce and spinach. Stir and heat until spinach is wilted
Served topped with cheese of choice
Eat and ENJOY!
Our super professional comments: 
"Amazing sauce." "Great sauce, the butternut squash is really different. Love it!" "I got bows… In different area codes."
Ben's Meat Feast Tortellini Pasta Bake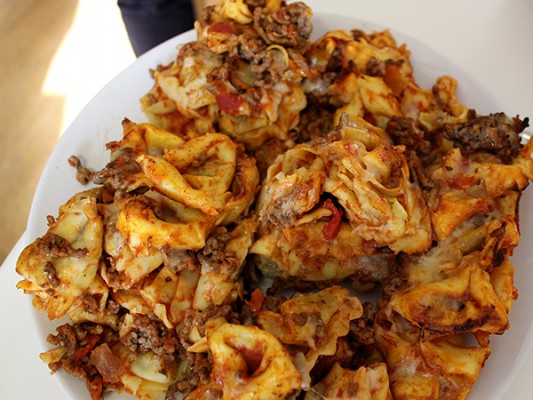 What he bought: Nice and simple, if a tad more on the expensive side. Mince beef (£3), chicken and bacon fresh tortellini packs (£2.40 x2), bog standard pasta sauce (89p). I had a block of mature cheddar sitting in the fridge already, as everyone always should.
What he did:
"I'm a slave to 'man cooking', I don't mess around with terms like 'from scratch' or 'dice', I bung stuff in pans and hope for the best. So with that said, I bunged the mince in a pan and browned it off. (Sorry almost got a bit technical there.) Boiled the pasta in a separate pan, drained, added them all together with the sauce and stirred FOR AGES (again, technical stuff). Once satisfied I put it all in a large Pyrex dish with a solid layer of cheese on top. Then finally whacked it in the oven on 200 degrees (pretty much), for about 20 mins or until the cheese gets nice and golden."
Our super professional comments:
"Amazing!" "Tasted like a Dominos Meat Feast pizza." "Bravo!"
Ryan's Chicken Penne Carbonara

What he bought: Chicken Breast 450g – £3.00 Carbonara Sauce – £1.00 Red Onion – 20p Penne Pasta 500g – 59p
What he says:
"To make my carbonara a little more exciting I raided the back of my cupboards for soy sauce, everyday seasoning, black pepper, salt and paprika."
Our super professional comments:
"Love the peppery flavour." "Some bad boy penne." "I'd pay more than a penne to eat that again!"
SJ's Lasagne Florentine (Beef, Spinach and Cheese)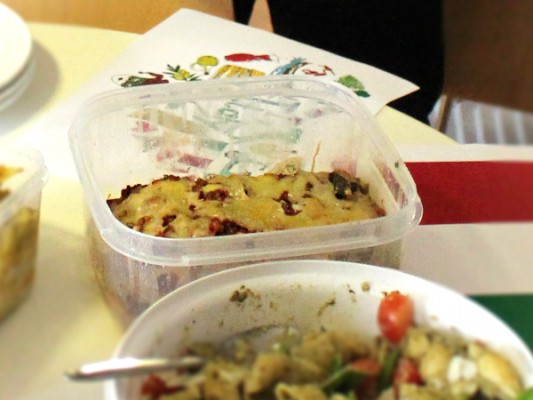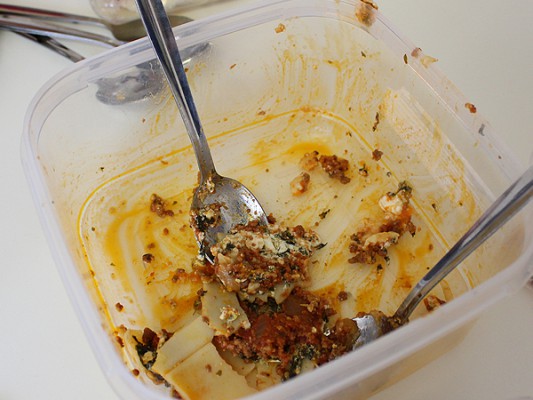 What she got: Half a kg of frozen lean beef mince, Dolmio 'intense' sauce, half a kilo frozen spinach, 6 regular lasagne sheets, 600g low fat cottage cheese. Total cost: £5.36
Tips:
"Buy the hell out of some Dolmio when it goes on sale. Frozen things are usually less expensive, so get a freezer by any means necessary. Eat your veggies, kiddos."
Our super professional comments:
"Spot on, the Italians would be proud!" "Amazing flavours." "Meaty goodness."
________________________________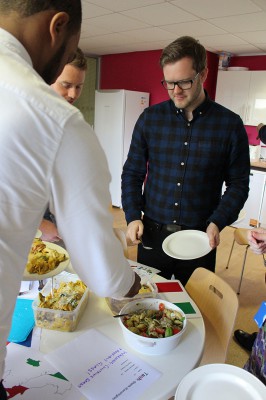 ________________________________
Tom's Spinach and Ricotta Cannelloni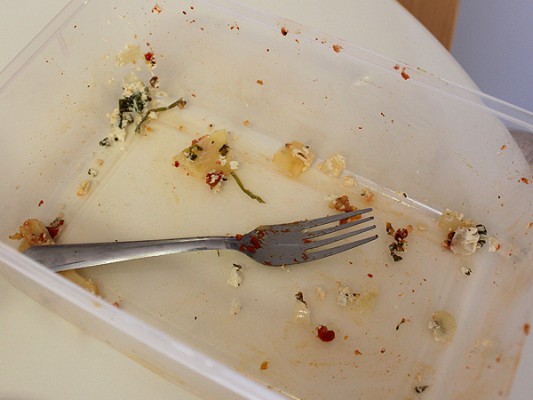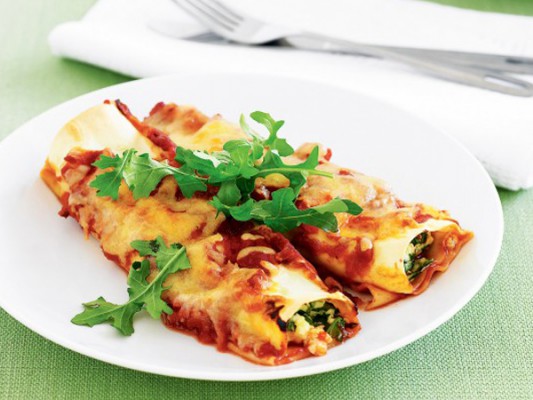 What he bought: Cannelloni tubes – 75p Ricotta cheese – £1.20 125g bag of spinach – £1 One onion – 20p Jar of garlic – £1.50 Pasata – 30p Total – £4.95
What he did:
Heat the spinach in a frying pan with oil for a few minutes. Drain spinach of liquid and chopped finely.
Fry off a diced onion with a teaspoon of garlic, basil and pinches of salt and black pepper, squirt in lemon juice.
In a mixing bowl, combine the onions, all of the ricotta and all of the spinach. Mix together well then stuff the mixture into the centre of the cannelloni tubes.
Place the tubes into a baking dish then pour over enough pasata to cover.
Once again sprinkle with basil and pepper, then grate cheddar over the top. Place in the oven for about 30-35mins and enjoy!
Our super professional comments:
"Really creamy, delicious!" "As a hardened meat-eater I thought this tasted superb." "I like! (Borat voice)"
Cost: (not including pasta and spices) £8.26. I splurged out by buying a small bottle of shiraz to cook with, but it costs £6.61 if you've already got red in the house or you'd prefer to cook without! Cost per portion: £1.65
What she says:
"This dish is perfect for when you don't want to cook with chicken or beef, but are after a winter warmer meal!"
What she did:
Buy veg from a local greengrocer or market – you should've seen the size of their onions compared to piddly supermarket ones.
Veg needs to be finely diced so make sure you've got a knife and chopping board up to the job – watch those fingers.
The ragu can be cooked in one big old wok or casserole dish. It gets a bit steamy as you need to evaporated the liquid so you might want to crack a window.
If you're feeling fancy, serve it with a soft cheese and mint – it's delish!
Our super professional comments:
"Saucy and juicy." "Just the right sauce to pasta ratio!" "Saucy, baby, YEAH!"
We hope we've pasta little bit of our enthusiasm on to you! If you're finding yourself spending a bit too much of your student loan on takeaways or ready meals, give one of these ideas a go. They're all much easier than you'd think, and even though a few of us exceeded the £5 budget, these recipes will see you through more than just one meal.
Comments
comments