It's finally here. After 3 years of lectures, seminars, workshops, essays, assignments, projects, group work (oh the group work), deadlines and feedback – it's time to graduate!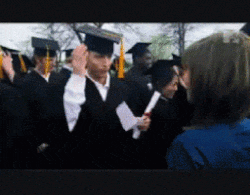 The main aim of most students (myself included) when they begin their journey at university, is to work hard and do well on their course, all leading towards that same end goal of walking on stage to receive your degree. Of course graduation is a celebration of your achievements, but I also think it's the perfect time to reflect back on everything you've accomplished over those years. Everyone's reasons for taking the plunge and going to university will vary, as we all have our own story to tell. I'm no exception to this.
My University experience would always be a little different to many of my course mates'. Although I never considered myself as a 'mature student' (in more ways than one), turning 24 during Freshers' Week kind of put me in that bracket! I wouldn't be moving away from home, experiencing student halls, or staggering through many a night out. I had my own place back at home, a fiancée (now wife), and an evening job with a fair chunk of hours!
I was going to university to prove to myself that I could do it. I could achieve that life goal I didn't think I would go for when I was 18/19, and give myself the best opportunity to start working towards a career rather than a job.
Looking back, it's crazy just how fast these past 3 years have gone! It only feels like a couple of months ago that I was wandering around the city centre on my 1st day with a lad on my course, desperately trying to get to grips with our new surroundings during a REALLY long induction break! At the end of that first semester I remember thinking how quickly the time had gone – but that was nothing compared to how the rest of my time has flown by!
One thing that you'll hear lots about while at university, but not a lot of people actually take advantage of, is the massive range of additional opportunities you have while studying. Again, because your time at uni goes so quickly, you really have to try and make the most of anything and everything that comes your way. I have to admit I was one of those students that let a lot of those opportunities pass me by – but there was this one opportunity I was given, and I haven't let it slip yet!
During second year, one of our modules was centred around gaining some form of professional experience that we would present back upon towards the end of that year. I honestly had an absolute nightmare trying to secure some sort of placement or work experience over the module, with only a couple of volunteering projects to show for my efforts. However, after searching through Moodle and their job opportunities tab, I saw an advert for a part time role as a student social media assistant in the main marketing department of the University. I was lucky enough to be offered the job, and began to get some real, valuable experience within an area I enjoy (social media). It also meant I could say I actually both studied at and worked for Coventry University. Fast forward 16 months, and I'm now a full time member of the social media team for the department – RESULT!
It's easy for me to talk about all the fantastic elements of my time as a student and how lucky I have been to secure a graduate job – but while you're in the depths of your studies and assignments, it's also easy to find things really tough and overwhelming. During my third/final year in particular, there were points when I honestly thought I wasn't going to finish the course. You put so much pressure on yourself to do well that it can become too much at times, but the worst thing you can do is just keep it to yourself and try and make it pass. Talking to family, friends, and members of the University really helped me 'snap out of it' and get back on track – focus on the reasons you started in the first place and look forward to that feeling at graduation, when you know you have done it!
For all these reasons and more, this is what graduation means to me.
Comments
comments