The festive feasting is well underway and New Year's Eve is the last chance to get your grub on before that January health kick (stay tuned for that blog). What better way to see in 2017 than with your loved ones and plenty of food?!
That's why we've put together the perfect selection of delicious dishes that will form the ultimate buffet, to suit any party. Feed your guests or take an impressive addition to a gathering you're attending…any leftovers are also perfect for post fireworks or the New Year's Day hangover.
Let's start with the savoury: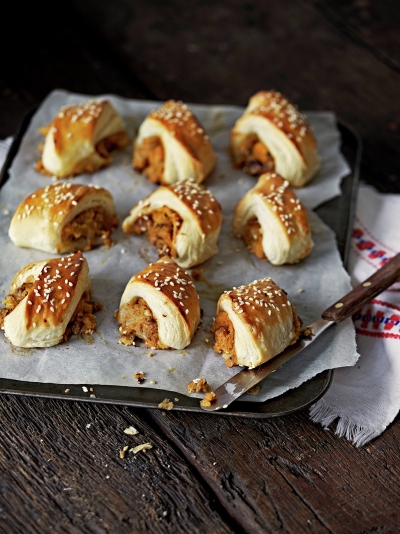 For those veggies out there (you know we got you), these look like the perfect alternative to the classic sausage roll. They also sound impressive, but are fairly simple to put together. If you're not a fan of stilton, you could probably substitute for pretty much any crumbly cheese!
No buffet could be classed as a buffet, without the sausage rolls! Just get your hands on some ready rolled puff pastry and some good quality sausage meat, which you can season with garlic and parsley – or any herbs you fancy. You could obviously just buy some sausage rolls, but it's way more impressive to make some tasty rolls yourself!
We've seen several recipe's for these pop up recently, so we thought they'd be an interesting addition to our food list. Another easy recipe, but a different way of serving up some spuds!
There are many variations to choose from when it comes to whipping up some chicken wings. We've chosen something with a bit of a different flavour for the festive period.
A Nigella classic that has to be enjoyed at some point over Christmas! A delicious meat that will form the tastiest of sandwiches (if you have any leftovers) and an awesome accompaniment to a plate of buffet goods.
Still making your way through the leftover turkey? Give it a makeover by mixing it with some fresh and tasty ingredients.
Classic buffet items
Whilst it's impressive to make as much as you can for an NYE feast, some things you're better off just buying. So don't forget to bulk out the buffet with crisps, variety of dips, chopped up carrot and cucumber (for dipping) samosas and bhajis, scotch eggs and cocktail sausages (both meat and veggie!), falafel and a quiche or two.
Cheese selection
We suggested this in our Christmas food blog, but as far as we're concerned, you can never have too much cheese at this time of year! So grab a selection of your favourites, and maybe something new to try!
Now to move onto the desserts, because we all have separate stomach for sweet treats!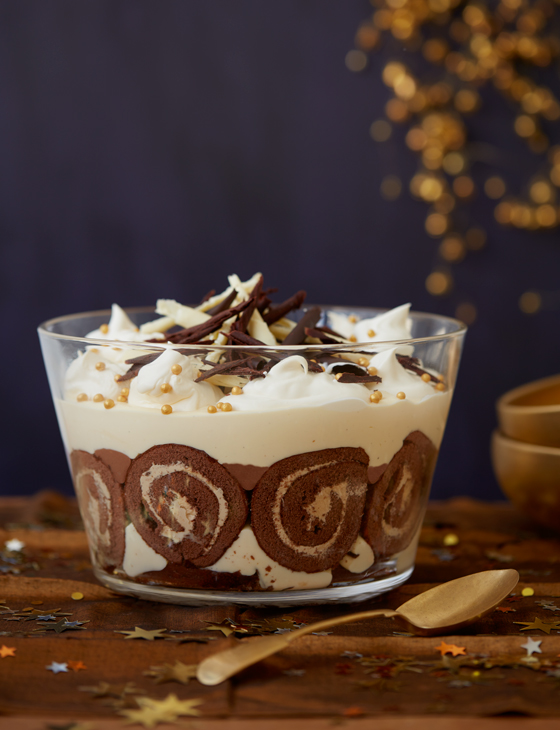 Trifle is not just for your nan! It's a classic British pud which we can all enjoy and it's perfect for a New Year's shindig as people can just help themselves – make sure you've got a big spoon! To keep you going after the countdown, we've picked a coffee-flavoured trifle with lots of chocolate.
Jam Tarts
If you're wondering what to do with your leftover pastry from all your mine pie baking, a really easy tip is to make your own jam tarts. Fill your cupcake tray with pastry circles and add a good helping of your favourite flavour jam, and just pop in the oven for 20-30 mins on 200 degrees celsius – easy!
Cupcakes
These are celebration cakes like no other! Use a basic cupcake recipe and decorate them however you wish; you can use edible glitter, coloured icing, silver sugar balls… basically create your own firework display in baking form, colours and sparkles everywhere!
Classic puds
You might be wondering why we missed some of your favourites off our Christmas blog, but we thought you'd be filling up on selection boxes, so wanted to save some favourites to welcome in 2017! Get your hands on a chocolate log, eclairs and profiteroles from your local supermarket.
We really hope you enter 2017 with full tums and smiles, ready to take on the New Year! Now let's get into the spirit with a bit of Auld Lang Syne…
Comments
comments