We know what you're thinking – surely this will all just be about different kinds of chocolate, right? Wrong! Well, half wrong! The Spring eggstravaganza that is Easter is fast approaching, so we've had a think (and scoured the Internet) to find a few cool gift and treat ideas you can make or buy without breaking the bank. That Easter bunny ain't got nothing on us!
There're lots of ideas being shared here, so simply click the link on each suggestion you like to find out more. First up…
Chocolate, of course!
We couldn't not start with this! Yes Easter is wonderfully traditional religious celebration (à la Christmas), it is also the perfect excuse to stuff your face with chocolate for breakfast – and for most other meals that day/week to be perfectly honest! Eggs and bunnies may be the shapes of choice at this time of year, but we wanted to find some more inventive alternatives for you to try, and some cocoa creations you could make yourself!
Maybe you're inspired to try making some chocolate shapes of your own and impress F&F? Get creative and add all your fave flavours to your very own chocolate slab, invest in some moulds of your own for easy chocolate lollipops, or maybe indulge in rustling up some truffles (far easier than you might think).
Discover a 'hidden gem' in the city and treat yourself to Choc'N'Roll
We couldn't talk about chocolate and not give a massive shout out to the amazing Tony and Choc'N'Roll! Although Tony has been running Choc'N'Roll since 2014, his shop at FarGo Village opened in late 2016, selling the most delicious hand made chocolate treats. Such craftsmanship and skill does mean some of the treats come at a slightly higher price, but boy is it worth it – and hey, Easter is a good enough excuse to indulge! We've been to visit the shop a number of times, and can safely say the chocolate brownies are the best we have EVER had! Here's a collage of some snaps taken from our most recent visit. (You can also check them out on Facebook and Twitter too)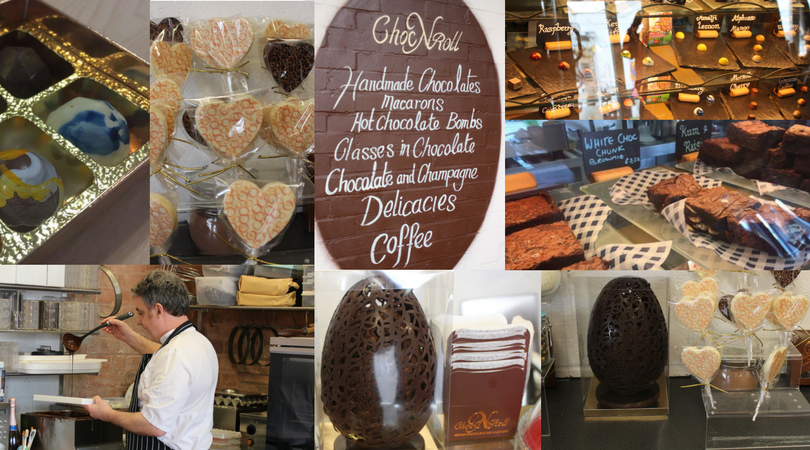 If you want to know more about these lesser-known Coventry hotspots and what it's like to live here, head over to our website where you'll find more information and blogs like '4 Coventry City Secrets'.
Getting crafty
There are so many options out there to help you get your craft on this Easter – it's a great way to spend some time being creative, or even show your thoughtful side and make little presents to give out to your F&F. You don't need to spend the earth to bring your inventions to life either, and loads of the equipment you may need is easily available from that popular high street crafts shop which rhymes with Bobby Daft! Here's a selection of Easter crafts you may want to try your hand at…
AMAZING!
Music Maestro
Maybe a bit of a curveball to finish off with, but when I was younger, my parents would buy me a new CD or album and a little bit of chocolate instead of spending the same amount on one massive egg. Now, this may have been an attempt to contain my chocolate intake (which didn't work by the way!) but I always loved getting a proper little gift and it would last a lot longer than a chocolate egg! We suggest treating yourself or someone close to you by getting them the latest release from their favourite band or artist, send them a download voucher, or add that personal touch once more and create an Easter playlist with all your top tunes.
The best combination would surely be visiting Choc'N'Roll for a treat, trying your hand at an Easter Wreath, whilst eating all your homemade truffles to the beat of your "Easter 2017" playlist!
If you try any of our suggestions, or have some Easter gift or treat ideas of your own, feel free to leave us a comment or get in touch via social media! Happy Easter!
Comments
comments