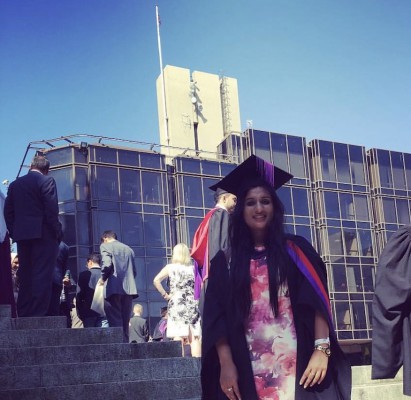 Hi, I'm Bina. I completed my undergraduate degree in Software Engineering at the University of Portsmouth. But after writing my dissertation, I wanted to learn more!
I wasn't ready to dive straight into my masters degree, but I didn't want to wait a whole year before getting back to study. Then I found out that Coventry University have masters courses starting in January, May and September, and after reading about what topics Coventry University cover for Forensic Computing, it made my decision to do a masters easy!
Coventry is a brilliant place and has so many opportunities available for postgrads. I believe Coventry University really think about what is best for students, making their course intakes flexible gives students time to think too. I knew that before I went back into studying, I wanted to go on holiday. But I didn't want to leave a whole year's gap before going back to university. Studying at Coventry has meant I have managed to fulfil everything I wanted to do, and also given me great opportunities.
The City
As a city, Coventry is perfect for students. It's recently been voted the 3rd happiest student city in the UK.* There are lots of University buildings throughout the city, so you'll learn your way around really fast! The University is only a short walk from the train station, which is great for people like me who commute. Even better, because it's a city centre campus, popping into town for a bite to eat or a spot of retail therapy is so quick and easy you can fit it into a lunch break if you need to! (Although, I have to be honest here, I do love the fact that there are shops and cafes within the University buildings themselves!). Coventry is a really easy place to get around as everything is in comfortable walking distance and easy to find. I'm living in Birmingham, and in such a big city, I'm still managing to get lost there. However, in Coventry I can find everything I need, very quickly and easily!
If I've tempted you to explore the city of Coventry some more, why not come and attend one of our Open Days and find out where Coventry University might take you!
*Sodexo, 2017
Comments
comments