I started Coventry University almost two years ago and it's definitely been a time full of ups and downs, as it is for most people. I wasn't the first blind person to attend the University, however, I still believe that people aren't very familiar with the kinds of things a blind student might need.
Every student relies on other people for one thing or another. We expect our lecturers to upload presentations to Moodle, the library staff to ensure there are books relevant to our course and administrative staff to schedule our modules. When you have a disability you will interact with others who are essential in ensuring that your experience as a student is a good one.
As with any student, my lecturers play a huge part in making sure that I am successful. They push me to work harder, to examine concepts more critically and become a better student whilst also making sure I have full access to the course. Last semester I took a Spanish film class. I remember talking with the lecturer one day about an article we would be reading, and her telling me that she would send it out to everyone once she'd received a copy of it in a format that was accessible to me. This would mean all students received it at the same time. This moment in particular stood out to me as often I hear stories of blind students having to wait weeks to receive the materials other students have always had access to. My lecturers make a conscious effort to ensure that I am not put in that position and as a result I am able to keep up with the demands of the course.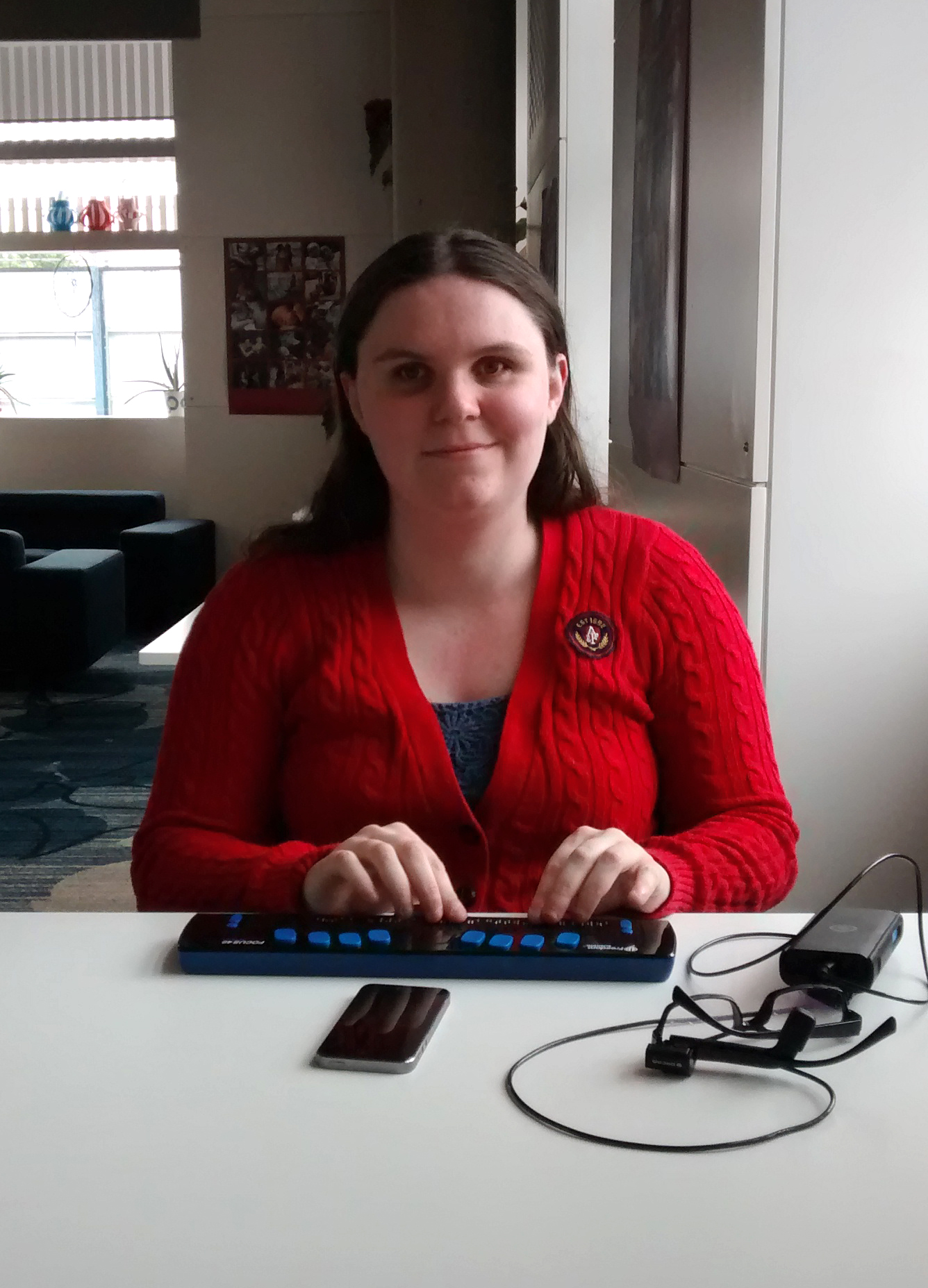 I also receive support from the disabilities team within the health and wellbeing department. I was in contact with them before my arrival and a lot during my first year. When I didn't receive materials in a format I could access they spoke with my lecturers and tried to put things in place to ensure this wouldn't happen again. Knowing I am at a university with a disability support team that really works to ensure students can be successful is so important. I have peace of mind knowing that when I do experience accessibility issues I can speak to people who understand and are committed to making the university better.
Many people believe that accessing books must be a struggle for me. The reality is that it's actually quite simple. I choose to access all required reading electronically, sometimes hooking a braille display up to my laptop or phone if I'd like to read it that way. Normally I simply read using the assistive technology I have on my computer. On my arrival at the university I was really pleased to discover that all the eBooks in the library are accessible. I have access to thousands of books and articles, the same as every other student does. Olivia, the subject librarian for my course, also buys books that I need if they aren't already in the library. I really like this system as it means that all students, not only myself, gains access to these books electronically. This year I have sent so many emails as I discover I need access to another book, and each time I have been presented with an accessible way of reading it.
I am thankful that I have so many people around me that encourage me to work harder, but also give me the tools to do so. We still have work to do to ensure that the University is accessible to all its students, and I am glad that I have been part of that push for change. With the support like I've received, disabled students can be successful. It takes work from not only ourselves, but people at the University to ensure this happens. I am pleased to say I am one of the lucky ones and I'd like to see more disabled students being given the support that I have.
You can read more about Holly's university life in her last blog post: A Week in the Life of Holly Scott-Gardner.
If you'd like to come and see the resources we have available to you at Coventry Uni and meet some of our incredible staff, you can spend the day doing some thorough research at our Open Day on June 17th. Remember you still have until the 30th June to choose Coventry!
Comments
comments