Did you know if you're an overseas student, you could get a Coventry degree while studying close to home? Suveena from the Academic Partnership Unit is taking over UnCOVered to tell us about some students doing just that, and what they made of Coventry on their first visit!
Our first ever 'Annual Student Meeting' with Lazarski University took place last month, where 5 students studying degrees at our partner institution, Lazarski University, visited us for a couple of days. It was a cultural visit celebrating our academic partnership and giving our overseas students the opportunity to learn more about one of the accrediting names behind their degrees – Coventry University.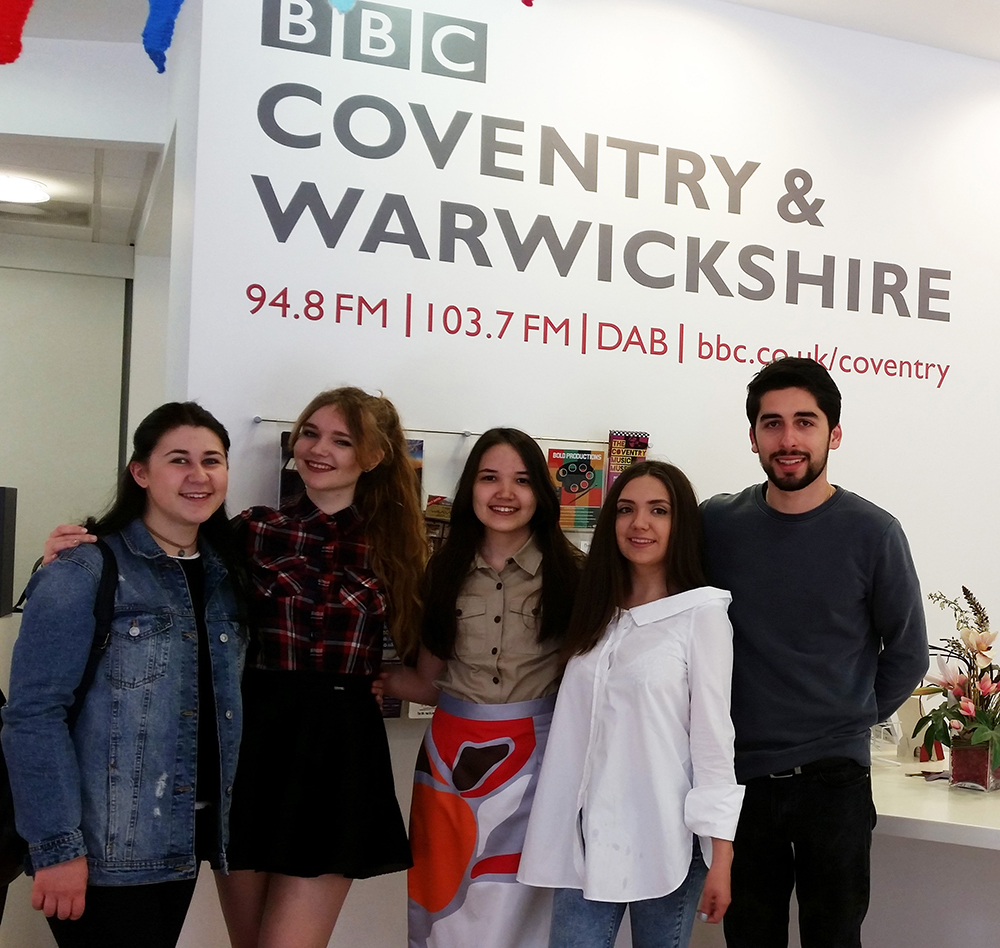 This trip gave our curious students the opportunity to experience Coventry and UK! The visit involved exploring the University, city centre, Transport Museum, St Mary's Guildhall, Cadbury World and a tour of BBC Coventry & Warwickshire, as well as a day trip to Oxford. Yes we managed all of that in just a few days!
What the students had to say
Anastazja Stachwiuk, first year student of Business Economics BA, said:
The trip was an amazing experience, Coventry is so beautiful and the University is very modern. What I enjoyed the most were the people and students who were very nice and helpful."
Diana Merzlikina, from Ukraine, was impressed with the student support facilities. She explained how she really liked that there are,
So many places where you can study and practise to learn more things on your own [allowing students to] get all the information needed from the University."
Aside from the University, the students found the museum visits insightful. Leven Asanidze, from Georgia, recalled the St Mary's Guildhall visit as,
 Very interesting to learn about its history and to see how things have changed over the years."
The students were impressed with Coventry University which is why Akerke Demeubayeva, from Kazakhstan, expressed that,
This trip has convinced me to apply for the Erasmus programme next year."
In addition, Anastazja Stachwiuk said,
After this trip, I feel very motivated to do my best at Lazarski University so I have the possibility to come back to Coventry for the next Annual Student Meeting."
You can watch what they had to say too!
It was great to see that most of the students originally came from countries like Ukraine, Kazakhstan and Georgia so there is an additional international layer to our degree programmes available at our partner universities overseas. We're proud that our partner universities are uniting students across the world just like us.
Why study for a dual awarded degree?
When we asked our students why they chose to study our Business Economics BA degree at our partner institution, Lazarski University in Poland, they all replied that a dual awarded degree is a great start to their careers.
So what is a dual-award degree? It's a 2-in-1 degree, where you receive two degree certificates from two universities upon completion of your degree programme!
Head to our website to see the degree programmes available at our partner universities overseas, giving you the opportunity to study a Coventry University accredited degree without the expense of overseas tuition fees.
Comments
comments