Hi I'm Abby and I'll be talking to you about the best study support available here at Cov Uni. Assignments, essays, coursework, dissertations and exams can be daunting aspects of University life but they don't have to be – if you make use of the support on hand.
First things first if you're new to Coventry University you might want to begin your academic journey by taking this quiz to test your level of academic practice; do you know the difference between collaboration and collusion; or when and how to reference? Let us know how you get on, I got 92%!
Coventry University Study Support
There's lots of support on offer all around campus, and even online, to help you succeed in your studies.
The Lanchester Library
Depending on your chosen area of study it's most likely you'll want to make use of the Lanchester Library, and its 24 hour opening hours. Not only does the library have brilliant on-site facilities and resources but a great selection of online support too.
The Centre for Academic Writing aka CAW
Get individually tailored tips from the Centre for Academic Writing Team in a personal tutorial or group workshop setting; simply book your support online via the CAW booking website and start to improve your academic writing skills. Find numerous resources including 'The Coventry University Guide to Referencing in Harvard Style' online or via the student portal.
Sigma Mathematics and Statistics Support
Even if you're not studying a course related to maths, support from sigma is available to all students on campus and it's easy to arrange support using their online website. The sigma Maths and Stats Support Team offer 1-2-1 appointments, statistic workshops and drop-in sessions.
Languages Centre
Whether you're a language student or not, you'll want to make the most of the Languages Centre and all the online resources available on the student portal. The Languages Centre Team offer support Monday to Friday and are based in the George Eliot Building. Check out the Languages Podcasts on the portal and you'll be learning a new language in minutes!
On the subject of languages the English for Academic Purposes (EAP) Toolkit is a great study tool for international students; enrol via Moodle.
IT Services
Using technology has many advantages but there's bound to be that one time when you need some assistance from IT Services; luckily you can get support from the ITS Team around the clock.
Study Support for Disabled Students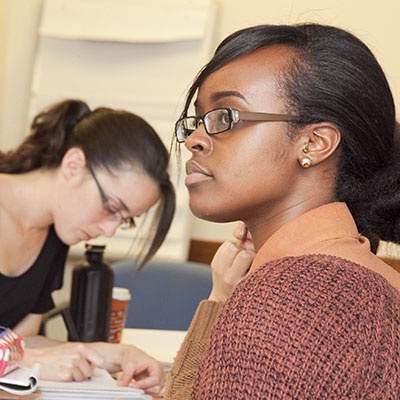 Disabled students at Coventry University can call on Health and Wellbeing's Specialist Tutors for support with academic work in a variety of means! Whether you're in receipt of DSA funding, have no idea what DSA is or want to improve your writing skills, there's support available for you which is all easily bookable on our online booking system.
What support is right for me?
All students accessing support from Health and Wellbeing's Specialist Tutors must be known to the service with a verified disability. If you're unsure whether you're eligible for support get in touch via email: disoff.ss@coventry.ac.uk.
1-2-1 Study Skills Support (DSA Funded)
Students who have been awarded Disabled Students Allowances (DSA) and are entitled to 1-2-1 study skills support from Coventry University can book 1 hour study support sessions with Specialist Tutors, Dove and Tizzie.
30 Minute Study Skills Support (Not DSA Funded)
Students who do not qualify for DSA funded study support, can access our 30 minute sessions for academic support with our tutors Dove or Tizzie.
Study Skills Workshops
Our various study skills workshops are available to all disabled students known to the Health and Wellbeing Department. Specialist Tutors: Dove and Tizzie, cover many different topics aimed at helping you to improve your critical writing technique, manage your time more effectively, plan your assignments with ease and so much more. Details of the workshops available for this academic year are listed below and for further information visit our online booking systems and browse all the workshops under the heading 'Workshops'.
Critical Writing
Note-taking
Time Management
Preparing for Exams
Understanding Assignment Briefs
Planning Assignments
Drafting and Editing
Proofreading and Referencing
Reflective Writing
Structuring your Writing
Querying SpLD?
If you do not have a specific learning disability (SpLD) but are looking for some guidance about arranging an assessment please visit the Disability webpage; alternatively book a 'Querying SpLD' appointment with a member of the Health and Wellbeing Disability Team for further information.
Useful Apps
The links and apps listed below will help you get to grips with Uni life and myLaunch has to be at the top of your useful links list.
Finally the CU Wellbeing app has lots of useful links to all kinds of support and is available on GooglePlay and iTunes.
Comments
comments