Yasmin Augustin grew up in North West London and studied International Business Management at Coventry University.
Here is her story: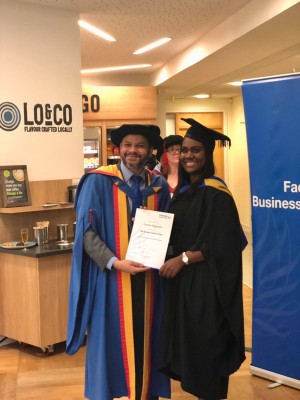 Those daunting first days at Coventry, wow, the years have flown by.  My beloved parents, especially my dad, had his doubts and to be honest so did I. Suddenly surrounded by so many smart students, I was a small fish in a huge pond and it felt challenging.  But, nevertheless, they lovingly invested in me.  Probably like many before me, I cried that first day as they dropped me off 100 miles away from home with not a single friend in sight.
Riddled by self-doubt, I knew that I was not the most talented but I realised that I could do nothing about that; but there is a ray of light in my dark place of doubt.  A light that was to illuminate my four years at Coventry.  I decided there and then that nothing could, or would stop me from being the most dedicated and hard-working student in the whole University, apart from my own desire.  The new day and everyday thereafter brought a whole wonderful support network of new friends, support from my professors and my careers advisor.  Those friends, course tutors and careers advisor kept my light burning and defined my journey at Coventry.
That word journey does not do my Coventry University adventure justice.  I embraced every opportunity to take part; to take on different responsibilities, to enjoy the fabled university experience, to become an adult. Yes, we had great fun, we are students after all.  But I also volunteered to help the elderly at Coventry library, teaching them how to use PC's and laptops. I jumped at the chance to be a course rep and, studied in California and became a study abroad mentor. Undertaking these different responsibilities allowed me to, not only help people, but to make an impact and a difference.  Long after the fun nights out have become a faded thought, the memory of seeing the wonder in an elderly lady's eyes as she discovered the internet will remain. Yes, there was the tough stuff too; the commitment of part time work and long nights in the library meeting deadlines and staying focussed. It may lack the glamour but was all essential through my journey.
The personal highlight was graduation day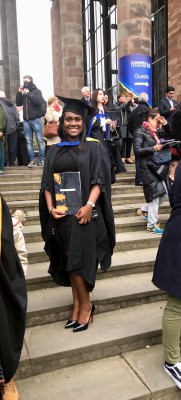 My highlight of studying at Coventry was the opportunity for international experiences. I was fortunate enough to complete my study abroad in Fullerton, California. This experience boosted my independence and allowed me to make lifelong friends. It really stretched me as a person, forcing me out of my comfort zone and equipped me with new skills, especially different ways of learning. Another amazing memory for me was a field trip to Hong Kong with the IBM team and the FBL faculty. That trip allowed me to not only tick a visit to Asia off my wish list, but also gave me first-hand experience of a different culture, learning about traditions and customs which are very different to those in Britain. The personal highlight was graduation day. Seeing the smile of pride on the faces of my parents was a priceless memory that I will cherish for life. 
I received two awards
I am proud of graduating with a first-class BA Honours in International Business Management. But, of equal value of being awarded with two additional awards – The Course Tutors Prize and The Ede & Ravenscroft 2018 Best Student in the Faculty of Business and Law. Not only am I proud of my academic achievement but these awards proved to me that all the hard work and dedication truly does pay off, and my continuous investment and efforts in improving my peers' university experience really did make a difference. I am also proud of completing the Global Leaders Programme, with a distinction.  The programme exposed me to different business leaders and equipped me with skills such as leadership, motivation and presentation which, I value every day in my working life.
Just like many others, I did not enter Coventry as the most talented, but by embracing the treasures that this University has to offer and working hard at all aspects of development, nothing proved beyond my reach including the acclaimed awards. I have left with a true talent in business management, courtesy of Coventry University – my competence of choice.
My achievements at Coventry have enabled me to secure a career within the Heathrow Future Leaders Graduate Programme
Here, I have been fortunate enough to meet other fellow Coventry alumni such as Marco who is an Airport Operations Manager.
Upon completing the graduate programme, I plan to progress within project management. This would involve leading teams that make both strategic and operational decisions that will impact and shape the expansion of Heathrow as it accommodates its 3rd runway.
I intend giving back; to mentor and support those entering Heathrow as well as Coventry University students.  I plan to share my experience and knowledge to help others grow and be inspired by me story. I want them to have faith in themselves and their hard work – and know it really does pay off.
Whilst working, I would I hope that I am afforded the opportunity to study a masters part-time as I am also keen to continue learning and developing myself academically. I have an eye on Coventry's 100% online MBA programme, so the love affair with the West Midland may not be over just yet.
Comments
comments