By Ali Bushnell
It is hard not to be impressed with the 'Knife Angel' which arrived in Coventry on 14 March. The 27 feet work of art, which took four years to create, is a national monument against violence and aggression and is part of a campaign to highlight and tackle knife crime.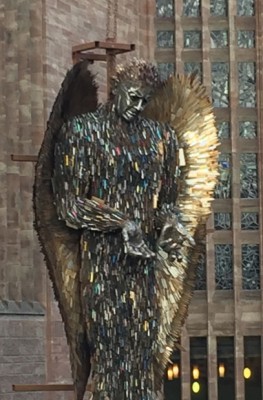 Looking at it outside Coventry Cathedral, it doesn't look out of place, in fact when you first see it, you would think it has been there forever. It blends in with its surroundings and has the famous Saint Michael and the Devil sculpture by Jacob Epstein behind it on the Cathedral wall.
As beautiful as the sculpture is, the 'Knife Angel's' message is a chilling one. It has been created using 100,000 knives that have been confiscated by police forces all over the UK.
It was created by artist, Alfie Bradley, at the Shropshire-based British Ironworks Centre (BIC) in 2014 under the banner 'Save a Life, Surrender your Knife' which is a message that is extremely poignant as many communities in the UK are seeing more and more incidents of knife crime.
Before the piece was created, the BIC had to get permission from the Home Office to work with all UK police forces to retrieve knives from knife banks – those that had either been confiscated or handed in.
Once completed, The 'Knife Angel' started its journey in 2017 and was displayed in Liverpool and Hull before arriving in Coventry where it received a welcome and a short blessing from the Canon of the Cathedral, Kathryn Fleming.
It has been a talking point ever since, especially after all the media coverage on local and national radio and TV.
The reaction to it from Coventry residents and visitors to the city has been overwhelming.
Since it has been put in place, it has been getting a regular stream of visitors, day and night who just want to see it, take photos of it and read the explanation as to why it is here.
Knife crime is not an issue that is unique to Coventry; you only have to read the papers or to watch the news to realise that it is affecting cities up and down the country and as Coventry is the city of peace and reconciliation, it seems apt that the 'Knife Angel' is here for a few weeks so people can admire it but also take notice of what it stands for and what is has been made from.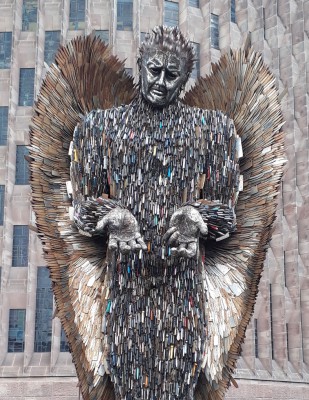 Getting people to talk about the problems of knife crime is much easier when there is a focal point like this as it brings everyone one into the conversation.
People of all generations and cultures can come together to stand united in the fight against knife crime.
Using a piece of art to tackle a serious problem is something that this piece has truly embraced.
Members of the public who see if for the first time have used words like 'stunning' 'atmospheric' 'beautiful' 'thought-provoking' but they also use words like 'chilling' 'scary' and 'impactful'.
It is on a first viewing where it really makes an impression and people have been keen to share their photographs on social media.
They do say that a picture paints a thousand words, well so does this sculpture. Alfie Bradley has managed to capture a range of emotions in his piece that has, and will continue to provoke serious conversations about one of the most difficult problems that we face in society today.
Only by talking about knife crime, can we begin to tackle it and we can all play our part by engaging with the message that this magnificent piece promotes.
'Knife Angel' shows the impact knife crime has on people's lives while at the same time, acts as a memorial to those who have lost their lives.
If you get the opportunity, please go and see it before heads off to its next destination. You have until 23 April before it goes to Birmingham.
If you would like to know more about the 'Knife Angel', then visit the British Ironworks Centre website: https://www.britishironworkcentre.co.uk/show-areas/the-knife-angel-official.
Comments
comments