Michaela Haynes first visited Coventry University on an open day. Nearly three years, two placements and multiple awards later, Michaela shares her experience and advice to aspiring engineers.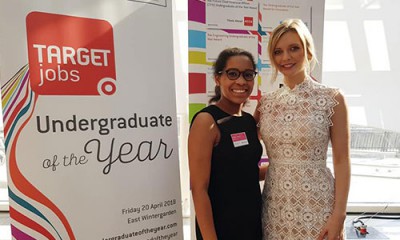 I visited Coventry on one of their open days and saw a fresh, new university that invested heavily in their students, particularly their engineers. Following my gut instinct, I put Coventry's Mechanical Engineering course as my first choice.
Since then it's exceeded my expectations. I had the opportunity to interview for a paid year-long internship at Rolls-Royce plc a little over a year ago. I'd applied to a number of companies, inspired by the promise of gaining engineering experience and convinced by not having to pay any university fees for the year!
Admittedly, I was rejected for countless roles at various early stages but I learned from each of these experiences, bettering my CV and interviewing skills at each stage with the support of the faculty employability and placement unit EEC Futures. I kept applying, and sure enough I was invited to Derby at the beginning of December.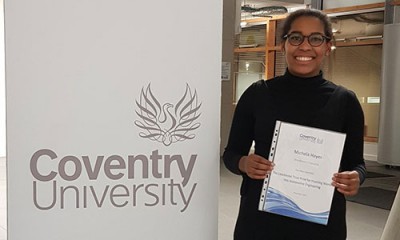 I'd never interviewed for an engineering role before, but I was given plenty of information and time to prepare. I was able to conduct a practice video interview and receive feedback from the university's Career Centre. My tutor also gave me the opportunity to practice my presentation alongside her 3rd year students who were studying employability. Sure enough, when the day came, I was extremely nervous but the staff and assessors were all extremely kind and welcoming. I met a range of interesting and like-minded students who were also interviewing, including one that I now live with.
My confidence blossomed after Rolls-Royce offered me a role. Not only did I later receive job offers from two other companies but I was also shortlisted for the Female Undergraduate of the Year award of 2018, where I had the opportunity to attend the annual event in Canary Wharf as a top 10 finalist.
Soon after, my Bristol-based internship began and I was thrown into the deep end with a 6 month placement in Thermal and Fluid Systems followed by another 6 months in Service Engineering, both in Defence Aerospace.
I've been able to contribute to the parts lifing of EJ200, the engine that powers the Eurofighter Typhoon, and represent the company at the Royal International Air Tattoo, running activities with the public and watching aerobatic displays. I've also been able to inspire young people to get involved with STEM by visiting schools and co-organising Catalyst Hack, an all-female and non-binary hackathon that aims to close the gender gap.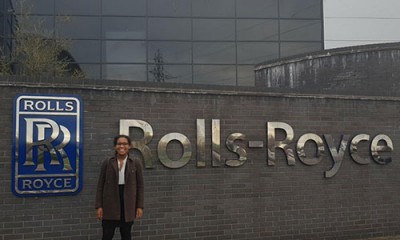 My time at Rolls-Royce has given me a range of technical and soft skills that I can take back to university and utilise throughout my 3rd and 4th years and beyond. It has helped me to understand what I want from my career after graduation.
It's also given me the resources and motivation to continue my work with STEM, inspiring the next generation of problem solvers. Coventry University has recognised this, awarding me the Lanchester Trust Prize for inspiring women into Engineering.
My advice to aspiring Mechanical Engineers is to be confident in your ability. Many of us, especially young women, confuse confidence with arrogance. Remember that it's okay to recognise your strengths and to play to them. Be proud of what you have achieved. As Theodore Roosevelt said, "believe you can and you're halfway there".
Comments
comments