By Eline Kieft, Ben Spatz and Doerte Weig
Do you ever feel stuck with your writing? Drowning in your data? Unsure about presenting?
On Friday March 22nd 2019, we successfully launched the Somatics Toolkit, a set of online resources for researchers to bring their bodies more actively into their research activities. The Somatics Toolkit is the result of an 18-month project that was funded by NCRM (National Centre for Research Method) and proposes an approach to ethnographic research that draws on the resource of the moving body. The launch event took place across two venues in London: during the day at the UCL Anthropology department and in the evening at the Royal Anthropological Institute.
Somatic practices provide a way to engage with the body as it is experienced from within, in relation to the world around– which includes research activities.
At the launch event, we began by taking participants on a journey through the development of the Toolkit, which now contains the following ingredients: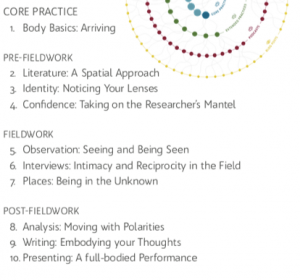 Core Practice: 10 Audio Files address different phases, activities and challenges of the ethnographic research cycle. These explorations are like guided meditations, and take listeners on an embodied, experiential journey, in relation to a specific topic such as embodied literature review, data collection, analysis, writing, and presenting. The core practices are developed by Eline Kieft, in collaboration with the project team
Extended Practice: Audio Files by guest contributors, who look at a specific part of anthropology research, or offer meditations for emotional and mental wellbeing in relation to academic research
Podcast series hosted by Eline Kieft (series 1), interviewing senior anthropologists to learn about their experience of the role of the body in their research and teaching; and Doerte Weig (series 2) on thinking through our moving-sensing bodies in relation to the topics of anatomy, economics, environment, architecture, mobility and systems thinking
Blog posts by team members and guests, discussing a variety of topics related to integrating somatics approaches into academic (ethnographic) research.
These freely available resources offer a platform for students, teachers and researchers in and of anthropology, and to all those who use ethnography as a method.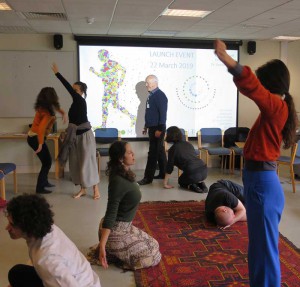 After the presentation we moved on to the first Keynote, by Dr. Sandra Reeves: The Moving Body as Involved Witness. Her movement research evolves around complexity thinking, sustainability and performance, and she asked the participants to experiment with three roles: of mover, witness and meta-witness, as an analogy for the various levels and intensities of participant observation.
The second keynote, Ethnography as Alchemy, by Prof. Véronique Benei took place after lunch. Situating her work in a multi-local, embodied and sensory political anthropology (India, Colombia, UK), she realised how in political anthropology the body is under-recognized as site for emotions that lead to political actions. She took us on an embodied journey through fieldwork, linking the various phases and activities to the stages of alchemy.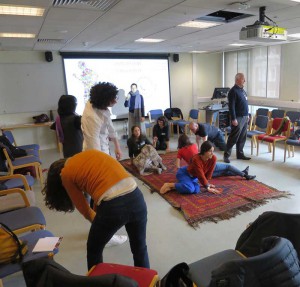 Then the party moved to RAI where we discussed issues we encountered during the project, such as why we chose for Audio as a means of creating these online resources; what the effects would be of listening to a 'disembodied' voice when undertaking an journey through the body; the functional diversity and cultural backgrounds of the listeners; our cultural positioning as designers; the difficulty of defining 'what a body is'; delination of somatic practices and justification of sources, and age related discrepancy on the relevance and uptake of the Toolkit.
We shared and received many ideas on where to take the Toolkit next, ranging from expanding the Extended Practice tracks and blogs; preparing a peer-reviewed publication; and expanding podcast series 2, to ways of ensuring the uptake of the Toolkit by Undergraduate and Postgraduate anthropology students across the UK; conducting a survey of Somatics Training in Anthropological Teaching in UK Higher Education; and translating the materials to other stakeholder groups as well as into other languages and formats…
We are looking back on a very successful event, and would like to thank everyone for participating and making this such a wonderful day. Please be in touch if you have any ideas further contributions to the blog and the extended toolkit. We look forward to hear from you!
Read the full presentation.
For up to date info you can always visit the Somatics Toolkit website.
You can also follow us on Twitter (@SomaticsToolkit).
Comments
comments