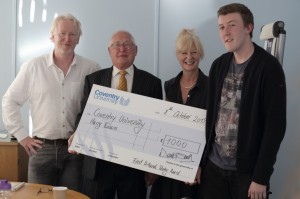 (From left to right: Tim Kelly, David Smith, Alyson Morris, Harry Evans)
Law student, Harry Evans, won this year's Frederick Holland Poetry Collection Award.  He was up against student writers from all over the University, and beat them all with his quirky portrayals of life and love.
Harry said:
"It came as a huge shock to me when I found out I'd won; I've always written short stories and poems, and didn't think that the ones I submitted would even be published! Winning has really boosted my confidence in my writing, and I would like to thank the trustees of Fred Holland's estate for helping run this competition; I hope it continues for many years to come!"
Enjoy the winning poems below.
Twenty First Century Chess
It's half-four in this Dive bar,
two television screens,
I feel like Grandad in Only Fools;
six pounds left, all in coins,
last game of the night:
some Russian against
some other Russian.
I bet the lot. Pawn to e4.
I have half a beer left, lukewarm.
Son of Sorrow defence,
the rest is a hazy blur.
Then I'm out on the street in the rain;
I've lost, and I kick something warm:
Lazarus in a sleeping bag.
Endgame. A Queen
and her Castle approach me.
There's no escape.
Traditional Love Poem
All the great stories are told with humour.
Not much, but a drop or a dash, here and there,
sometimes dark, sometimes light. But never
when it comes to love stories is there humour;
merely a pensive sadness, a misrepresentation
of the past that helps repaint a fading picture:
But all the days I spent with her weren't that bad.
Not even the ones where we were both miserable
together. We knew it couldn't last forever; it's sad
how lying arm in arm can make you feel so bad,
worse than watching one of those third world appeals:
£3 for her lunch? She's eating better than I am.
I knew when she said she loved me she was lying.
And I used to say that her sympathy was misdirected,
as there's people sleeping rough on the streets, and dying;
or, if you're a cynic, there's people in black hoodies lying
on cardboard, making us believe they're sleeping rough,
and technically speaking, aren't we all dying?
But do you remember making chocolate milkshakes
with 59p Ice Cream? Do you remember the songs?
The books I lent you, do you still read them? Do you
remember the radio shows? The places 'round here
that no one else goes? Do you remember that episode
where Blackadder says to Baldrick: "Boom Boom Boom?"
I do. And if I ever write a poem like Baldrick's I'll have it mastered.
I will. But I'll never write about the nights that we were plastered.
Evolution Is Smarter Than You
Father, I don't want to get a Tattoo,
'cause I don't want to be like
everybody else.
I'm a non-conformist, a Tiger,
not a Sheep. Would you like another
generic Danish beer?
Another dishwater Coffee? (I was insane
six months ago…) Forty days since the last
existential crisis.
(Here I go again.) Even if I did
have change I wouldn't give it to you.
No, sorry mate.
(Piliavin's Cost-matrix.) Maybe I'm too smart
to believe in Intelligent Design, or be bashed
with The Bible?
Your Worship, I've been left for dead in the Desert,
turned over by the Flood… let go of me Sergeant…
but I'm a free man now.
Stamina
So I put on a false bravado,
hit the Gym and lift fifteens
skip legs, straight to cardio,
go home, eat three Snickers Duos,
and iron the creases on my work jeans.
Then I go out, another Saturday,
meet up with the friends in my head
and five beers later I'm doing Karaoke-
the Sid Vicious version of Sinatra's My Way.
(Play that at my Funeral when I'm dead.)
Stagger out at 4am into the Ghost town,
the Nantucket Fried Chicken shop's open-
so I go in and hit the floor. The manager shouts down:
you're six hours too early, you muppet, you clown…
go sober up in the break room – your shift's at ten!
Table For Two
She likes to talk about the last time
she was drunk, and what she did,
and what she doesn't remember.
I like to talk about her and what she's done
and what she hopes to do. Deflecting
anything that could be about me.
And when we tell the waiter what we'd like,
he goes away, coming back when we're eating
to ask us if it's okay. Is it okay? Is it nice?
I don't know why any of this really matters,
the universe stretches out across the rolling blue
and time plateaus around the sun regardless.
But in her presence I am no longer worried,
bothered about this; suddenly we are all significant:
and what happened last night, last week, last month,
is the only thing worth thinking about.